PewDiePie Is The Troll That Far-Right Trolls Aspire To Be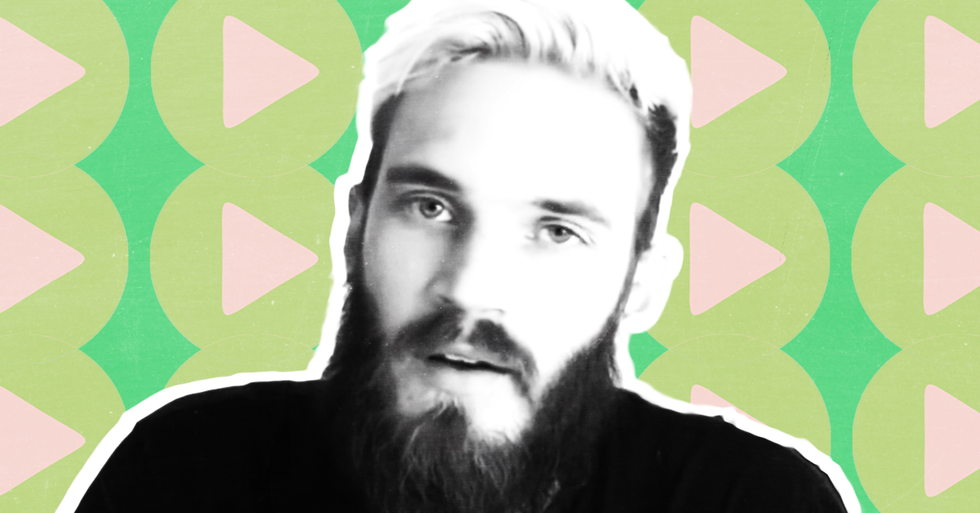 Reprinted with permission from MediaMatters.

Felix Kjellberg, a Swedish YouTube star who goes by the name of PewDiePie and garnered international fame through his videos about gaming and his mocking critiques of popular culture, has developed a symbiotic relationship with politically influential far-right trolls who support and promote him in an attempt to influence his content and reach his massive base of followers.
PewDiePie, who recently used a racist slur while livestreaming himself playing a video game, has YouTube's most popular channel, with more than 57 million subscribers. His popularity had earned him a lucrative partnership with Disney, but the company dropped him earlier this year following the Wall Street Journal's reporting that he had "posted nine videos that include anti-Semitic jokes or Nazi imagery."
While PewDiePie's fall from grace might have cost him a lucrative deal, his following has continued to grow; reports in February put his following at 53 million subscribers, but he has gained nearly 4 million more as of this writing. Among his followers and fans are politically influential far-right trolls, including Brittany Pettibone, Stefan Molyneux, and Infowars' Alex Jones, Paul Joseph Watson, and Mike Cernovich. These trolls have repeatedly defended and supported PewDiePie while helping him push the narrative that the backlash he has received for his racially insensitive remarks is the result of unfair targeting by the mainstream media and by those offended, whom they pejoratively call "social justice warriors," or "SJWs."
PewDiePie has attempted to distance himself from both his neo-Nazi following (a neo-Nazi publication, The Daily Stormer, once declared itself "the world's #1 PewDiePie fansite") and other explicitly racist elements of the self-declared "alt-right" by claiming he wants "nothing to do with that." But he has shown no qualms in becoming closer with the freshly rebranded far-right trolls who say they're not "alt-right." In July, he followed conspiracy theorist Alex Jones on Twitter after Jones and Infowars made public attempts to contact him for a collaboration. PewDiePie has also indicated he likes rants in which Infowars' Paul Joseph Watson defends him.
Watson has celebrated PewDiePie's content on several occasions, once claiming he "red-pilled" — a term popularized by message boards like 4chan and co-opted by the far-right to signify awakening someone to reality — his followers with far-right messaging like denying the existence of the wage gap between genders. Watson also lavished praise on PewDiePie when he criticized celebrities for emphasizing the influence of man-made climate change on extreme weather events like hurricanes.
PewDiePie has found validation and justification for his antics in the trolls' support for his hateful and offensive rhetoric, which they back under the guise of defending free speech. He's also found them to be common allies in his battle against the media, which he blames for the backlash he gets after his actions are reported. In hopes of continuing to have his grievances validated, he caters to the far-right's tastes by deviating from his regular gaming content to troll "SJWs."
At the same time, far-right trolls lionize PewDiePie as a hero of free speech and validate his antics. To them, his worth lies in his vast reach, which they aspire to weaponize by influencing his content and using it as a gateway to introduce unsuspecting, not-yet-politicized young audiences to the far-right narratives of the "culture war."
The trolls recognize PewDiePie's style of hiding offensive rhetoric behind layers of irony and then claimingthose who object are just taking it too seriously — because it's straight from their own playbook. New Yorkmagazine's Noreen Malone explained as much when profiling the "alt-right": "If you take them seriously, they'll claim you missed the joke." It is this playbook that has allowed trolls to push for further expanding the boundaries of what's acceptable discourse, as Screener's Jacob Clifton explained in an article for BuzzFeed.
In PewDiePie's screeds against the press, the far-right trolls see a vastly influential ally in their own efforts to "destroy media" and become the primary source of cultural and political information for captive audiences. In the same way that candidate Donald Trump proved to be a valuable ally of the far-right trolls in mainstreaming the white male grievances and anti-social justice rhetoric of the troll swamps, PewDiePie's coattails also look like a promising ride toward normalization, this time with a powerful global reach among audiences who can't even vote yet.


Header image by Sarah Wasko / Media Matters