Pay To Play: Inauguration Parties Offer Prime Opportunities For Trump Family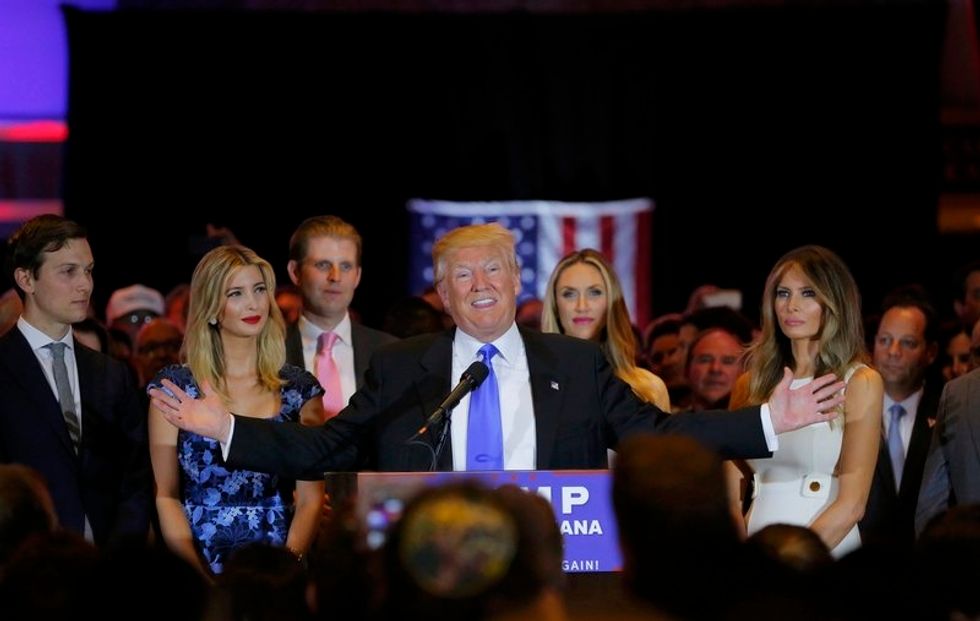 Reprinted with permission from AlterNet.
The Trump family has once again made clear that it plans to milk Donald Trump's presidency for every penny it's worth. According to an invitation leaked by gossip site TMZ, Trump's sons Eric and Donald Jr. are hosting an event the evening of January 21, the day after their father's inauguration event (to which organizers have reportedly tried and failed to attract popular entertainers with hefty paychecks and ambassador positions). The Trump siblings' "Opening Day" gala offers attendees the chance, for a mere $500,000 to $1 million, to take a picture with Trump himself. Big money donors at that level will also get a chance to go hunting with Don Jr. and/or Eric, who are well-known for their history of killing beautiful, endangered exotic wildlife.
Tickets to the event start at $25,000, but for that kind of chump change, you only receive a unimpressive package of perks. Even $50,000 and $100,000 tickets won't even get you pictures with Eric and Donald Jr. You'll have to cough up at least $250,000 to have a photo opportunity with the brothers, and double that for a chance to hobnob with their father. According to the invite, all proceeds will be donated to unspecified conservative groups.
The entire Trump family has been in attendance for official gatherings with international leaders and tech industry titans, and at various other important meetings from which they should be barred based on ties to the Trump organization and myriad conflicts of interest. Donald Trump has refused to divest, or outline how he might disentangle himself from his many business holdings. Since all of the Trump kids essentially serve as staffers for their dad's administration, taking part in high-profile briefings, the offer of access in exchange for hundreds of thousands of dollars seems like yet another pay-for-play opportunity.
Just last week, the Eric Trump Foundation offered coffee with Ivanka Trump to the highest bidder of an online auction. That listing hit almost $78,000 by the time it was taken down following a New York Times article that was critical of the fundraiser. Eric Trump's charity has also announced an event for February, offering donors at the $25,000 "gold level" and up "special access." Foreign dignitaries and other heads of states are renting rooms at Trump hotels in an effort to get on the good side of President-elect Trump, who maintains ties to all of his businesses. Within days of the election, Ivanka's clothing and accessory business used her appearance on a "60 Minutes" interview to hawk a $10,000 bracelet which the soon-to-be first daughter was seen sporting on TV.
"This is just wrong," Fred Wertheimer, president of government watchdog organization Democracy 21, told the New York Times last week in response to the coffee date auction. "The president's family should not be out raising money for whatever cause, in exchange for a potential influence buyer who wants to get his views to the president."
Kali Holloway is a senior writer and the associate editor of media and culture at AlterNet.
IMAGE: Republican U.S. presidential candidate Donald Trump speaks as (L-R) his son-in-law Jared Kushner, his daughter Ivanka, his son Eric, Eric's wife Lara Yunaska and Trump's wife Melania  look on, during a campaign victory party after rival candidate Senator Ted Cruz dropped out of the race for the Republican presidential nomination following the results of the Indiana state primary, at Trump Tower in Manhattan, New York, U.S., May 3, 2016. REUTERS/Lucas Jackson