PHOTOS: Obama, Christie Tour Storm Damage In New Jersey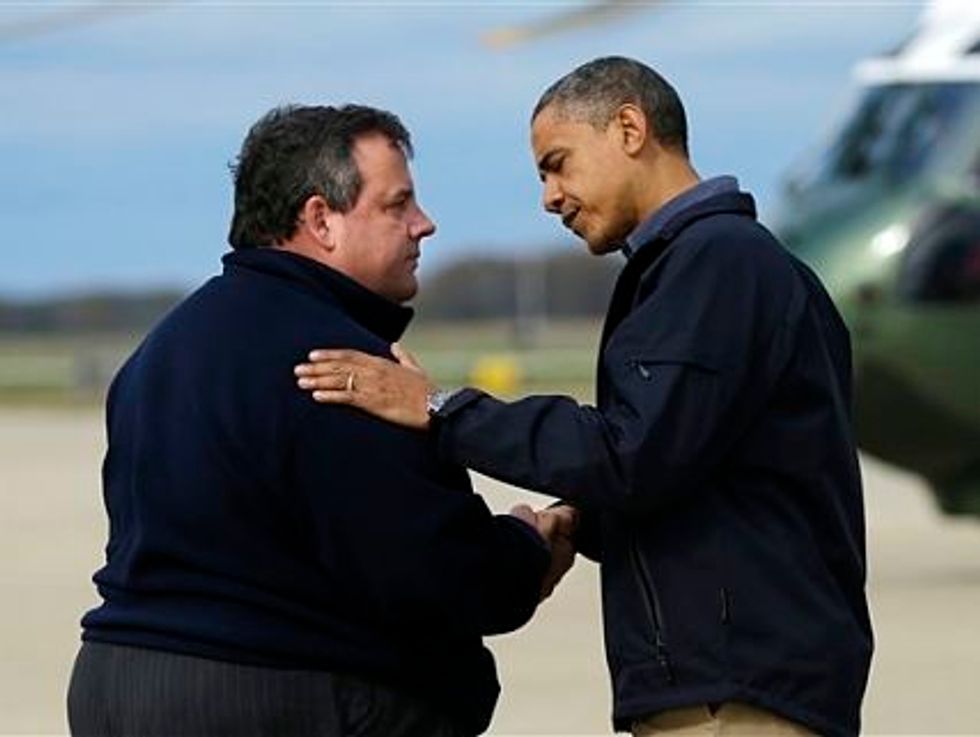 President Barack Obama and New Jersey governor Chris Christie toured the extensive damage caused by Hurricane/Superstorm Sandy today, observing the devastation from aboard Marine One before meeting with Garden State residents.
New Jersey was hit especially hard by the hurricane, which made landfall in Atlantic City on Sunday night. The storm left at least six dead in the state, and over 2 million without power. Christie has called the damage "unthinkable," and noted that "the losses will be almost incalculable."
Although Christie has been one of President Obama's harshest critics throughout the 2012 presidential campaign, the two men put politics aside and warmly praised one another on Wednesday.
"I want to let you know that your governor is working overtime," President Obama said at a shelter. "The entire country has been watching what's been happening. Everybody knows how hard Jersey has been hit."
Obama added that the federal government would be in New Jersey "for the long haul."
"The country comes to help because you never know when someone is going to get hit by a disaster," Obama said.
Christie thanked Obama for coming to New Jersey, saying "it's really important to have the president of the United States here." Christie has been outspoken in his support of the Obama administration's response to the storm; on Tuesday morning he said that "The president has been outstanding in this and so have the folks at FEMA" — and added that he doesn't "give a damn" if Obama's opponent Mitt Romney comes to New Jersey to survey the damage.
Click Here To See Photos Of The Devastation In New Jersey
Photo credit: AP/Pablo Martinez Monsivais