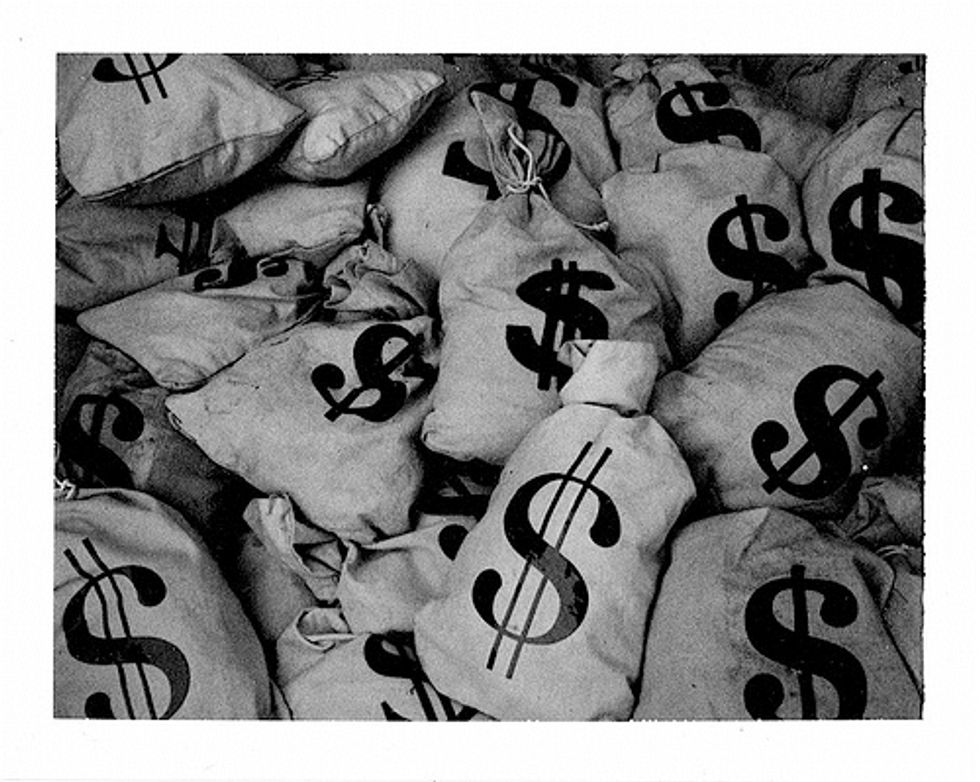 Should any political party attempt to abolish social security, unemployment insurance, and eliminate labor laws and farm programs, you would not hear of that party again in our political history. There is a tiny splinter group, of course, that believes you can do these things. Among them are H. L. Hunt…a few other Texas oil millionaires, and an occasional politician or business man from other areas. Their number is negligible and they are stupid.
–President Dwight D. Eisenhower, in a 1954 letter to his brother Edgar
Pity the poor plutocrats, victims of the envious mob. You can hardly open the Wall Street Journal these days without reading a self-pitying screed by some billionaire hungry for love.
A while back it was venture capitalist Tom Perkins, who equated criticism of the wealthy with the Holocaust.
"I would call attention to the parallels of fascist Nazi Germany to its war on its 'one percent,' namely its Jews, to the progressive war on the American one percent, namely the 'rich,'" he opined in a letter to the newspaper.
Makes sense to me. One day they're saying Wall Street bankers should pay the same tax rate as the guys who rotate their tires, next day they're flinging them into concentration camps. Soon billionaires will be hiding in attic penthouses, quietly fondling stock certificates. Their limos will be disguised as UPS trucks, their yachts as humble tugboats.
In a subsequent San Francisco speaking engagement, Perkins suggested that the United States formally adopt a one-dollar, one-vote electoral system. Citizens, he said, should be like shareholders in a corporation.
"You pay a million dollars in taxes, you get a million votes. How's that?"
The audience laughed, but Perkins claimed to be dead serious. Kleiner Perkins Caufield & Byers, the investment firm he co-founded, called itself shocked, and emphasized its disagreement.
More recently, Charles Koch, the elder of the infamous Koch brothers of legend and song, contributed an op-ed to the Journal bitterly complaining that people targeted by TV attack ads he's paid for are actually allowed to talk back. The brothers, you see, are pure idealists campaigning for liberty.
So that when their Tea Party front groups oppose a public transport system in Nashville, Tennessee, work to forbid Georgia Power from investing in solar technology, or spend big on a county referendum on open pit mining in Wisconsin, it has nothing whatsoever to do with Koch Industries' oil, gas and mining profits. It's all about freedom.
And when the same organizations spend millions on TV commercials featuring actresses reading prepared scripts, pretending to have been injured by the Affordable Care Act and attacking Democratic U.S. senators in Arkansas, Louisiana and Alaska, that too is all about liberty.
However, wicked "collectivists" who "promise heaven but deliver hell," — hell evidently being reliable health insurance not subject to cancellation on an employer's whim — have called the Koch brothers out. One such is Senate Majority Leader Harry Reid, who went so far as to call their secretive methods "un-American."
"Instead of encouraging free and open debate," Charles Koch whined, "collectivists strive to discredit and intimidate opponents. They engage in character assassination. (I should know, as the almost daily target of their attacks.) This is the approach that…Saul Alinsky famously advocated in the 20th [century], and that so many despots have infamously practiced. Such tactics are the antithesis of what is required for a free society."
"Despots," mind you. Boo-hoo-hoo. Far from being abashed, Senator Reid must have been thrilled that his taunts lured Koch out of hiding. These boys normally prefer to hide the hundreds of millions they spend purchasing U.S. Senate seats behind benign-sounding outfits like "Americans for Prosperity."
Because who's against prosperity, right?
That said, I do think it's wrong to call anybody "un-American." To the contrary, the Koch brothers are every bit as American as John D. Rockefeller, H.L. Hunt or Scrooge McDuck, dabbling in his private bullion pool. The comic-heroic figure of the tycoon furiously stamping his little webbed feet because people are free to disagree with him has long been a staple of national life.
Like Charles and David Koch, who inherited hundreds of millions from their oilman father — a founding member of the John Birch Society, which famously held that President Eisenhower was a card-carrying member of the International Communist Conspiracy — their legacy often includes crackpot megalomania. Hence "collectivists," a polite euphemism.
Koch's Syndrome, you might call it: combining an obsessive-compulsive need to accumulate money — these boys are worth $100 billion, but they're nevertheless bitter about paying taxes — along with a deep-seated fear of being found unworthy. Surrounded by obsequious underlings all their lives, they've no idea if they've ever really deserved it.
It may also be significant that Tom Perkins is 82, the Koch brothers 78 and 73, respectively.
Time's winged chariot draws near, and there's no baggage compartment.
Photo: dpmshap via Flickr