'Plan B' Proves Grover Norquist's Pledge Is A Sham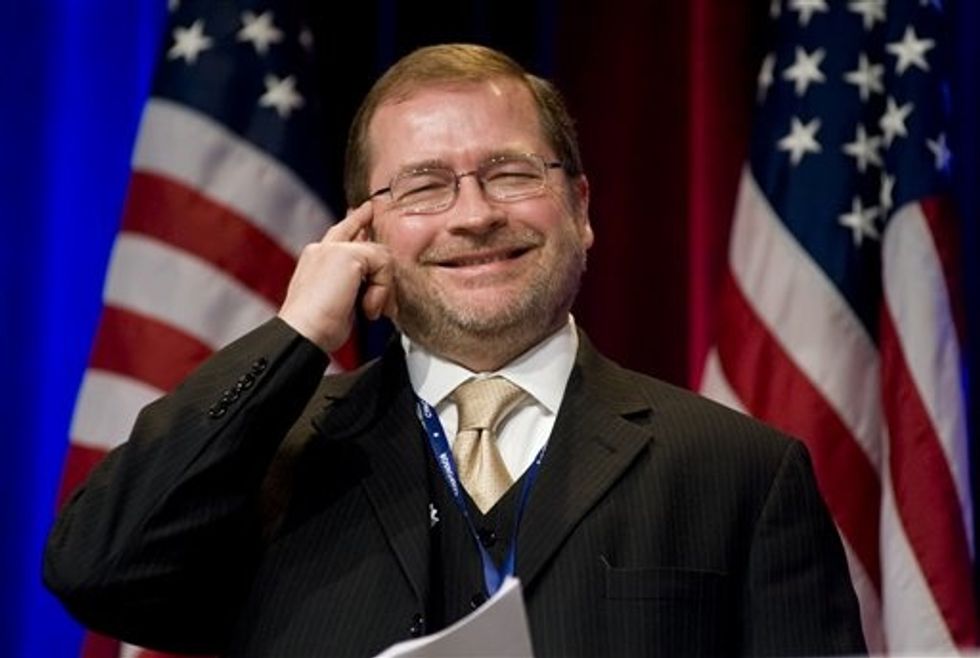 Who knows what the point of  Speaker Boehner's doomed "Plan B" was? Why would Republicans vote for a bill that includes tax increases knowing that it has no chance of becoming law?
It could just have been a ploy to save Boehner's job. It could have been a ploy to make it look as if the Speaker has tried everything before he eventually compromises, taking the deal the White House really wants him to take. Most likely it was the ploy of a politician who knows he can't pass anything, so he's trying to pin blame on the president for what the GOP has decided to call "the largest tax increase in history" — rehashing a claim they used against Bill Clinton in 1993.
But Speaker Boehner deserves a lot of credit for so clearly exposing Grover Norquist's American Taxpayer Pledge as an out-and-out sham.
"Plan B" should, by definition, be considered a violation of said pledge — which has defined Republican ideology and policy since George H.W. Bush was abandoned by the far right for violating his "no new taxes" promise.
Of course, "Plan B" is no real concession to anyone but the rich. The bill raises taxes on millions of middle-class Americans while actually cutting them on about half of the richest 1 percent.
But it raises taxes.
For that reason, the two biggest anti-tax groups on the right — FreedomWorks and the Club for Growth — have come out against the bill. FreedomWorks first supported the plan and Thursday afternoon decided they couldn't. The Club for Growth never bought the House GOP's spin that seeks to cast the bill as a tax cut.
"On the substance, this bill is anti-growth," Andrew Roth wrote on The Club's blog. It increases tax rates for those making over $1 million while also raising taxes on capital gains and dividends. We don't buy into the Washington-speak, suggesting that these are actually tax cuts."
But Norquist's Americans for Tax Reform took no such principled stand.
The organization would not consider a vote  for "Plan B" a violation of the pledge. Why?
Because Norquist uses "Washington-speak" to justify this distortion of his principles. Since the Bush tax cuts were temporary, only keeping them on incomes up to $1 million isn't an increase, it's a cut. Given this argument, voting for the Senate bill which extends the tax cuts on incomes up to $250,000 and prevents middle-class tax increases shouldn't violate the pledge — except that Democrats support it.
Just three weeks ago, Norquist told the Washington Times that he couldn't support a proposal that sounds eerily similar to "Plan B" because it could lead to a headline that suggested "Republicans agree to tax increases."
Norquist is obviously eager to avoid a situation where to enforce his pledge he has to primary-challenge most Republicans in the House. So for the sake of appearances, he refused to take a existential challenge to his longstanding tax papacy. The Grover Infallibility Doctrine retains his virtue and his importance as a looming figure who seems to have a sexual fetish for cutting taxes.
Boehner and his minority leader, Eric Cantor, claimed they have the votes to pass "Plan B" when the  House GOP introduced it. But they spent all Thursday adding cuts to food stamps, Meals on Wheels, health insurance exchanges and Wall Street oversight to make the right happy.
So now that the vote failed, we know that Grover has no clothes. And that's not a pretty mental image.
But Grover has a way out, of course. When he realized "Plan B" was going down, this note was added to the the statement on Americans for Tax Reform's website:
UPDATE: Despite inaccurate press reports, the statement above is not to be misconstrued as an endorsement of any legislation.
Photo: AP Photo/J. Scott Applewhite, file