Plan For Virginia Mosque Becomes Target Of Anti-Muslim Backlash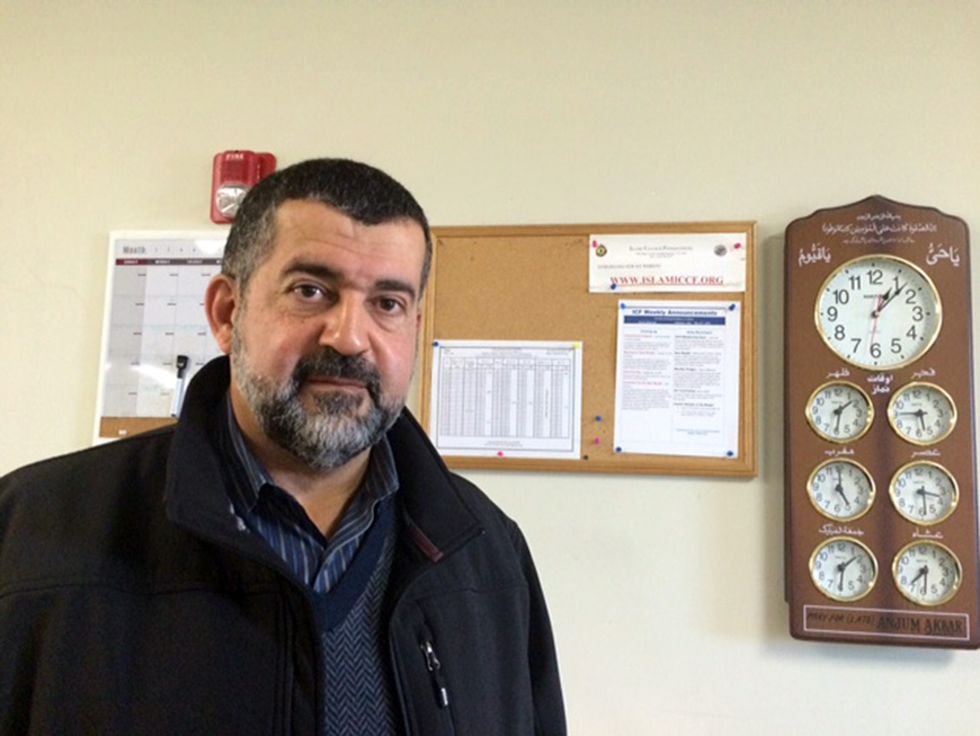 By Noah Bierman, Tribune Washington Bureau (TNS)
SPOTSYLVANIA COUNTY, Va. — The zoning meeting, in a community room packed beyond capacity, was intended to focus on traffic, lighting and parking impacts from a proposed building.
But the building in question was a new mosque — and the meeting occurred four days after the terrorist attacks in Paris.
A thickly built man interrupted the discussion about stormwater runoff, saying to the small group of Muslims in the crowd, "Nobody wants your evil cult," and "Every one of you are terrorists. I don't care what you say. I don't care what you think."
The unidentified man pledged to do everything in his power to block the mosque, jabbing his finger toward one of the mosque's trustees, a civil engineer leading the presentation, according to a video posted by the Free Lance-Star of Fredericksburg.
Many groaned. But there was enough applause — and enough other comments like it — to shut down the meeting under orders of a sheriff's deputy, and to shock the small Muslim community near historic Fredericksburg.
The incident is one of a growing number that have put American Muslims on the defensive since the attacks Nov. 13 in France. Bullets were fired at a mosque in Connecticut. Feces were smeared on an Islamic house of worship in Texas. A fake bomb was left at another in northern Virginia.
"We always see a certain amount of backlash" following an overseas Islamist terrorist attack, said Corey Saylor, who monitors anti-Muslim incidents for the Council on American-Islamic Relations. "This time, however, it's getting fueled by people who are exploiting it for political purpose. … That is essentially pouring gasoline on an already burning fire."
President George W. Bush pointedly visited a mosque after the Sept. 11, 2001, attacks to defuse similar tensions. By contrast, Republican presidential candidate Donald Trump has asserted that, contrary to evidence, thousands of American Muslims in New Jersey cheered after the attacks. Sen. Ted Cruz of Texas, another GOP candidate, has said that only Christian refugees from Syria should be allowed to resettle in the U.S.
The mayor of Roanoke, Va., a Democrat, spoke favorably about Japanese internment camps during World War II to buttress his position that Syrian refugees should be blocked from entering the country.
The incident over the mosque near Fredericksburg was striking in its bluntness. Samer Shalaby, the engineer and trustee for the Islamic Center of Fredericksburg who bore the brunt of the negative comments, said he was saddened by the number of people who came to applaud the hateful comments. "I was kind of stunned," he said.
The Cairo native said he moved here three decades ago after attending George Washington University, when there were only four Muslim families in the area. The community grew to include many professionals and small-business owners, some of whom drive about 55 miles to jobs in Washington, he said.
The community has grown more diverse, but the large Confederate flag waving near the highway exit is a reminder that the past remains in full view.
In 2000, the Muslim community built a small mosque, a spare brick building with two basketball hoops in front, across from a Goodwill store in the sprawling suburbs near downtown Fredericksburg. The mosque hardly stands out amid the strip malls, looking more like a house than a house of worship.
But the membership, now between about 250 and 300 families, feels cramped during Sunday school and other large gatherings, Shalaby said. The new building, which would be built on a 10-acre plot a few blocks away, would fit about 350 people, he said.
Shalaby said he had never experienced discrimination here. In retrospect, he believes the timing of the meeting was poor. He and other leaders have tried to emphasize their ties to the community, including work to feed the hungry and help the homeless.
In fact, members of the mosque said they had heard from hundreds of supporters, including local Christian and Jewish clergy, who have offered support.
Greg Bundrick, a retired social worker, drove 19 miles to tell the imam in person that he did not approve of the ugly words delivered at the meeting.
"It was wrong. It's important for me to stand up and say how wrong it was," he said, standing in the small office next to the sanctuary.
Imam Sherif Shehata gave Bundrick a hug and a piece of chocolate from a box the mosque kept on hand for well-wishers.
Swalha Craig, a Kenya native whose American-born husband converted to Islam, said she has never felt overt discrimination but does sense some sideways glances directed at her head scarf. Still, even after the frightening meeting, she considers this home.
"I got married here," said Craig, who works as a part-time office manager for the mosque. "I love it here."
©2015 Tribune Co. Distributed by Tribune Content Agency, LLC.
Photo: Samer Shalaby, trustee for the Islamic Center of Fredericksburg, Va., on November 23, 2015. (Noah Bierman/Tribune Washington Bureau/TNS)