Plutocrat Or Populist? Actually, Hillary Clinton Is Neither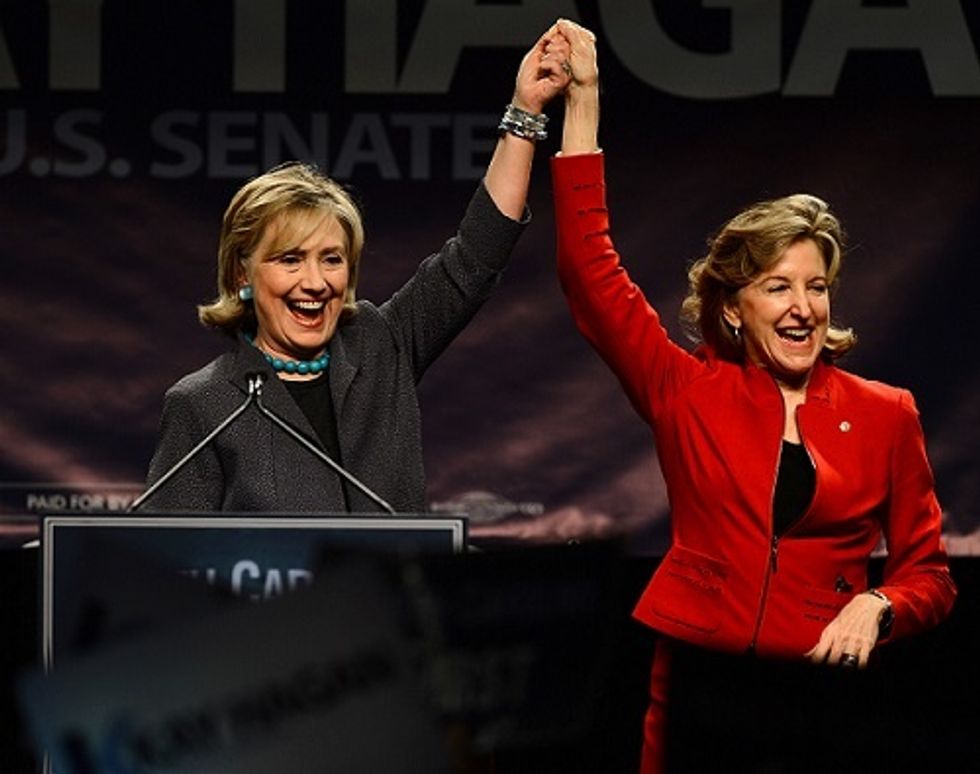 As America's biggest political target – a status she is likely to enjoy for the foreseeable future – Hillary Rodham Clinton takes incoming fire of every caliber from all directions. One day her words are ripped from context to depict her as a plutocratic elitist; on another day, she is quoted, selectively, to prove that she is a raving populist. And on still another day last week, when she was campaigning in North Carolina for Senator Kay Hagan, a right-wing rag tarred her as a "plutocratic populist."
Her partisan critics never worry about such ludicrous contradiction, so long as they can keep pumping out the cheap shots. Having endured the same tactics in the White House, the Senate, and the State Department, in campaigns and in daily life, she must find it all boringly familiar by now.
So far her popularity has remained remarkably durable – but the constant effort to sow confusion about her sympathies, positions, and policies, especially on economic issues, still deserves rebuttal.
Ever since she mentioned the fact that she and her husband were "flat broke," meaning deep in debt, when they left the White House, Clinton's most hypocritical adversaries on the right have tried to provoke envy. Accepting a large speaking fee from the likes of Goldman Sachs bolstered the meme that she is "out of touch" with the problems faced by middle-class families.
Now, as she speaks out on economic issues during the midterm campaign, she is portrayed as "copying" the "populist, anti-corporate rhetoric" of Senator Elizabeth Warren (D-MA), courageous scourge of crooked bankers and financial fraudsters.
But the truth about Hillary's economic outlook is both simpler and more complex.
The simple part is that for her entire public career, Clinton has been a consistent advocate for working families and the middle class — notably on issues like the minimum wage, which she fought to raise as a senator. She sponsored legislation not only to raise the wage, repeatedly, but demanded a ban on congressional and executive pay increases until workers' wages went up first.
"I'm talking about people who get up and go to work every day, [whose paychecks] haven't been raised since 1997," she told a conservative farmers' group in 2007. "And congressional salaries have gone up more than $30,000 at the same time. I don't think we should have any more congressional pay raises until, number one, the minimum wage is raised, but number two, until average wages start going up, because the last five years Americans have been treading water."
During her Senate career and then as a Democratic presidential candidate, Clinton told everyone who would listen what she thought about questions of fairness, inequality, and growth that remain central today. She dismissed the idea that higher minimum wages damage growth and employment; she demanded restoration of the traditional balance between government and markets, which had tipped too much toward corporate power; she blasted the Bush administration's cuts in assistance to the poor and unemployed; and she urged, above all, that the forces destroying the middle class must be restrained and ultimately reversed.
Whatever her connections with the wealthy and well connected, Clinton doesn't seem terribly impressed. "With all due respect, rich people did not make America great," she said in 2006. "Every society throughout history has had the rich and the poor. It was America's destiny to create something new, a middle class that provided upward mobility for the poor and opportunity for the many. Our strength, our economy, our values derive from the promise of America, the promise of lifting yourself up through hard work in a society that rewarded results." In her presidential campaign, she called for a "21st-century progressivism" in the trust-busting, labor-friendly style of Theodore Roosevelt.
The more complicated part, however, is that Clinton isn't anti-business, hostile to markets, or suspicious of enterprise, as "populists" are supposed to be. She once sat on the Walmart board of directors. She often speaks admiringly of her father's small drapery business, she pushed hard on behalf of American corporations abroad as Secretary of State, and at the Clinton Foundation she now promotes small- and medium-business development to empower women in America and around the world.
Clinton is a sharp, tough, determined politician who rose, like her husband, from an ordinary family. She understands the pressures wreaking havoc on the system of rewards and rules that built this country. Neither plutocrat nor populist, she firmly believes a strong middle class is the essence of a democratic society. But amid the ceaseless clamor of right-wing ideology, that may just be radical enough.