Police Arrest Trump Supporter Who Threatened Racist Massacre Of 'Latin Peoples'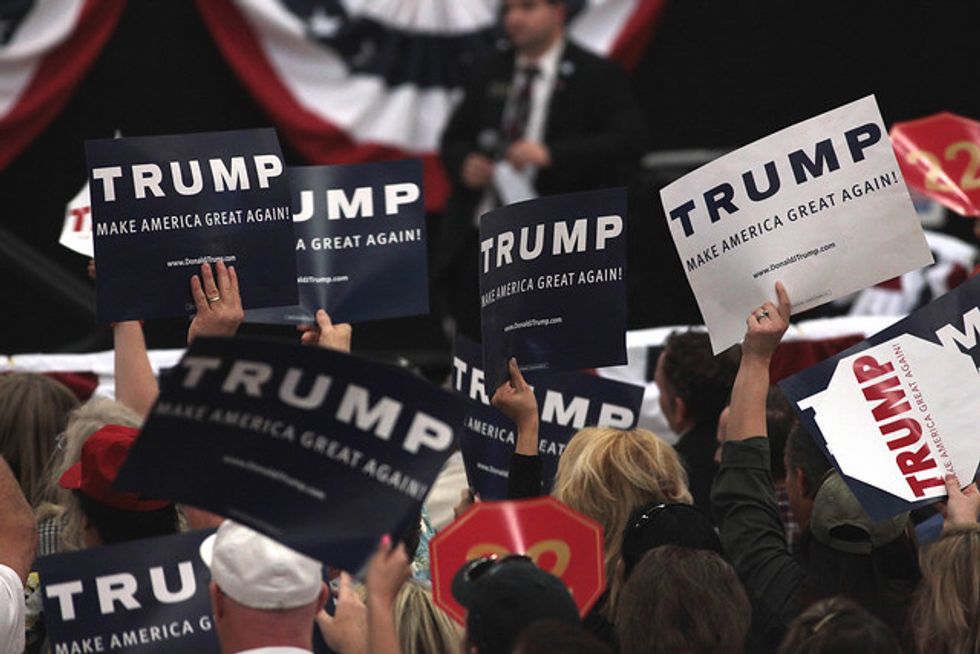 A Trump fan was arrested Friday after making an explicitly racist death threat aimed at a Hispanic immigrant and vowing to kill millions of other non-white residents, the Miami New Times reported Tuesday.
Eric Lin, a Washington resident, made threats over Facebook to an immigrant from Spain, according to the charging document.
A few days later, Lin continued his praise of Trump and called for more violence.
"I Thank God everyday President Donald John Trump is President and that he will launch at Racial War and Crusade to keep … any dangerous non-White or Ethnically or Culturally Foreign group 'In Line,'" Lin wrote on July 19. "By In Line' it is meant they Will either be sent to 'Concentration Camps' or dealt with Ruthlessly and Vigorously by the United States Military."
On the same day, Lin also wrote that he was "Ready to kill Spanish peoples and Latin peoples by the Millions!"
The comments came amid Trump's repeated racist attacks against several congresswomen, including Reps. Rashida Tlaib (D-MI), Alexandria Ocasio-Cortez (D-NY), Ayanna Pressley (D-MA), and Ilhan Omar (D-MN). All four are women of color.
On July 17, Trump smiled before a mostly white campaign rally crowd that shouted "SEND HER BACK" when Trump spoke about Omar, a Muslim congresswoman who was born in Somalia. Trump said those making the racist chant were "incredible patriots."
Lin made additional comments about killing all the Hispanic residents living in Miami, as well as C.I., identified only by her initials.
Federal law enforcement agencies are concerned about the hate and violence Trump is inspiring.
"Federal law enforcement authorities have privately told ABC News they worry that — even with Trump's public denunciations of violence — Trump's style could inspire violence-prone individuals to take action against minorities or others they perceive to be against the president's agenda," ABC News reported in August.
At the same time, the FBI is timid about investigating white supremacists, knowing that many white supremacists make up Trump's base.
In recent months, several Trump fans have been arrested for threatening violence. in separate incidents, Trump fans have been arrested for threatening Ocasio-Cortez, Omar, Democrats in Congress (twice), and White House reporter April Ryan.  A Trump fan was arrested and pleaded guilty to mailing pipe bombs to prominent Democratic politicians, including former President Barack Obama.
A study of the 2016 campaign found hate crimes increased by 226 percent in cities that hosted a Trump rally.
In February 2019, Trump held a campaign rally in El Paso, Texas. Months later, a white supremacist gunman, echoing the racist language used by Trump, entered an El Paso Walmart hoping to shoot as many Mexicans as he could. Twenty-two people died that day.
Lin was arrested before he was able to follow in the El Paso's shooter's footsteps and carry out his own racist fantasies.
Published with permission of The American Independent.