Why Philly Will Face More Protests Than Cleveland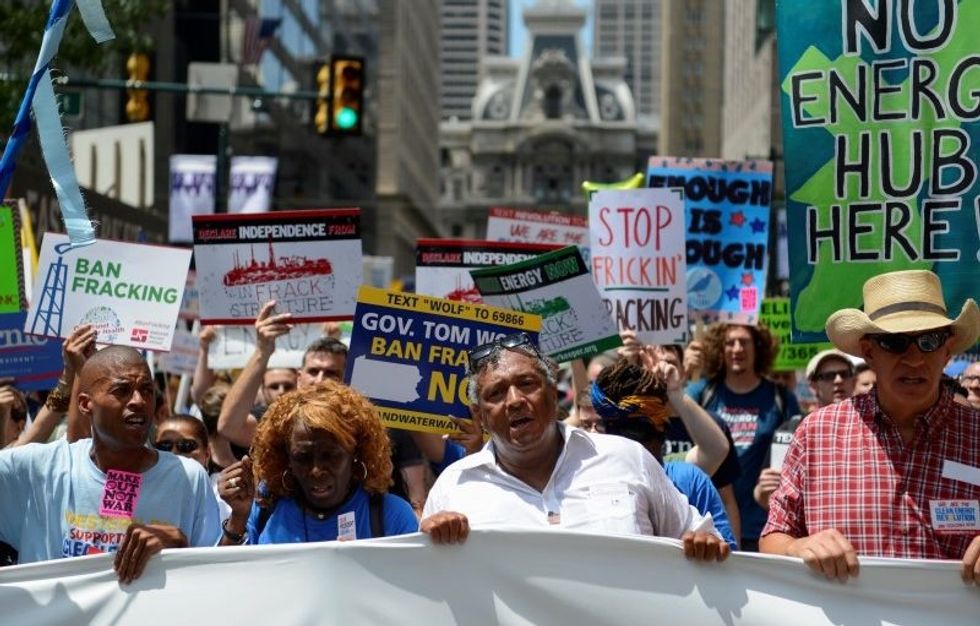 As the nation's attention turns from Cleveland to Philadelphia for the latest episode in this year's election cycle, protesters and police alike are preparing for what might be an explosive week in an already tense and violent presidential race.
During a summer that has already seen tragic incidents of violence both at the hands of and directed at police, the relationship between activists and cops has been under close attention at both the Republican and Democratic National Conventions.
While Cleveland saw an aggressive police presence enforce civility between pro- and anti-Trump demonstrators—an LA Times reporter compared the scene to "a heavily militarized debate camp"—Philadelphia is expected to experience a much more active protest scene.
Even before the convention started, demonstrations were already taking place: An estimated 1500 Bernie Sanders supporters marched on Sunday from Philadelphia's City Hall to Franklin D. Roosevelt Park—which organizers say will serve as a sort of protest headquarters this week—to celebrate the news that DNC Chair Debbie Wasserman Schultz would be stepping down.
Anywhere from 35,000 to 50,000 protesters are expected to swarm Philadelphia each day, with groups such as the "Bernie PeaceKeepers" preparing with civil disobedience training for the protests—and arrests—they're planning for later this week.
Many commentators felt similar anxiety over how Cleveland might handle protests, fearing a repeat of violent incidents that had taken place outside a Trump rally in San Jose earlier this year. But activists from either end of the political spectrum failed to show up in Ohio. Bikers for Trump were scant, as were Black Lives Matter activists.
Only two major stories seemed to transpire off the convention stage itself: an attempted flag-burning by revolutionary communist Joey Johnson and a tense interaction between Trump surrogate Alex Jones and left-wing activists.
The reasons for the discrepancy in turnout seem to be both geographic and political: Many Sanders supporters are fired up after emails deriding their candidate were leaked—and with a convention city easily accessible from the population-heavy Northeast, these protesters can actually get there.  
Cleveland, meanwhile, is a far trip from either coast, and most GOP critics of the nominee opted not to attend the convention at all. The little protest that did transpire was controlled quickly by police.
Both the flag burning and the Jones incident in Cleveland were de-escalated by police inside the city's newly-opened Public Square, a year-old 10-acre park a stone's throw away from the Quicken Loans arena. In response, The Atlantic's CityLab declared that "Cleveland Won the Republican National Convention."
And following that city's lead, the Philadelphia city government is purchasing over $250 million in insurance for potential damage—including $5 million in the case that a Philadelphia police officer is faced with a lawsuit, CBS News reported.
For some, this sort of heavy policing has its roots in the 2004 Republican convention in New York City, when then-mayor Michael Bloomberg capitalized on 9/11-fueled fears to crack down on Iraq War protests. 
"We're cautiously optimistic things will go well," Philadelphia Police Commissioner Richard Ross told The Wall Street Journal. "We have a responsibility to protect the First Amendment rights of everybody concerned."
Photo: Protesters march in the street ahead of Monday's start of the Democratic National Convention in Philadelphia, Pennsylvania, U.S., July 24, 2016. REUTERS/Bryan Woolston