Police Review Details Of Kurt Cobain's Death As 20th Anniversary Approaches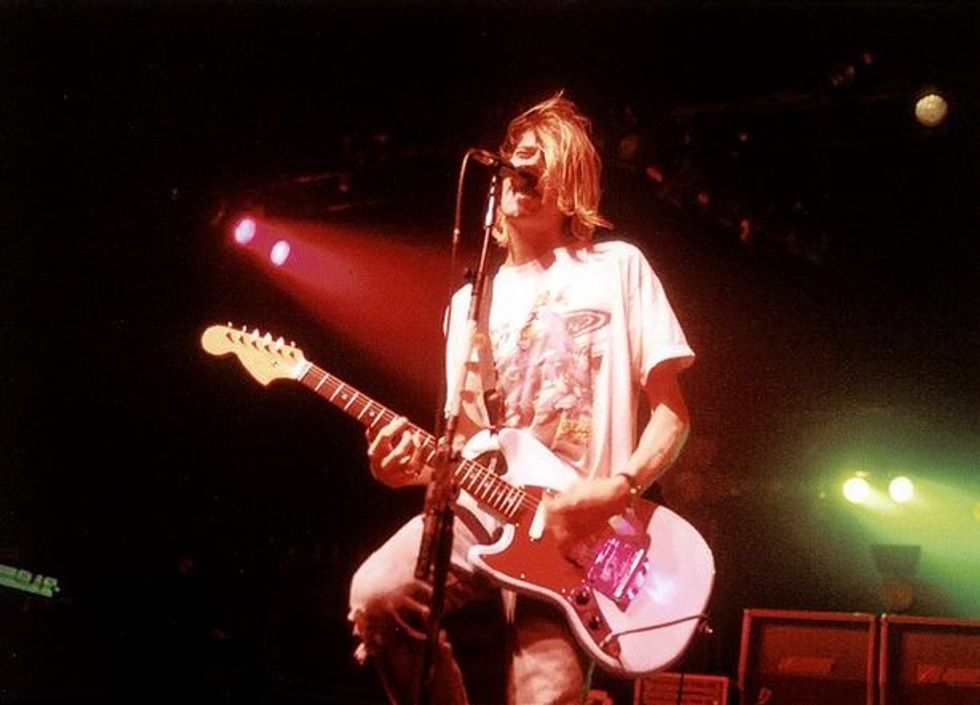 By Christine Clarridge, The Seattle Times
SEATTLE — In preparation for expected media interest in the upcoming 20-year anniversary of Kurt Cobain's death, the Seattle Police Department asked a detective to review the investigation into the rock legend's suicide.
The high-profile case had been the subject of countless books, articles, rumors, speculation and theories over the years, and the department's media office wanted someone to have a thorough understanding of the facts, according to police.
Cold-case Detective Michael Ciesynski said Thursday that the review revealed no new information, but he did develop four canisters of 35mm film that was included in the case film but previously unprocessed. Disputing one media report, he said the case was not being reopened.
Police on Thursday released two of the shots, one shows what Ciesynski called a narcotics user's kit — a cigar box filled with syringes, cotton, a spoon and suspected heroin. It was almost identical to a similar Polaroid image of the kit that previously had been released, police said.
The second photo shows the closed cigar box, as well as sunglasses, a pack of cigarettes, a cap, cash, wallet and lighter.
Police spokeswoman Renee Witt said overall the photographs were "underwhelming." She said the department plans to release some of the new photographs and answer questions April 5, the anniversary of Cobain's death.
Other new photos, the ones that show Cobain's body, will not be released.
The 27-year-old Nirvana singer and guitarist was found dead of a gunshot wound with a shotgun across his body in his home on Lake Washington Boulevard East on April 8, 1994.
Gary Smith, an electrician who found the body, said that he found a suicide note that ended with "I love you, I love you."
The police investigation determined that Cobain had committed suicide three days before, on April 5. Despite that finding, there are some who have theorized the troubled Nirvana frontman had died as the result of foul play.
Ciesynski said the rolls of film hadn't been developed for several reasons.
One reason is that the King County Medical Examiner's Office had taken its own set of photographs that were used once it was determined the death was a suicide.
In addition, police also had a series of Polaroid pictures that showed the same images that were on the 35mm film but from slightly different angles.

Finally, shortly after Cobain's death, his estate asked police to try to keep photographs from being leaked or used for unscrupulous purposes, according to police records.
Police decided at that time it would be easier to keep the photographs from being circulated if they were not developed, according to the investigative report.
On Thursday, Ciesynski said that he decided to go ahead and have the film developed to put to rest conspiracy theories and speculation about what was in the rolls of film. But nothing new was disclosed, Ciesynski said.
He said his review left him convinced that the original investigators did a thorough job and that Cobain's death was a suicide.
According to the Medical Examiner's Office, Cobain died of a self-inflicted shotgun wound to the head and toxicology reports showed that he had a lethal dose of heroin in his body at the time of his death.
In the days and weeks after Cobain's death, detectives spent more than 200 hours interviewing his family and friends, his reputed heroin dealer and others. A handwriting expert was hired to review the note found by Cobain's body to make sure it was authentic.
According to police reports released shortly after his death, Cobain had purchased a shotgun, fled a drug-treatment facility, fought with his wife, Courtney Love, and threatened to kill himself in his last weeks.
Photo: Paul via Flickr