Police Shoot, Kill Disgruntled Gunman After Standoff In Armored Van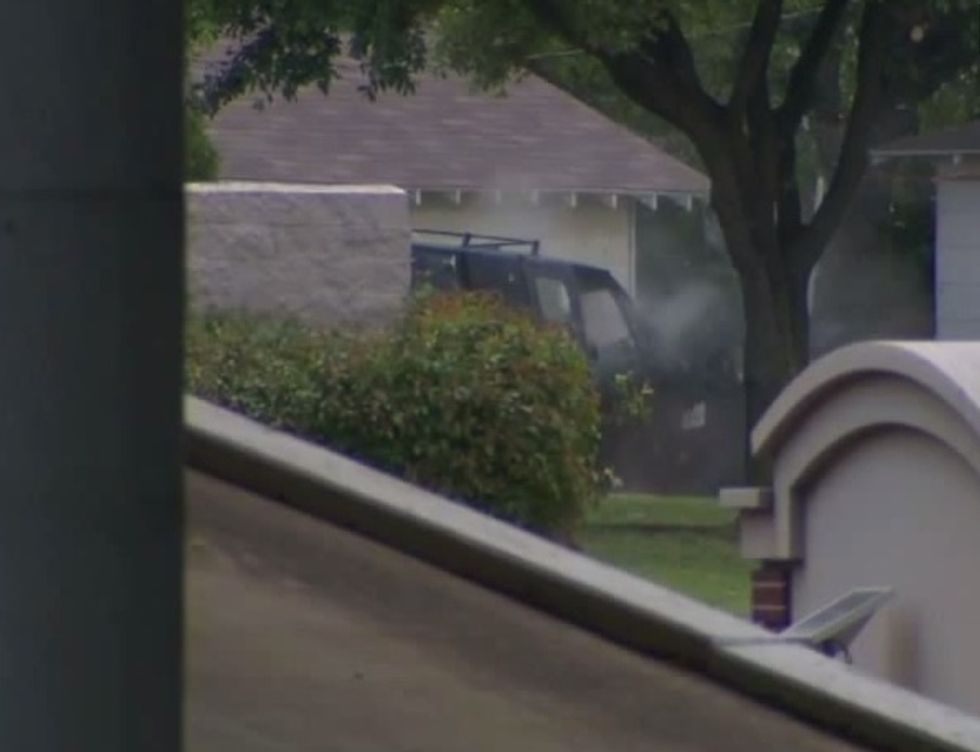 By Molly Hennessy-Fiske and Nigel Duara, Los Angeles Times (TNS)
DALLAS — An overnight shooting turned police headquarters here into a crime scene on Saturday with a detonated pipe-bomb and bullet-riddled windows and police cars, while miles away a suspect was shot dead by a police sniper after a standoff in an armored van carrying explosives.
"We were unbelievably fortunate," Dallas Police Maj. Jeff Cotner said of the brazen attack in which no one was killed or injured.
More than 30 bullets tore through the lobby's front windows and glass doors after the gunman, apparently angry over losing his child in a custody dispute, approached on foot and opened fire on the building with an assault-style weapon about 12:30 a.m.
"Officers were sitting there at the time that the shots were fired," Cotner said of the lobby damage. "Those rounds went all the way through and into records, the room at the back."
Police found two satchels containing pipe bombs near the headquarters building and evacuated a nearby housing complex. A police officer almost tripped on one pipe bomb package planted at the scene and rigged to explode when touched, said Police Chief David Brown. One explosive detonated in front of a gray Toyota SUV, destroying the front and charring the pavement.
Cotner would not say whether police detonated the bomb, but investigators found an electronic detonator in nearby trees.
Bullet holes penetrated one police cruiser, passing through the seat and the seat belt on the driver's side and the rear passenger window. But neither officer in the car was hit — a "miracle," Cotner said.
"We barely survived the intent of the suspect," Brown said.
The shooter, who later identified himself to police as James Boulware, 35, of Paris, Texas, sprayed the squad cars with bullets before peeling off in an armored van equipped with gun ports, officials said. As police chased him south, he called them to say his van was full of explosives, Brown said.
The suspect, who investigators said has not yet been identified by medical examiners, eventually stopped at a Jack-in-the-Box parking lot in the suburb of Hutchins, about 12 miles south, and was surrounded by a SWAT team. There the attacker exchanged gunfire with police and told negotiators that he blamed police for his loss of custody of his son and "accusing him of being a terrorist," Brown said.
During negotiations, the man became increasingly angry, and police grew concerned that they and nearby residents could be shot at, Brown said.
After an hours-long standoff, police fired through the windshield of the van around 5 a.m. and then used an "explosive water charge" to neutralize the gunpowder in bombs inside the vehicle, Brown said. Shortly before noon, police detonated the van, which caught fire.
The name given by the suspect matches that of a Texas man, James Lance Boulware, who was at the center of a brief police manhunt two years ago after an argument with his family in which he made threats about shooting at schools and churches, said Bob Hundley, the police chief in Paris.
The incident in April 2013 began when Boulware reportedly made several aggressive statements about religion. His mother told him he was "going to hell," and Boulware then grabbed her by the throat, Hundley said. He also fought with an uncle.
"He was coming to do them some harm," Hundley said of the encounter with family members.
When the confrontation ended, according to the report, Boulware's brother said Boulware went home and retrieved guns, ammunition and body armor.
Because Boulware had reportedly made threats about shootings, a multiagency manhunt followed until a Lamar County sheriff's deputy stopped Boulware's car. Police did not find any weapons, armor or ammunition in the car, and he was arrested on outstanding warrants. It is unclear how the arrest was resolved.
Kim Cooks, judge of the 255th Family District Court in Dallas County, who said she had been overseeing Boulware's custody arrangement, told CNN on Saturday that she had been concerned about Boulware, especially after he missed a custody hearing on Monday. Someone using Boulware's name had left rants on a Facebook page for Cooks' election claiming she was against him.
"I never did think (the Dallas police) would be the target," Cooks said in a televised interview. "I always thought that I was going to be the target."
The attack shook not just Dallas, the ninth-largest city in the country, but other Texas cities. In Harris County, which includes Houston, the Sheriff's Department issued a message to residents saying that although the shooting appeared to be isolated, they would "maintain a sense of security to ensure officer and community safety alike."
In Austin, Texas Attorney General Ken Paxton called the shooting "a dangerous reminder of the unpredictable threats our men and women in law enforcement face every day."
(Duara reported from Phoenix.)
(c)2015 Los Angeles Times. Distributed by Tribune Content Agency, LLC.
Screenshot: CNN/YouTube