Behind The Scenes Of The Bipartisan, Politically Neutral Election Offices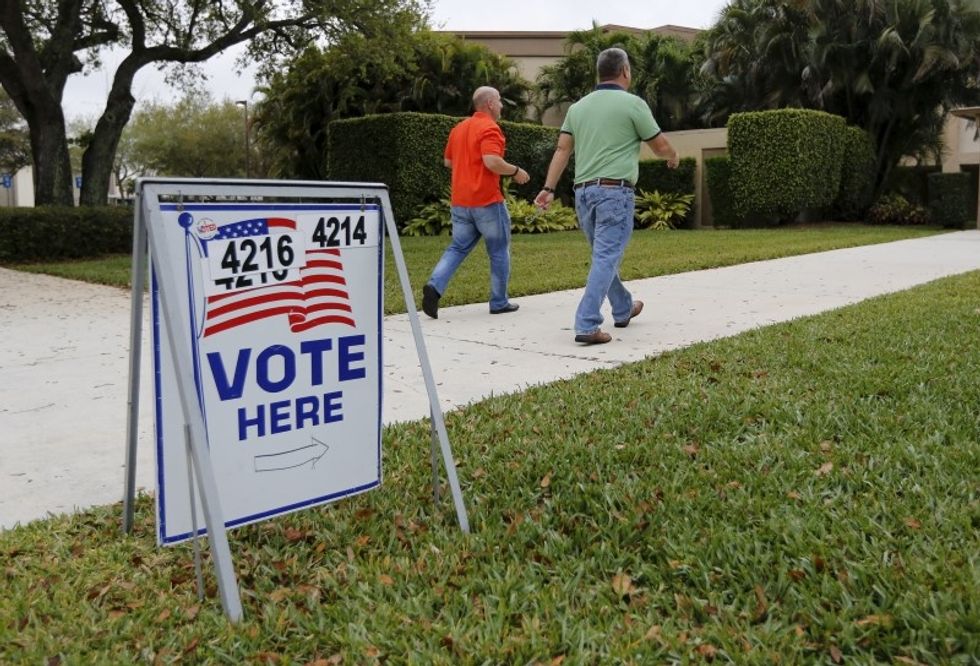 Thou shall not wear your Make American Great Again ball cap or your Nasty Woman T-shirt to a Kansas City voting booth.
Both violate the high standards of nonpartisanship that local election officials diligently work to maintain in their own offices. And no taking selfies while voting, or making a video within 25 feet of the polling space. That, too, is not allowed. Along with anything that could be considered politically charged sloganeering on any issue or candidate on the ballot.
Violators will politely be asked to turn their T-shirts inside out, take off the caps and buttons or set aside any political literature. It's all to maintain fairness.
In this highly contentious election year, you'd be hard-pressed to find a more politically neutral place than the offices of the Kansas City Board of Election Commissioners. Like other local election offices, it's a safe zone for people of either political persuasion. And it's a standard that staff will extend to polling places on Election Day.
Everything is split equally between the two major parties. There are 26 full-time positions in the office, located in the lower level of Union Station. Twenty-four are filled right now, and they are staffed in equal divisions between the parties. An additional 36 seasonal hires are also split between the two parties, with Independents filling in to either side.
The two directors — one Democrat, one Republican — joke that if someone wanted to start a heated debate in the office, it wouldn't be about politics. Bring up Tigers versus Jayhawks. That could do it.
The goal of the staff is united around safeguarding people's right to vote.
"We have the job of running the election," said J. Casey Martin, the chairman of the election board. "We don't decide who or what gets put on the ballot. Our issues are logistical, not political."
So Union Station's lower level has been a hub of activity in recent weeks, as workers have been focused on preparing equipment, registering new voters, preparing for absentee voting, locking down polling locations and training poll workers. They've ordered extra plastic magnifiers to help voters read the ballot and hundreds of privacy booths.
It might seem counterintuitive, but the staff's biggest concern isn't necessarily who wins and who loses. Rather, they'll be focused on whether outcomes are so close that a recount might be needed. Precision and planning is ritualized. And locked — there are multiple areas where only those with authorization can enter.
On multiple locked doors, behind which votes will be tallied or ballots are kept, signage instructs that no one may enter alone. For those with key access, they must only do so in pairs — a Democrat and a Republican. A pair of eyes from the opposite party is always present. The same process will be used on Election Day as results are tabulated.
In the warehouse area, large blue boxes, like something a magician might use onstage, hold the necessary materials for each of the 149 polling locations. Each box is padlocked. The staff know how many ballots are sent to each location. Checks and balances at every step are lengthy.
All of this attention to detail ought to subdue fears and disingenuous talk about a rigged election. The reality is that voting is very decentralized in the U.S. There are more than 10,000 separate jurisdictions like the Kansas City Election Board across the country, with multiple ones even in the metro area. And most voting is not done over the internet, with the exception of military and overseas votes.
"For someone to collude would require the commitment and participation of thousands of people who simply have no incentive to do so," Martin said. "And then, they'd all have to be quiet about it."
That should help alleviate skepticism. What voters definitely should bring to the polls is their patience, noted director Shawn Kieffer. Lines are expected to be long in Kansas City because the ballot is exceptionally lengthy. Election officials timed one of their seasonal hires as they completed a sample ballot without any prep. It took the worker 31 minutes. Multiply that by the anticipated high turnout.
The advice is to study up on the issues. Voters can download a sample ballot, print it out and make their choices. It's OK to take your sample ballot into the polling place to refresh your memory.
A whiteboard outside the office of director Lauri Ealom sets a good tone. It asks staff to ponder: "I Vote Because…"
My reply: Because my father fought in a world war for this country even before he had been granted his citizenship. My mother was cognizant that she was in the first generation of women in her family who'd always had the right to vote. It would be offensive to the memory of both for me to shrug off voting.
Your vote counts. Get out Tuesday and cast it.
IMAGE: Voters walk to a polling precinct on primary day in Florida for the U.S. presidential election in Boca Raton, Florida March 15, 2016. REUTERS/Joe Skipper