Poll: Americans Overwhelmingly Oppose Republican Attack On Health Care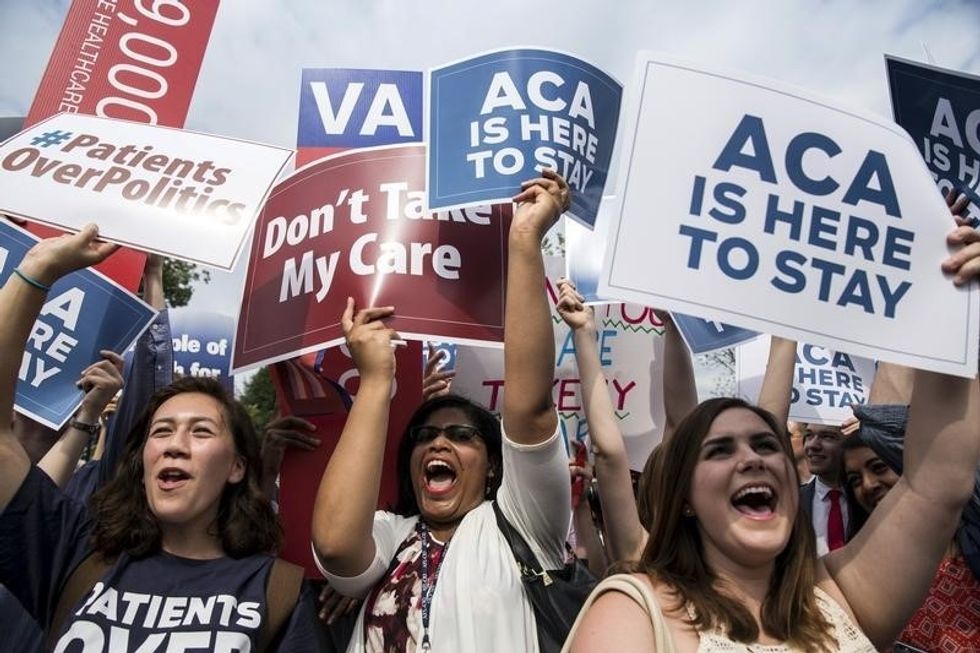 The Republican Party's efforts to rip health care away from millions of families spelled doom for the GOP in the 2018 midterm. Yet somehow, Trump thinks it's a good idea to try one more time — even as yet another poll indicates that Americans don't want him to.
On Tuesday afternoon, less than 24 hours after his lawyers announced they wanted to completely eliminate the Affordable Care Act (ACA), Trump bragged that Republicans "will become 'The Party of Health care!'"
But in a Monday court filing, Trump's Department of Justice announced that it advocates striking down the entire ACA. If this happens and Trump gets his wish, 30 million people stand to lose access to health care. Millions more would lose protections for pre-existing conditions, one of the ACA's most popular mandates. And 1.2 million people could lose their jobs.
No wonder a new poll shows once again that Americans don't want Trump and Republicans to scrap the ACA. Instead of destroying the current health care system, voters want to improve it — which the new Democratic majority in the House is committed to doing.
A majority of voters (55 percent) want to improve the current health care system, while fewer than 1 in 3 voters want to replace it, according to a new Quinnipiac poll released on Tuesday.
Even among Republicans, 49 percent want the nation's health care system improved, compared to 36 percent who want it replaced.
The Trump administration is trying to use the courts to do what Republicans in Congress tried but failed to accomplish.
Throughout 2017 and 2018, Republicans repeatedly tried to weaken and eliminate the ACA, including provisions protecting people with pre-existing conditions. When the House of Representatives passed one such measure, Trump and Republicans gloated in a Rose Garden celebration.
Ultimately, however, Republicans failed in their efforts to take health care away from millions when the Senate rejected the measure.
Trump's actions in court are sure to bring health care back into the headlines —and polling shows he and Republicans are on the wrong side of the issue.
In the 2018 midterms, health care was one of the biggest issues on voters' minds, and Democrats made historic gains in the House of Representatives. At the time, a Kaiser Family Foundation poll  showed voters overwhelmingly trusted Democrats over Republicans on health care issues.
Near the end of the campaign, Republican candidates and Trump made a last-ditch effort by lyingto voters about their position on health care and pre-existing conditions. But voters saw through the act, and sent an overwhelming rebuke to Republicans who tried to sabotage health care.
On Tuesday afternoon, Democrats announced a plan to strengthen and improve the ACA. The new legislation would focus on protecting people with pre-existing conditions, and improve the current law to help lower health insurance premiums for families.
It's clear that voters reject the GOP's destructive, nonsensical ideas about health care — yet Trump and Republicans keep trying the same failed strategy.
Published with permission of The American Independent.
IMAGE: Supporters of the Affordable Care Act celebrate after the Supreme Court upheld the law in the 6-3 vote, at the Supreme Court in Washington June 25, 2015. REUTERS/Joshua Roberts