Poll: Americans Say Unemployment Is The Top Problem Facing The Nation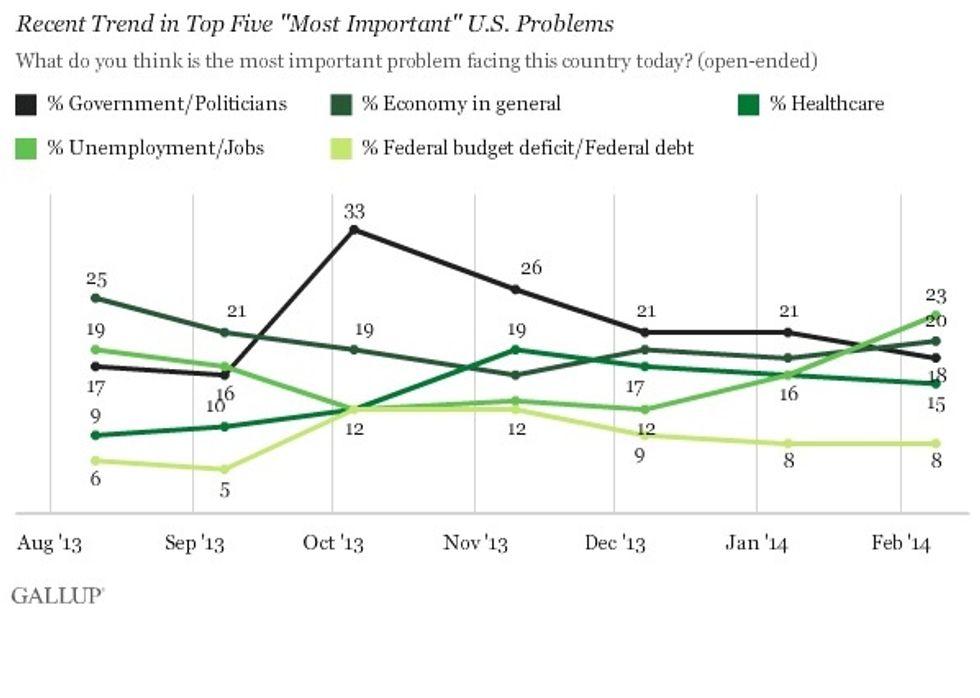 A Gallup poll released Monday finds that a 23 percent plurality of Americans say unemployment is the most important problem facing the nation today.
Another 20 percent say it's the "economy in general." "Dissatisfaction" with the government, Congress and politicians, or with "poor leadership," "corruption," and "abuse of power" comes in third; 19 percent of Americans consider it to be the country's top problem.
Health care – specifically "poor" health care and hospitals, as well as the "high cost of health care" – is fourth on the list with 15 percent.
Republicans and Democrats are united in their concern over the nation's jobs crisis. In fact, an equal 24 percent from both parties say that unemployment is the most important problem in the country today – 23 percent of Independents agree.
The economy in general worries Republicans more than Democrats: 22 percent of Republicans named it as their number-one concern, while only 17 percent of Democrats and 21 percent of Independents said the same.
On government and health care, however, a clearer contrast emerges between Republicans, Democrats, and Independents. Only 14 percent of Republicans feel the government is the nation's top problem, but a greater percentage of Democrats and Independents – 17 percent and 21 percent, respectively – maintain the same position, which puts the issue third in the poll. On health care, more Republicans express concern – 18 percent call it the biggest problem in the country – but fewer Democrats and Independents feel the same way.
With midterm elections approaching in November, the poll's findings may serve as a warning for the GOP, whose members are using an almost exclusively anti-Obamacare platform to discredit their Democratic opponents and attract votes. Although another Gallup poll released in early February shows that a majority of Americans still disapprove of the new health care law, to voters, it is less important than pocketbook issues like unemployment, job creation, and the overall state of the economy – subjects on which the Democratic Party's stances are more popular than the GOP's.
Even if attacks on the Affordable Care Act appeal to Republican voters, the GOP will eventually need to come up with economic proposals that resonate with the broader public. Doing so would likely mean that the Republican Party would have to either change its position on or suggest a replacement to economic proposals backed by Democrats – like a minimum-wage hike and an extension of federal unemployment benefits.
Democrats, however, have challenges of their own. Only 22 percent of Americans feel satisfied with the "way things are going" in the country – 5 percent less than the 27 percent who said the same a year ago, and 1 percent less than the 23 percent who said so in December and January.
The Gallup poll was conducted between February 6 and 9, and surveyed 1,023 adults nationwide. The poll has a margin of error of +/- 4 percent.
Graph via Gallup