Poll: Americans Still Favor Path To Citizenship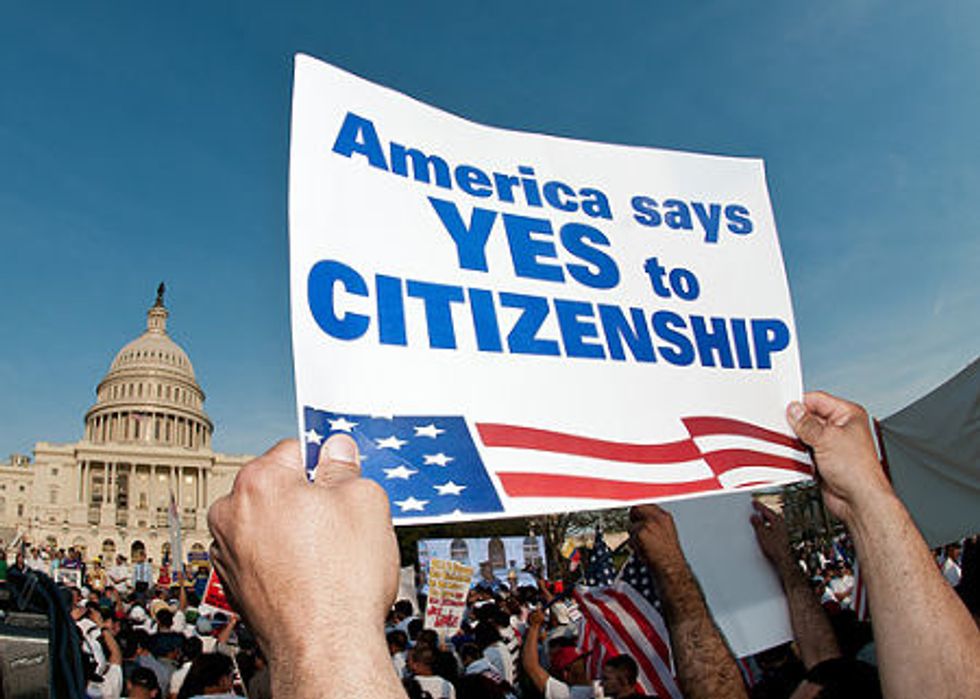 Almost two-thirds of Americans support including a pathway to citizenship in any immigration reform deal, according to a new poll from the Public Religion Research Institute.
The poll, which was released on Monday, finds that 63 percent of Americans favor providing a way for undocumented immigrants to become citizens if they meet certain requirements. Support for a pathway to citizenship cuts across party lines; 73 percent of Democrats, 60 percent of Republicans, and 57 percent of Independents favor that approach, which the Senate adopted in the bipartisan reform bill it passed over the summer.
Just 14 percent of Americans support a plan allowing undocumented immigrants to become permanent legal residents, but not citizens. This is the approach favored by many Republicans who recognize the need to reform the immigration system, but consider a path to citizenship to be "amnesty." Politically, this tactic is clearly a non-starter — indeed, it is even less popular than a policy that would simply deport all undocumented immigrants (this is supported by 18 percent).
The poll also confirms that Americans are eager to see the House act on reform; 34 percent believe that the immigration system is completely broken — up from 23 percent in PRRI's March 2013 poll — and 31 percent believe that it is mostly broken. Furthermore, 41 percent believe that reforming the system should be an immediate priority for President Obama and Congress — up from 37 percent in March — while 42 percent say that it should be a priority over the next couple of years. Just 14 percent say it should not be a priority at all.
The issue is still a prime concern for President Obama. The president is scheduled to deliver a speech on the topic in San Francisco on Monday, in which he is expected to reiterate his call for the House of Representatives to act on comprehensive reform as soon as possible. House Republicans have said that they will not vote on reform this year, although Speaker John Boehner insists that reform is not dead.
Despite the political pressure and the public's strong preference for reform, however, there is reason to doubt that punting on the issue will hold serious electoral consequences for the Republican Party — raising the odds that they will decline to act before the 2014 midterm elections.
Photo: SEIU International via Flickr