Poll: Democrat Michelle Nunn Holds Narrow Leads In Georgia Senate Race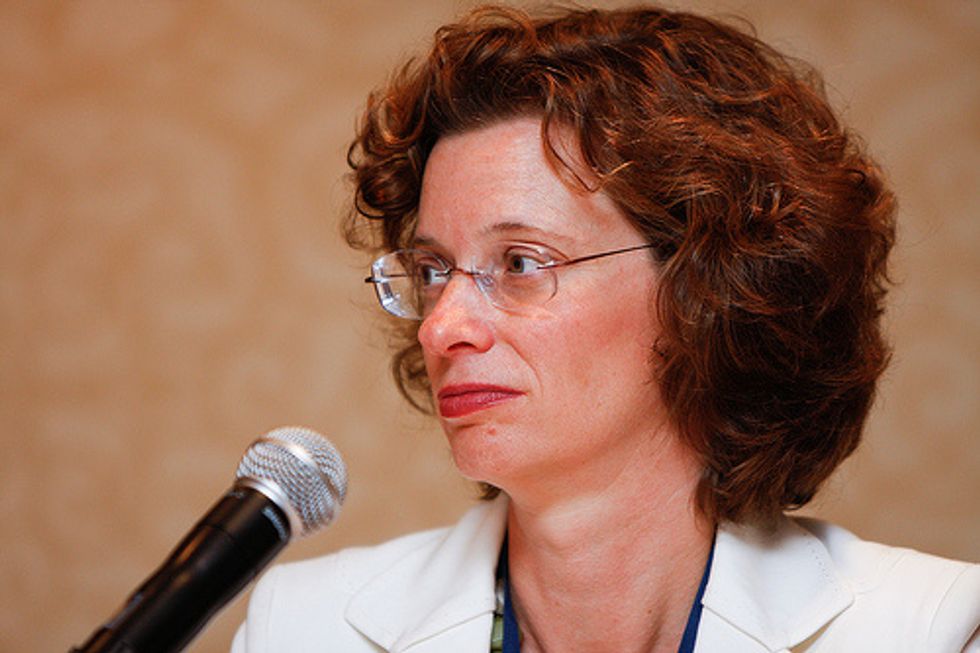 Democrat Michelle Nunn narrowly leads all of her Republican rivals in Georgia's 2014 race for U.S. Senate, according to a new Public Policy Polling survey.
The poll, which was commissioned by progressive advocacy group Americans United for Change, finds that Nunn leads Rep. Paul Broun 42 to 41 percent, Rep. Jack Kingston 44 to 42 percent, Rep. Phil Gingrey 45 to 41 percent, and former Georgia secretary of state Karen Handel 44 to 40 percent. Each of those leads is within — or right on the border of — the poll's plus-or-minus 3.9 percent margin of error.
The results are similar to PPP's previous poll in August, which found the race to be essentially a toss-up.
Nunn, a former CEO of the Points of Light charity and the daughter of former Georgia senator Sam Nunn, is benefiting from strong support among her own party. She is winning over 80 percent of Democrats against each of her prospective opponents; by contrast, none of the Republicans are carrying over 80 percent of their party's voters.
Nunn is the overwhelming favorite to win the Democratic nomination in Georgia's May 20 primary. Broun, Kingston, Gingrey, and Handel are the four leading contenders in the increasingly negative Republican primary; Gingrey currently holds a narrow lead in early polls.
In order to win in reliably Republican Georiga, Nunn will need a strong showing among Independent voters. She currently leads each of the four Republicans by between 2 and 5 percent among this crucial constituency. There is some reason for Republicans to worry that Nunn could run up the score with Independents and moderate voters; the GOP primary has so far taken the form of a race to the far right, and given the controversies in the candidates' pasts, there is a real possibility that the GOP could wind up with an unelectable nominee.
Nunn may represent Democrats' best chance to win a Republican-held Senate seat in 2014. If she does pull off an upset in November, it would greatly complicate the GOP's hopes of winning the net six seats it needs to claim a Senate majority.
PPP surveyed 640 Georgia voters from January 24 to 26. The poll has a +/- 3.9 percent margin of error. Its full results can be seen here.
Photo: Be The Change, Inc via Flickr