Poll: Distrust Over Trump And Tax Cuts Driving Democratic Midterm Wave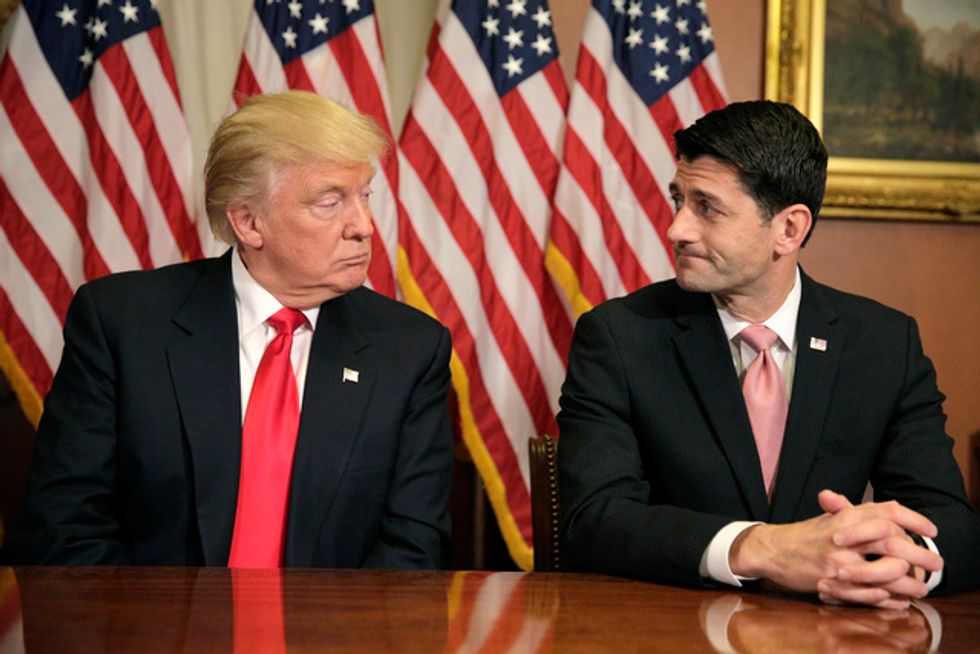 For Republicans, disaster seems to dominate every news cycle: Paul Ryan, the House Speaker and one of his party's most prolific fundraisers, announces that he will not run for reelection (and the leading would-be GOP nominee in his district is an actual Nazi). Ryan's retirement is only the latest of at least 40 Republican members who are doing likewise. Nonpartisan analysts continue to increase the odds in blue turnovers in usually safe red districts. The historically unpopular president has instigated a trade war that is alienating his own rural base.
And the tax cut that was expected to serve as the centerpiece of the Republican midterm campaign? A new poll from Democracy Corps and the American Federation of Teachers shows that in House battleground districts, relatively few people believe the benefits were distributed fairly or that the tax cut benefits them and their families — indeed, the more they learn, the more voters are motivated to vote for Democrats.
Conducted by Greenberg Quinlan & Rosner, the poll of 1000 voters showed a generic advantage for Democrats of 10 percentage points nationally and — albeit with a smaller sample — an advantage of 16 points in the battleground districts. That 16-point Democratic margin also shows up among voters with the highest level of interest in the midterm.
In a memo that accompanies the survey, pollster Stan Greenberg and AFT president Randi Weingarten say it shows that vigorous argument from Democrats on taxes, Social Security, Medicare, and infrastructure can wipe out any boost that Republicans hope to get from economic conditions. Driven by dislike of Donald Trump and his entire cabinet (Betsy DeVos is the most unpopular name polled), Democratic voter intensity is exceptionally strong — while Republican interest is waning.
Greenberg and Weingarten write:
The midterm election is starting to break against Donald Trump and the Republican Party in profound ways and running on the economy and the new tax cut helps further solidify advantages for Democrats. This is according to a new AFT-Democracy Corps national phone poll and deep focus group research on the economy, President Trump, the new tax cuts, and strategies for 2018.

The results of this AFT-Democracy Corps poll reflect the same conditions witnessed in the real world of special elections where Democrats have won: differential enthusiasm, but also some movement of Trump voters. Democrats hold a 10-point lead in the generic vote in this poll, produced by strong leads with people of color, millennial women, unmarried women, and college women. This poll also shows stunning new breakthroughs with seniors, where Democrats are ahead, and the white working class, which has now fractured along gender lines.

Big gaps in intensity and enthusiasm are an inescapable party of the story. Democrats' strong disapproval of Trump exceeds Republicans' strong approval of Trump by almost 30 points, and the generic margin grows to a stunning 16-points among the 50 percent of registered voters with the highest interest in the 2018 election…

Progressives should stop worrying that the passage of the tax cut shows the GOP is delivering on their signature promise. We now know from this poll that the tax cut is as much a voting issue for its opponents as it is for its supporters, for Democrats as for Republicans, for liberals as for conservatives…We have already seen evidence of this in races like the [Pennsylvania-18] special election where the Republicans pulled their tax cut ads.
Both their memo and the poll crosstabs are worth reading in full.
IMAGE: Donald Trump meets with Speaker of the House Paul Ryan on Capitol Hill. REUTERS/Joshua Roberts