Poll: Florida Governor Rick Scott Is In Deep Trouble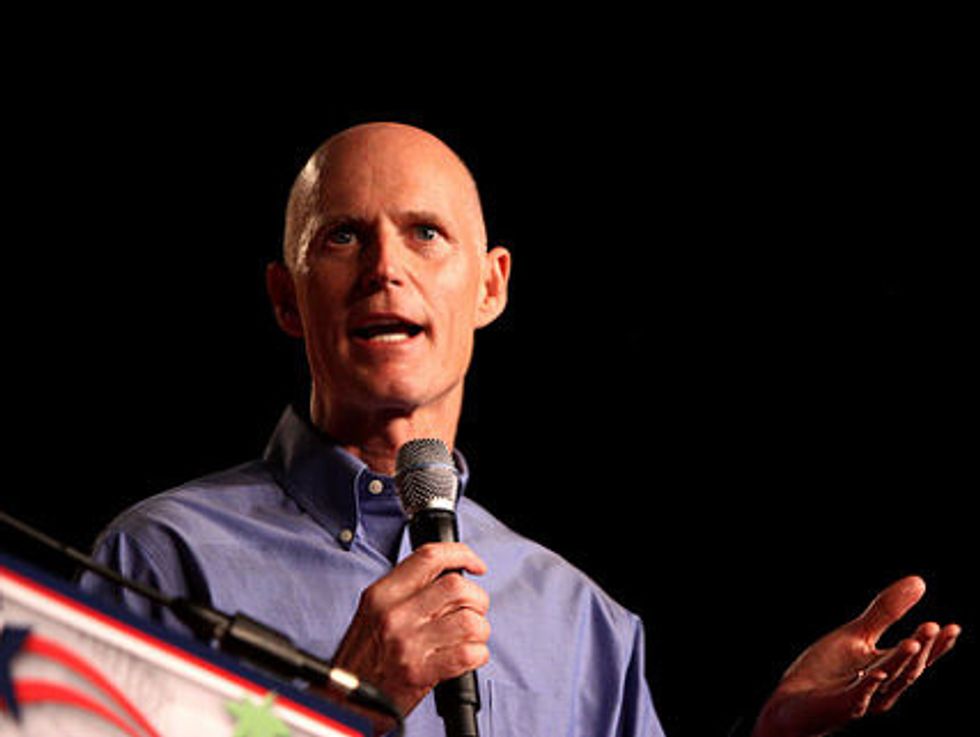 According to a new Public Policy Polling poll, Florida voters are eager to vote Governor Rick Scott out of office.
The poll finds Scott's approval rating at a dismal 33 percent, with 57 percent disapproving. These numbers are unchanged from PPP's previous Florida poll in January, despite Scott's concerted effort to appeal to Florida's moderates over the past two months.
If the election were held today, former governor Charlie Crist would easily defeat Scott, 52 to 40 percent. Crist, the Republican-turned-Democrat who served as governor from 2007 through 2011, holds a 46 percent approval rating, with 43 percent of Floridians disapproving. These numbers aren't great, but should be good enough to top the deeply unpopular Scott.
The poll also finds Scott trailing two other potential Democratic candidates; former Tampa mayor Pam Iorio leads Scott 44 to 37 percent, and former Florida chief financial officer Alex Sink — who Scott defeated by less than 1 percent in the 2010 gubernatorial election — would lead the incumbent 45 to 40 percent.
Perhaps more troubling for Scott is that he is no longer even a safe bet to win the Republican Party's nomination next year — 42 percent of Republicans say they want Scott to be their candidate in 2014, while 43 percent say they would prefer someone else. An overwhelming 55 percent of self-described moderates want to replace Scott; just 34 want him to seek re-election. "Somewhat conservative" Republicans support Scott 43 to 38 percent, and "very conservative" Republicans back him 46 to 42 percent. These numbers would theoretically leave the governor very vulnerable to a primary challenge.
Scott's struggles among moderate Republicans help to explain his recent shift towards the center; after spending most of his term railing against government spending and Obamacare, in the past two months Scott moved to expand funding for education and accepted the Affordable Care Act's Medicaid expansion. So far, these decisions have not helped Scott's poll numbers.
They may have consequences with Scott's few remaining supporters, however. Scott's flip-flop on Medicaid expansion left one Florida Tea Party group so angry that it penned the governor a "breakup note," wondering "how the Medicaid expansion is going to pay for the surgery to remove the knife planted in my back."
If Scott isn't careful, one of the first governors to be swept into office by the Tea Party movement may end up being swept out by the exact same forces.
Photo: Gage Skidmore/Flickr