Poll: Gomez Within Striking Distance Of Markey In Massachusetts Special Election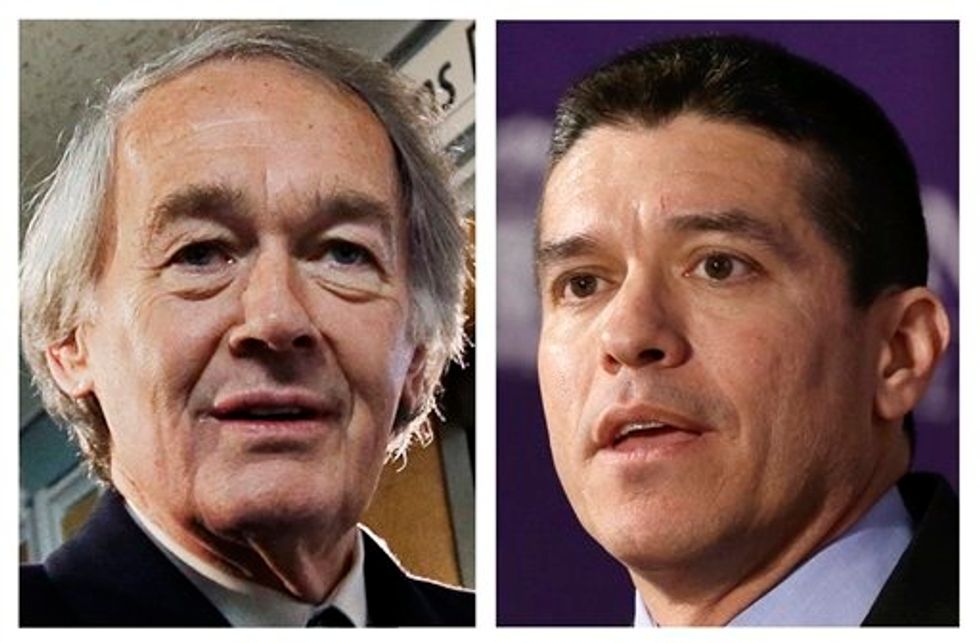 Could Republican Gabriel Gomez pull off a shocking upset in Massachusetts' special Senate election?
According to a new internal poll released by Gomez's campaign, the GOP underdog is within striking distance of his Democratic opponent, U.S. representative Ed Markey. The poll finds Markey leading Gomez by just three points, 46 to 43 percent — 11 percent remain undecided.
The poll was conducted May 5-7 by OnMessage Inc., a Republican firm, and has a +/- 3.4 percent margin of error.
Gomez's surprising strength is built on his personal popularity and strong numbers among independents — 43 percent of voters view Gomez favorably, while 15 percent view him unfavorably; that 28 percent spread outpaces Markey, who is viewed favorably by 45 percent and unfavorably by 35 percent. Among independent voters — a critical constituency for a Republican candidate in deep-blue Massachusetts — Gomez leads Markey 50 to 36 percent, with 14 percent undecided.
"The results of our statewide survey are in and the race is razor thin," pollster Wes Anderson said, as reported by MassLive.com. "The data is clear; Gabriel Gomez stands a very good chance of defeating Congressman Ed Markey this June."
The OnMessage poll echoes the results of recent polls from Public Policy Polling and Emerson College, which showed Markey leading Gomez by 4 percent and 6 percent, respectively. Those results stand in stark contrast to the last Suffolk7News poll, which found Markey leading by 17 percent.
Gomez is attempting to follow in the footsteps of Scott Brown, who rode a decisive advantage among independent voters to a huge upset win in Massachusetts' 2010 special election. Brown's 2012 re-election campaign provides a warning sign for Gomez, however. Although Brown had an impressive 60 to 38 percent favorability rating — higher than Elizabeth Warren's 56 to 43 percent mark — Warren still won the race by a comfortable 8 percent margin, underscoring how difficult it is for Republicans to overcome the Bay State's partisan gap.
AP Photos, File