Poll: Jindal's Approval Rating Craters In Louisiana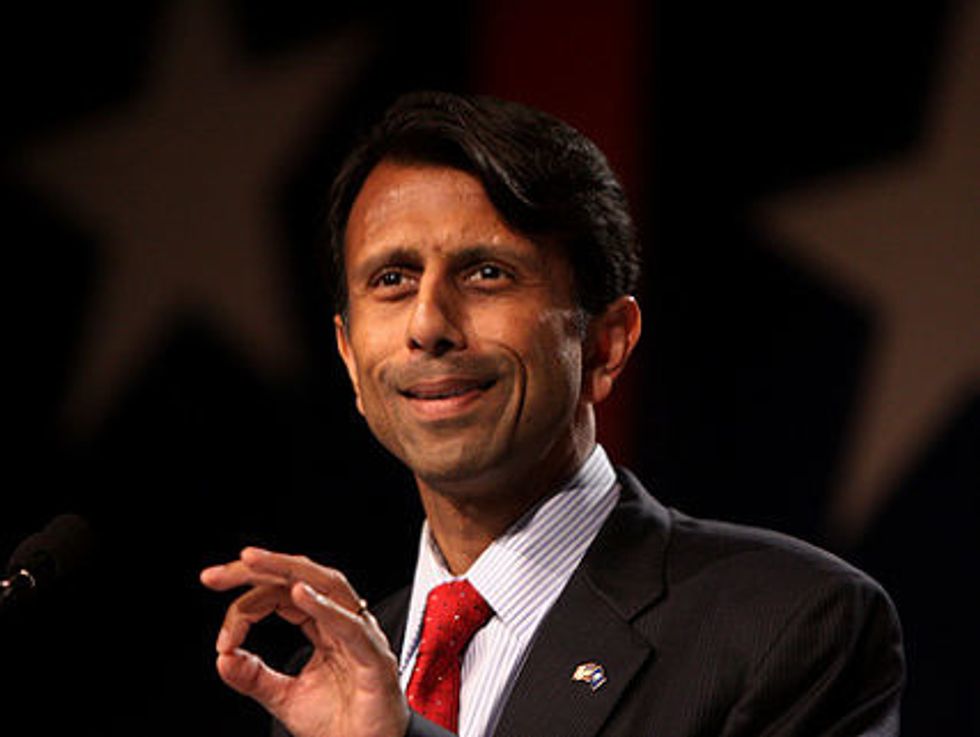 According to a new Southern Media & Opinion Research poll, Louisiana governor Bobby Jindal's approval rating has plummeted 13 percent over the past five months, leaving Jindal less popular than President Barack Obama in the deep-red state.
The poll finds Jindal's approval rating at 38 percent, down from 51 percent in October. 60 percent disapprove of Jindal's job performance. Furthermore, when asked what letter grade they would give Jindal, 49 percent said they would give him a D or F.
There's little mystery as to the reason for Jindal's declining popularity: Voters are overwhelmingly rejecting his right-wing policies.
—63 percent of respondents opposed Jindal's plan to eliminate state income taxes and increase sales taxes — a popular idea on the right which would cut taxes for the top 1 percent of Louisianans, while raising taxes on the bottom 80 percent.
—60 percent oppose the privatization of state-run public hospitals — which has been a priority of the Jindal administration — and 75 percent said he has made little or no progress on improving public health.
—60 percent said Jindal has cut the state budget enough, and 47 percent said his previous budget cuts have had a negative impact on them or their families.
Finally, 58 percent said conditions in the Pelican State are getting worse, compared to just 20 percent who said they're getting better, and 30 percent who said they're about the same. In other words, now that Louisianans have been confronted with the realities of Tea Party government, they seem to have developed buyers' remorse.
Perhaps most damning for Jindal is his standing compared to President Barack Obama. Obama's approval rating in Louisiana currently sits at 43 percent — five points higher than Jindal's. Considering that Mitt Romney trounced Obama 58 to 41 percent in Louisiana in the 2012 election, those numbers should be a glaring warning sign for Jindal.
Overall, the poll suggests that Jindal — who is widely suspected of harboring presidential aspirations — has a fragile political future. Before he can worry about the 2016 presidential election, he will likely face an uphill fight to keep his current job in November, 2015. Maybe Donald Trump was right when he blasted Jindal as "stupid" for trying to jump into national politics.
Photo: Gage Skidmore via Flickr.com