Poll: John McCain Least Popular U.S. Senator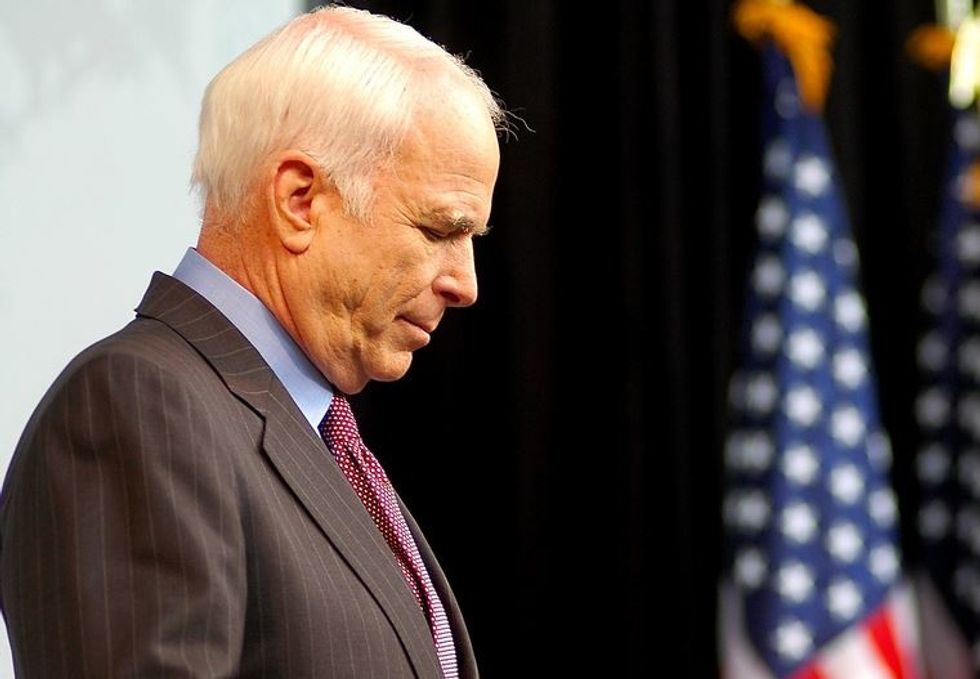 During his speech to the Conservative Political Action Committee on Thursday, Senator Ted Cruz (R-TX) took a jab at Republicans he perceives to be too moderate. "Of course, all of us remember President [Bob] Dole, President [John] McCain, President [Mitt] Romney," Cruz said, adding: "Those are good men, those are decent men — but when you don't stand and draw a clear distinction, when you don't stand for principle, Democrats celebrate."
Cruz may have been on to something.
The latest survey from Public Policy Polling shows that Senator McCain is deeply unpopular in his home state. Just 30 percent of Arizonans approve of the job he's doing, while 54 percent disapprove, making him the least popular senator currently in Congress, according to the liberal-leaning pollster.
The poll shows McCain's approval rating among his Republican base is consistent with the low numbers he's earning across the state as a whole — 35 percent of Arizona Republicans disapprove of his job performance, while 55 percent approve.
And, to push his popularity even further into the tank, just 29 percent of Democrats and 25 percent of Independents in Arizona approve of the job he's been doing as senator.
Furthermore, McCain, who has said he is considering a re-election bid in 2016, is trailing potential Democratic opponents. Richard Carmona, 2012's Democratic nominee, leads the incumbent senator 41 percent to 35 percent, while former congresswoman Gabby Giffords bests him by 42 percent to 35 percent.
The results perhaps point to why McCain continues to sink in the polls. Liberal policies that are popular across the country are also popular in Arizona — 67 percent of Arizona voters back marijuana legalization; and 53 percent of voters back a raise in the minimum wage.
But, as liberal policies continue to gain traction in Arizona and across the country, Republicans in the state move farther to the right. In a hypothetical Arizona Republican primary election, perceived moderates such as Chris Christie (R-NJ) trail Tea Party favorites like Rand Paul (R-KY) and Ted Cruz (R-TX). In fact, the poll shows Cruz is leading a hypothetical Republican primary, with Paul a close second.
So if McCain wants to pick up some popularity points from party members in his home state, maybe he should take a page from Cruz's playbook.
Photo: Jason Kosena via Flickr