Poll: Lindsey Graham May Face Runoff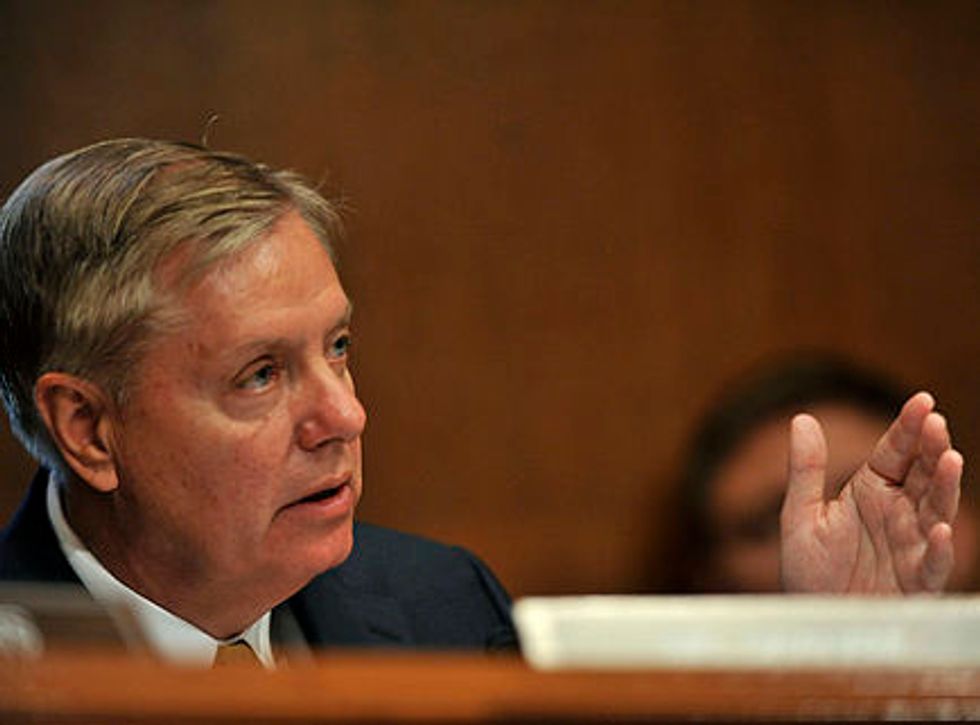 As the Republican primary campaign in South Carolina's U.S. Senate race begins to intensify, incumbent Lindsey Graham's poll numbers are sliding. Graham now polls at 51 percent against his three opponents; if he fails to get above 50 percent in the primary, he'll face a runoff election against the second-place candidate.
Graham has received a number of high-profile endorsements in his campaign for a third term: President George W. Bush, former secretary of state Henry Kissinger, and former World Bank president Paul Wolfowitz have all donated to his Senate campaign. Despite these notable donors, however, Graham is losing support in one key voting bloc: the Tea Party wing of the South Carolina Republican Party.
"I think I can safely speak for just about everyone in the Tea Party that we don't like Lindsey Graham," Keith Tripp, a member of the Laurens County Tea Party, toldCNN.
That's right: Senator Lindsey Graham, who has vowed to block any Senate nomination until he gets to the bottom of Benghazi, is getting outflanked on the right. In fact, Graham's unwavering attention to foreign policy and national security issues may well prove to be his Achilles heel, as he battles to advance to a general election against a Democratic opponent.
Graham's outspoken support for immigration reform and the National Security Agency's spy tactics are particular areas of interest for his Republican primary challengers — Nancy Mace, Richard Cash, and state senator Lee Bright.
Bright, who labeled Graham "a community organizer for the Muslim Brotherhood" after the senator visited Egypt, has been most successful at harnessing the populist, small-government fervor in South Carolina and has pushed a narrative that Graham is so caught up in national security issues that he's lost touch with average South Carolinians.
"I don't think he is focused on our liberties as much as he is Obama's agenda," Bright has said. "You would think as a conservative he would be fighting for the Bill of Rights, trying to protect our way of life. And he is not doing that. He is trying to be the chief negotiator on whatever the deal is."
Graham's outsized role in the Senate is not only unpopular with his primary challengers, but also with South Carolina voters statewide.
Harper Polling shows only 37 percent of likely voters view Graham favorably, while 44 percent view him unfavorably. Nevertheless, Graham still polls well among likely Republican voters, who view him favorably by a margin of 55 percent to 34 percent.
If a runoff does ensue in South Carolina, Graham will have to move right to gain votes in areas of the state where small government is the foremost political position. Graham's opponents are already gaining steam in Greenville, the largest Republican county in North Carolina. The senator did not carry the county in his 2008 primary election, when Republican Barry Witherspoon rallied voters against Graham's support of immigration reform.
A one-on-one runoff election should certainly have Graham's team nervous. Things would get even more nerve-wracking for the incumbent if the length of the runoff election is extended. South Carolina runoffs are currently two weeks long, but Graham's challengers may sue to extend the period. This may well pave the way for a challenger to gain further name recognition and unseat a well-known politician, much the same way Ted Cruz rose to victory in Texas over then-lieutenant governor David Dewhurst.
An unnamed Graham supporter put it best in August: "If we catch a 35-day runoff, Lindsey is screwed."
Photo: Secretary of Defense via Flickr