Poll: Louisianans Blame Barack Obama For Katrina Response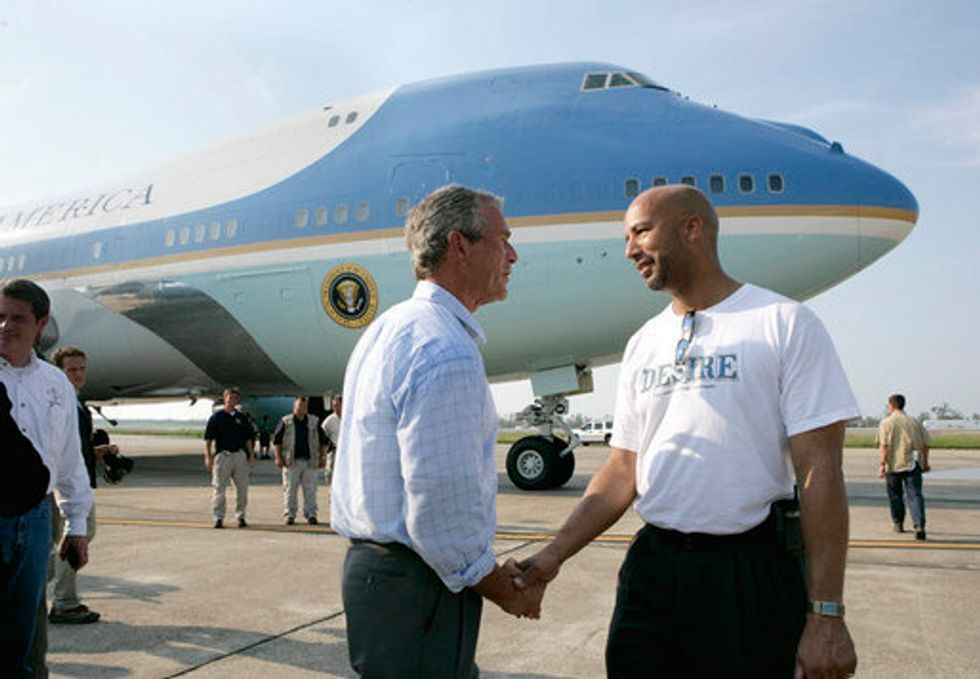 According to a startling new Public Policy Polling survey, Louisiana Republicans are not sure who was at fault for the disastrous response to Hurricane Katrina in 2005 — but a significant portion blame… President Barack Obama.
When asked "Who do you think was more responsible for the poor response to Hurricane Katrina: George W. Bush or Barack Obama?", 29 percent answered Obama, 28 percent answered Bush, and 44 percent answered "Not sure."
If this answer strikes you as odd, perhaps it's because Obama was nowhere near the White House at the time, and had in fact only been in the Senate for less than a year when the storm struck the Gulf Coast in August, 2005.
Most of the country presumably remembers how the Bush administration's inept handling of the storm's aftermath came to define its rocky second term. While tens of thousands in New Orleans languished without aid for days after the storm, Bush infamously praised then-FEMA director Michael Brown as having done a "heckuva job" (ironically, Brown resurfaced in 2012 to criticize President Obama for responding to Hurricane Sandy too quickly). The bungled response helped push President Bush's approval ratings into the low 30s, a nosedive from which he would never fully recover during his presidency.
Then again, maybe it's not so surprising that a state in which taxpayer-funded schools taught lessons such as "the Great Depression was a socialist myth" doesn't have the strongest institutional memory.
This is the second startling poll result from Public Policy Polling in the past month; earlier in August, a PPP poll found that celebrity chef Paula Deen is more popular than Dr. Martin Luther King Jr. among Georgia Republicans.
In a less surprising result, PPP's Louisiana poll also found that Governor Bobby Jindal's downward slide in the polls shows no sign of stopping. Just 28 percent approve of his job performance, compared to 59 percent who disappove — making Jindal the least popular Republican governor in the United States.
Correction: This story originally labeled Jindal as the "least popular governor in the United States." With a 25 percent approval rating, Governor Pat Quinn (D-IL) is less popular according to PPP's polling.
Photo via Wikimedia Commons