Poll: McAuliffe Opens Up 17 Percent Lead Over Cuccinelli In Virginia Gubernatorial Race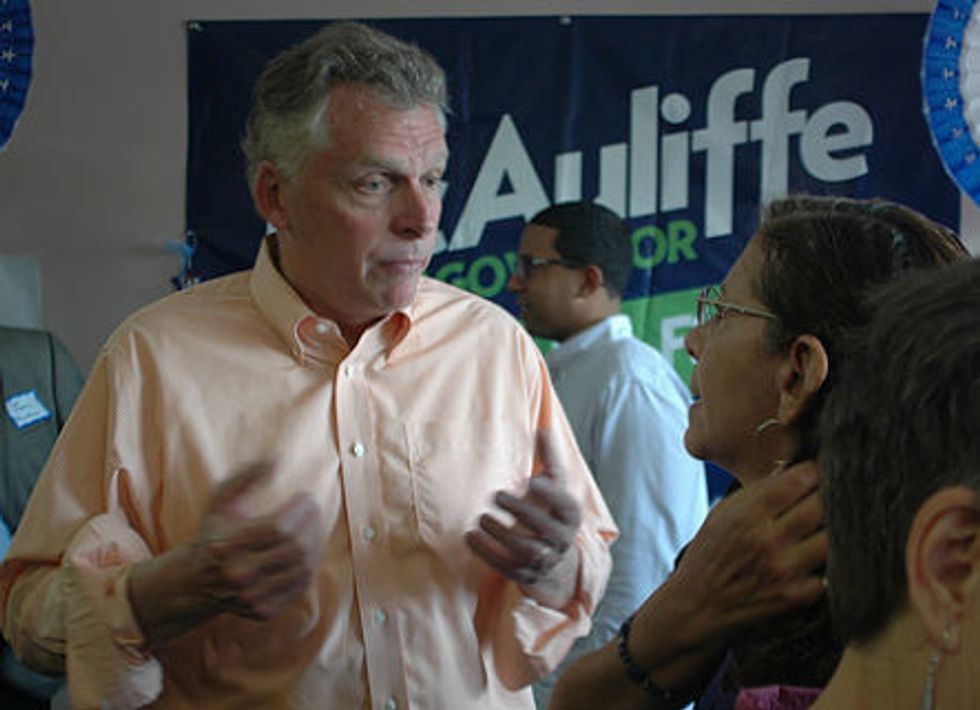 Democrat Terry McAuliffe has opened up a stunning 17 percent lead over Republican Ken Cuccinelli in Virginia's upcoming gubernatorial election, according to a new poll from Republican-leaning Rasmussen Reports.
The poll has McAuliffe leading Cuccinelli 50 to 33 percent, with Libertarian candidate Robert Sarvis trailing far behind at 8 percent — 3 percent support some other candidate, and 5 percent are undecided. The poll surveyed 1,000 likely voters, and has a margin of error of +/- 3 percent.
McAuliffe's 17 point edge is easily his largest lead in any poll of the race, and a huge expansion of his 6 percent lead in Rasmussen's previous survey, from September. The seismic shift suggests that Cuccinelli has been badly hurt by the government shutdown — an issue for which most voters blame Republicans, and which Cuccinelli has been unable to dodge throughout the home stretch of the campaign. The Republican attorney general has certainly not helped his own cause by appearing at a fundrasier with the shutdown's public face, Senator Ted Cruz (R-TX), and by declining to take a position on the deal that finally ended the crisis on October 16.
Although no other poll has shown McAuliffe with such a dominant lead, he has established himself as the clear frontrunner in the November 5 election. The former Democratic National Committee chair has led in every public poll since July, and he now holds a 10 percent advantage in Real Clear Politics' polling average.
The GOP appears to see the writing on the wall. According to a report in the National Journal, Virginia Republicans have responded to Cuccinelli and his controversial running mate E.W. Jackson's struggles by quietly shifting resources down-ballot, to attorney general candidate Mark Obenshain.
Photo: mdfriendofhillary via Flickr