Poll: More Americans Feeling Effects Of Sequester Cuts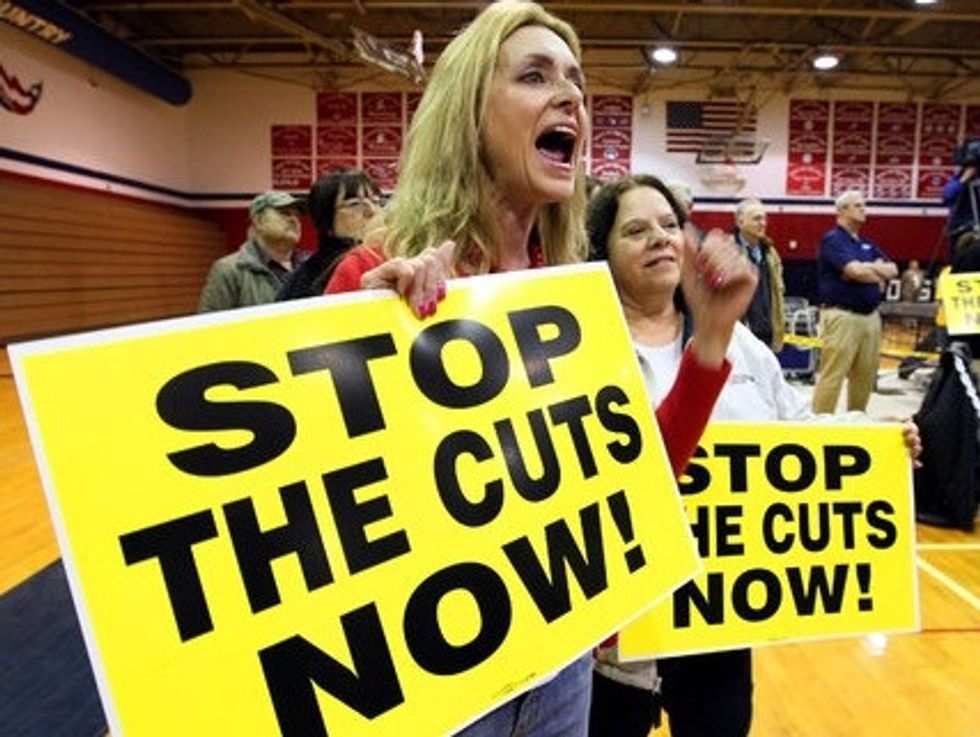 According to the latest Washington Post/ABC News poll, the budget sequester is finally starting to pack a political punch.
The poll finds that 37 percent of Americans now say that the sequester has hurt them personally — a significant rise from March, when a Post/ABC poll found that the $85 billion across-the-board spending cuts had personally affected just 25 percent. Of those who say the sequester has hurt them, 18 percent say the negative impact has been "major."


Overall, 56 percent of Americans disapprove of the sequester, while 35 percent approve. This number is almost unchanged from previous months; 57 and 53 percent disapproved in April and March, respectively. Disapproval of the sequester is a bipartisan phenomenon, as 59 percent of Democrats and 53 percent of Republicans oppose sequestration.
Unsurprisingly, those Americans who have been negatively impacted by the cuts are far more likely to disapprove of the sequester; 80 percent of those who have been seriously harmed by the cuts oppose them, compared to just 46 percent of those who have felt no impact. This effect cuts across party lines — even among self-described Tea Party supporters, 66 percent of those who have been damaged by the cuts disapprove of them.
Along the same lines, those who have been hurt by the cuts are significantly less optimistic about the state of the economy, while 66 percent of those who have not been impacted by sequestration say the economic recovery has begun, compared to 46 percent of those who say the cuts have had a minor impact on them, and just 36 percent of those who say the cuts have had a major impact.
Income plays a major role on how Americans view sequestration; 52 percent of those who make more than $100,000 per year support the cuts, compared to 37 percent of those making between $50,000 and $100,000, and just 29 percent of those making less than $50,000.
The poll also finds that Americans trust President Obama over congressional Republicans when it comes to handling the deficit.


This is a warning sign for Republicans, who consistently led President Obama on this question throughout the budget battles of his first term.
This is the latest in a string of Washington Post/ABC News poll results that should trouble the GOP. Previous polls released this week found that President Obama's approval rating has been unharmed by Republican accusations of scandal, and that Democrats hold a solid 8 percent advantage on the generic congressional ballot.
The poll, which was conducted by telephone May 16th-19th among a random sample of 1,001 adults, has an error margin of +/- 3.5 percent. The full results of the poll can be read here.
Photo: Mbr/The Citizens' Voice, via The Associated Press