Poll: Overwhelming Majority Oppose Republican Strategy On Shutdown, Obamacare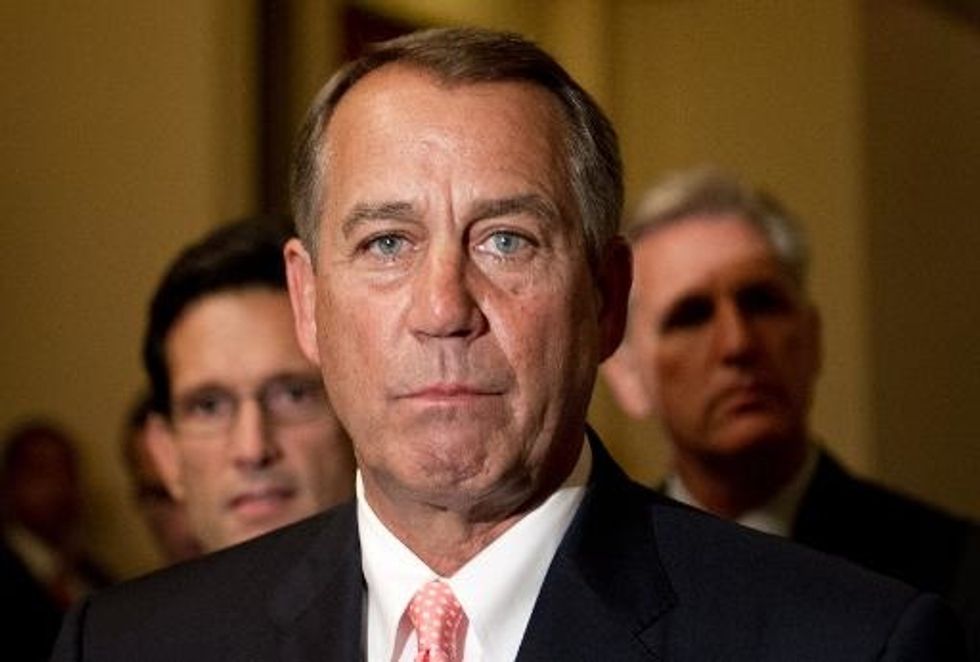 Republicans could pay a steep political price for their intransigent role in the budget standoff, according to a Quinnipiac poll released Tuesday morning.
The poll finds that although American voters oppose the Affordable Care Act by a 47 to 45 percent margin — a figure that may not reflect the law's true level of support — they oppose Congress cutting off the law's funding to block its implementation by a 58 to 34 percent margin.
The Republican strategy of shutting down the federal government in order to block health care reform's implementation is even less popular; Americans oppose that plan by an overwhelming 72 to 22 percent. The federal government shutdown is narrowly supported by Republicans, 49 to 44 percent, but Democrats oppose the shutdown 90 to 6 percent, and independents oppose it 74 to 19 percent.
"Americans are certainly not in love with Obamacare, but they reject decisively the claim by congressional Republicans that it is so bad that it's worth closing down the government to stop it," Peter A. Brown, assistant director of the Quinnipiac University Polling Institute, said in a release.
The numbers get even more worrisome for Republicans. The poll finds President Obama's approval rating at 45 percent, with 49 percent disapproving. That figure, though tepid, blows congressional Republicans' ghastly 17 percent approval rating out of the water. — 74 percent disapprove of the way congressional Republicans are handling their jobs.
The president clearly enters the shutdown in a far stronger political position than the GOP, and there is reason to doubt that things will improve for Republicans. The party's message on the shutdown — that it is President Obama and the Democrats' fault for refusing to compromise — is ringing hollow with the electorate. When asked:
Which comes closer to your point of view; there is gridlock in Washington mainly because President Obama lacks the personal skills to convince leaders of Congress to work together, or there is gridlock in Washington mainly because Republicans in Congress are determined to block any President Obama initiative
…33 percent blame Obama's lack of negotiating skill, and 55 percent blame Republicans' determination to block the White House. And in a similar question, when asked who they blame for gridlock in Washington, 28 percent say Republicans, just 10 percent say Democrats, and 58 percent say both parties deserve equal blame.
The poll contains one more piece of troubling news for the GOP. On Quinnipiac's generic House ballot, the Democrats now lead the Republicans 43 to 34 percent; that 9 percent advantage is up a net 5 percent from August. Although it would take a landslide for Democrats to take control of the House, the Quinnipiac finding helps to explain why Speaker John Boehner (R-OH) is reportedly warning his colleagues that the shutdown could jeopardize their House majority.