Poll: Rick Scott Erases Deficit In Florida Gubernatorial Race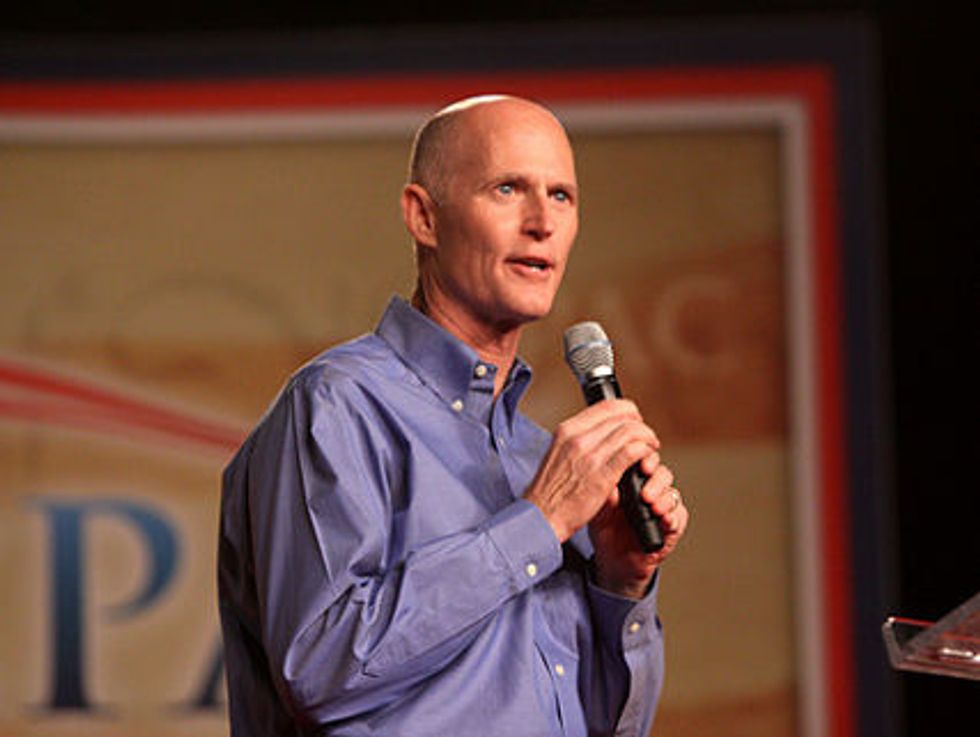 Florida governor Rick Scott, a Republican, has all but erased Democratic challenger Charlie Crist's huge lead, and now trails the former governor by a statistically insignificant 2 percent according to the latest Public Policy Polling poll of Florida's 2014 gubernatorial race.
The poll finds Crist leading Scott 43 to 41 percent, within the poll's plus-or-minus 4 percent margin of error. That represets a 10-point swing from PPP's previous poll in September, which found Crist up 50 to 38 percent.
Although Scott is bouncing back in the polls, Floridians are still not particularly fond of the man who has spent much of his tenure as one of the least popular governors in America. Just 34 percent approve of Scott's job performance, while 51 percent disapprove (15 percent are not sure).
Instead, Scott has boosted his numbers by rallying Republican support, and by reminding voters why they rejected Crist when he ran for Senate (first as a Republican, then as an Independent) in 2010.
The poll shows Scott leading Crist 80 to 14 percent among Republicans, up significantly from his 44 percent lead in September, and accounting for nearly all of Scott's 10 percent gain over the past three months. Scott's noticeably improved standing within his own party suggests that his decision to backtrack on his support for expanding Medicaid may be paying immediate political dividends (although it may also cost the state over $5 billion in the coming decade).
Additionally, Scott's first round of negative ads attacking Crist appear to be having an impact: Just 36 percent of Floridians now have a favorable opinion of Crist, while 46 percent view him unfavorably. That's down a net 11 percent from September, and given that Scott may spend up to $100 million throughout his re-election campaign, it's a safe bet that more damaging attacks are on the way.
That Crist's favorability has plummeted so quickly raises questions about whether Democrats are making a mistake by supporting the Republican-turned-Independent-turned-Democrat, who was walloped twice by Senator Marco Rubio in 2010, and who has as much political baggage as anyone in the state. Those doubts haven't filtered down to Florida Democrats, however. Crist leads former state Senate minority leader Nan Rich 58 to 16 percent in the race for the Democratic nomination.
Rich remains largely unknown by Floridians — just 9 percent view her favorably, 21 percent view her unfavorably, and 70 percent are not sure — but she would still give Scott a competitive race were she to win the Democratic nomination. Scott leads Rich in a hypothetical matchup 40 to 34 percent, with 25 percent not sure.
The PPP poll surveyed 591 Florida voters, including 243 Democratic primary voters, from January 16–21. The overall survey has a margin of error of +/- 4 percent, and the Democratic primary portion has a margin of error of +/- 6.3 percent.
Photo: Gage Skidmore via Flickr