Poll Roundup: Pennsylvania Prepares To Toss Its Tea Party Governor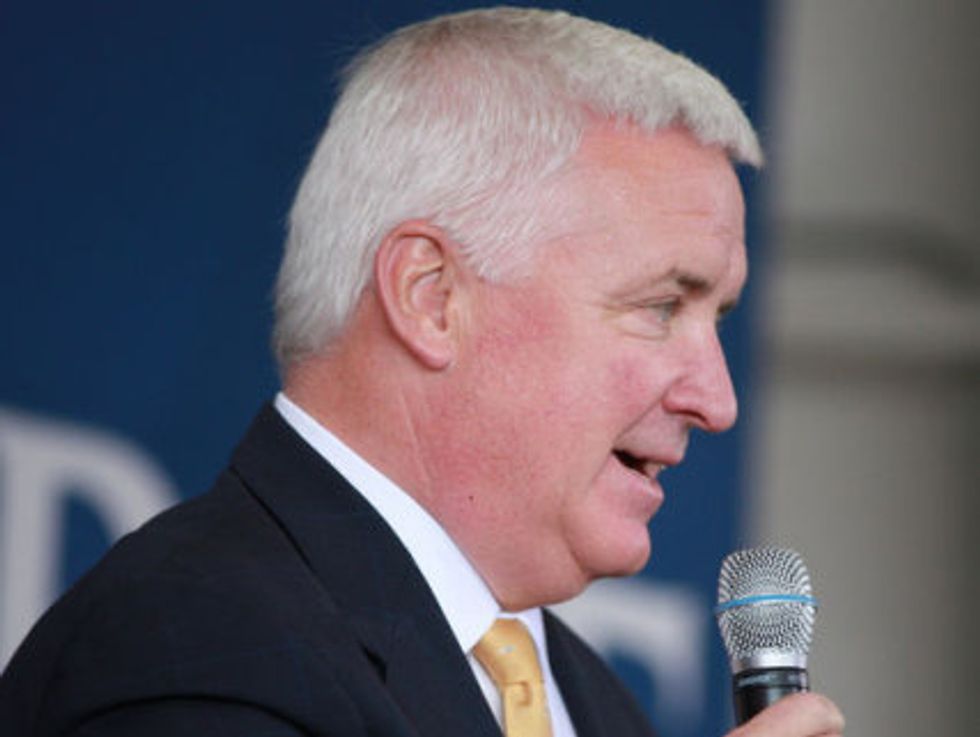 As the 2014 midterm elections draw closer, pollsters across the country will begin releasing masses of data and their predictions of who will control the House of Representatives, the Senate, and statehouses across the country. We'll put those predictions in focus and provide a brief summary of key polls. Here's our roundup from the week of June 29:

Pennsylvania
It's only July, but Governor Tom Corbett has essentially already lost his re-election. The latest Franklin & Marshall poll shows Corbett trailing behind Democratic challenger Tom Wolf by 22 points (47 to 25 percent), with a +/- 4.4 percent margin of error.
A 59 percent majority of Pennsylvania voters think that the state is "off on the wrong track," and only 26 percent think that Corbett has done a good enough job to deserve re-election.
Those who think that Corbett is only doing a "fair" or "poor" job said that they were concerned about how he's dealt with education (he's dramatically cut funding), economic issues, his support for fracking, and the fact that there's a "lack of change in the state."
Corbett is one of the most (if not the most) vulnerable incumbent governors on the ballot in 2014. The Real Clear Politicspoll average shows Wolf ahead by 21.7 points.
Louisiana
Though Tuesday's poll from Democratic-leaning Public Policy Polling has Senator Mary Landrieu (D-LA) ahead of Republican challenger Bill Cassidy by 17 points in the state's open primary (44 to 27 percent with a +/- 3.8 percent margin of error), the two candidates are still on track for a runoff. The two other Republican candidates, Rob Maness and Phil Hollis, have 8 percent and 5 percent of the vote, respectively. Landrieu needs 50 percent of the vote to avoid a December runoff with the second-place finisher.
When PPP matched Landrieu against Cassidy, the two were in a dead tie, with 47 percent of voters supporting each candidate. Both Landrieu and Cassidy have negative favorability ratings. But Landrieu's real problem is with independent voters, who support Cassidy by 13 points. The poll also finds that Landrieu's numbers are hurt by President Obama's negative approval ratings, as only 38 percent approve of his performance, while 56 percent disapprove.
The Real Clear Politicspoll average has Cassidy ahead by 3 points.
Colorado
The Colorado's governor race is in a "dead heat," according to a survey released on Tuesday by Republican-leaning Rasmussen Reports. Both Democratic Governor John Hickenlooper and Republican Bob Beauprez have 44 percent of the vote, with a +/- 4 percent margin of error. Four percent support some other candidate, and 8 percent are undecided.
Hickenlooper is facing a backlash for his recent comments to a group of sheriffs, in which he apologized for signing tough gun laws. In a state that takes its gun rights seriously, his comments made it a topic of conversation again.
The Real Clear Politicspoll average has Hickenlooper ahead by 4.5 points.
Meanwhile, the Colorado Senate race is also tied. A Rasmussen Reports survey released Monday shows Democratic senator Mark Udall ahead of Republican Cory Gardner by only 1 point (43 to 42 percent). Six percent prefer another candidate, and 9 percent are still undecided. Udall's 1-point lead is well within the poll's +/- 4 percent margin of error. The Real Clear Politicspoll average also shows Udall with only a 1-point lead.
Both Udall and Gardner scrambled to respond after Monday's Hobby Lobby ruling. Udall condemned the decision and attacked Gardner for previous legislation that allowed employers to determine employee health plans based on their personal beliefs, while Gardner said that he supports "religious liberty," but wants the FDA to make birth control available to voters without a prescription.
Michigan
Tuesday's PPP poll has Republican governor Rick Snyder and Democratic challenger Mark Schauer tied with 40 percent of the vote each, with a +/- 4.1 percent margin of error.
Snyder is plagued by his very negative job performance rating, as 37 percent approve of the way he's run the state, while 54 percent disapprove.
But while voters see Snyder negatively, they barely have an opinion of Schauer at all—27 percent see him favorably, and 24 percent unfavorably.
Schauer is leading Snyder in every age group except 65+. The Real Clear Politicspoll average has Snyder ahead by 6 points.
Photo via Wikimedia Commons
Interested in U.S. politics? Sign up for our daily email newsletter!