Poll Roundup: Hawaii Primaries Go Down To The Wire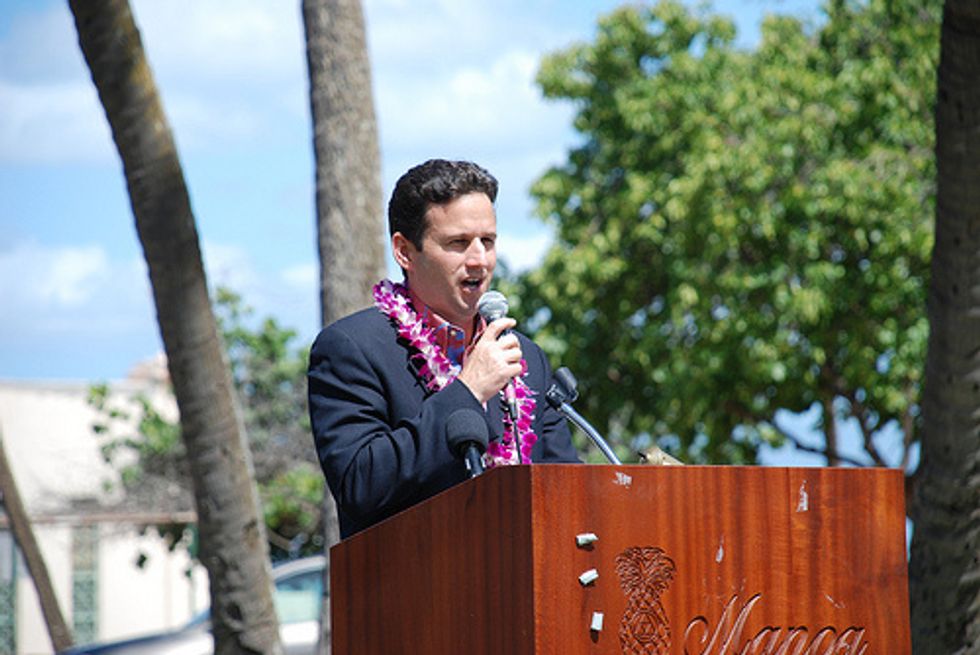 As the 2014 midterm elections draw closer, pollsters across the country will begin releasing masses of data and their predictions of who will control the House of Representatives, the Senate, and statehouses across the country. We'll put those predictions in focus and provide a brief summary of key polls. Here's our roundup from the week of August 3:
Hawaii
As Hawaii braces itself for two hurricanes, it also has an election to worry about on Saturday. The state's Democratic Senate primary is currently splitting the party between two candidates fighting for the late Daniel K. Inouye's former seat, which he held for almost 50 years. When Inouye passed away in 2012, Gov. Neil Abercrombie (D) appointed his lieutenant governor, Brian Schatz, to the seat. But many believe that Inouye's last wish was for Abercrombie to appoint Rep. Colleen Hanabusa, and have been furious with him for going with Schatz instead.
Inouye was beloved by Hawaii residents for his ability to secure funding from Washington for the state. In their campaigns, both Schatz and Hanabusa have emphasized the money they've brought to Hawaii.
The latest Honolulu Civil Beat poll has Schatz ahead by 8 percent (49 to 41 percent), and The Huffington Post's pollster trend has Schatz leading Hanabusa by 7 points. But a recent survey from the Honolulu Star-Advertiser showed Hanabusa up 8 (50 to 42 percent), with a +/- 4.6 percent margin of error.
Governor Abercrombie also has a very tough race. He trails state Sen. David Ige by 10 points, according to a Honolulu Civil Beat poll. Ige has the support of 51 percent of voters, while only 41 percent would vote for Abercrombie. The Honolulu Star-Advertiserpoll has Abercrombie behind by 18 points (54 to 36 percent).
But as The Los Angeles Times' Kurtis Lee points out, "polling is difficult and often unreliable in Hawaii, which has one of the worst turnout rates in the country."
North Carolina
The latest Rasmussen Reports poll finds state Senator Thom Tillis (R) ahead of Senator Kay Hagan (D), 45 to 40 percent — 6 percent support another candidate, and 9 percent are still undecided. The survey has a margin of error of +/- 4 percent.
The poll shows that 73 percent of Democrats support Hagan, while 79 percent of Republicans back Tillis. Tillis also leads among voters who aren't registered with either party.
The survey looked at two of the major issues that pollsters think will affect the race: immigration and the Affordable Care Act. Not surprisingly, North Carolinians who support the deportation of migrant children support Tillis, while those who want to make it easier for Central American refugees to stay in the United States are more likely to vote for Hagan.
Only 39 percent of voters have a positive opinion of the Affordable Care Act, and 87 percent of them support Hagan, while 83 percent of those with a very unfavorable opinion of the health care law would vote for Tillis.
The Real Clear Politicspoll average has Tillis ahead by 1.3 points.
Pennsylvania
In his best showing in any poll in months, Governor Tom Corbett (R) now only trails Democrat Tom Wolf by 12 points, according to a Republican-leaning Magellan survey released on Tuesday. The poll finds that 50.3 percent back Wolf, 38.1 percent support Corbett, and 11.6 percent are still undecided. The poll has a +/- 2.83 percent margin of error.
Corbett's only 7 points behind among voters who say they've definitely decided for whom they're voting.
Wolf is so far ahead because he's locked down 80 percent of the Democratic base, while Corbett has the support of only 64 percent of Republicans. But the survey shows that undecided voters are far more likely to vote for Corbett, as 50 percent are registered Republicans, while only 36 percent are Democrats. And as voters get to know Wolf better, his favorable-to-unfavorable ratio is dropping, which will benefit Corbett.
Corbett is hurting because of his education cuts, which 42 percent believe have been drastic. But 47 percent of undecided voters said they would be less likely to vote for Wolf if they knew about his goal to raise state income taxes.
The Real Clear Politicspoll average still has Wolf ahead by 18.6 points.
Florida
The latest Survey USA poll finds Republican governor Rick Scott leading Democratic challenger Charlie Crist, 45 to 43 percent, with a +/- 4.6 percent margin of error. This is a 5-point improvement for Scott and a  3-point drop for Crist since Survey USA's poll two weeks ago. The survey also finds that 8 percent would vote for another candidate and 4 percent are still undecided.
In this survey, Scott reached his highest support from male voters and seniors to date. He's also winning Independents. But moderates would rather vote for Crist by a 21-point margin. Crist also leads among women, and among every age group except for seniors.
The Real Clear Politicspoll average has Crist ahead by only 0.8 points.
Photo: Waikiki Natatorium via Flickr
Interested in U.S. politics? Sign up for our daily email newsletter!