Poll Roundup: Hagan Pulls Ahead In North Carolina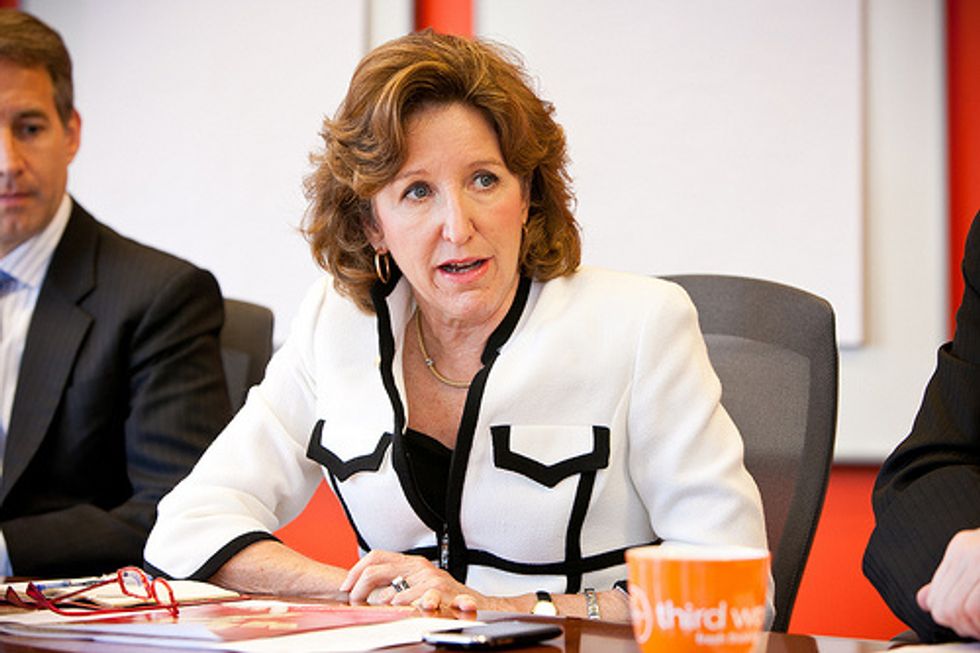 As the 2014 midterm elections draw closer, pollsters across the country will begin releasing masses of data and their predictions of who will control the House of Representatives, the Senate, and statehouses across the country. We'll put those predictions in focus and provide a brief summary of key polls. Here's our roundup from the week of July 20:
North Carolina
A Public Policy Polling poll released on Tuesday has Senator Kay Hagan (D-NC) ahead of Republican Thom Tillis, 41 to 34 percent. Libertarian Sean Haugh has 8 percent of the vote, and 16 percent are still undecided. The poll has a +/- 3 percent margin of error.
When Haugh supporters are asked to choose between the two major candidates, the race becomes much closer, with 42 percent of voters supporting Hagan and 39 percent supporting Tillis.
Both candidates have image problems. Voters disapprove of the job that Hagan's done in the Senate, 50 to 40 percent. Meanwhile, Tillis has a 24 percent favorability rating, and 47 percent unfavorable. The North Carolina legislature, in which Tillis serves as Speaker of the House, only has a 19 percent approval rating.
"Kay Hagan's lead just continues to rise as the legislature spends longer and longer and longer in session," said Dean Debnam, President of Public Policy Polling. "The big question though is whether she'll be able to sustain this bigger lead once they've gone home, or if the race will quickly return back to normal like it did last year."
The Huffington Post's model estimate has Hagan ahead by about 4 points.
Kansas
Kansas governor Sam Brownback (R) is trailing behind Democratic challenger Paul Davis by 8 points (48 to 40 percent), according to a Survey USA poll released on Wednesday — 5 percent support the Libertarian candidate, and 7 percent are still undecided, with a +/- 2.9 percent margin of error.
Governor Brownback's "Kansas experiment," which has devastated the state's finances through excessive tax cuts, appears to be driving down his numbers. Voters who support Davis are passionate about education, while those who support Brownback think the most important issue in the election is tax rates.
He doesn't even have the support of his entire GOP base, as only 60 percent of Republicans are behind him.
The poll also shows that "the older you are, the less you like Sam Brownback." The governor trails Davis among seniors by an overwhelming 20 points, and he's behind by 13 points among voters ages 50-64.
The race is still very close, however. The Real Clear Politicspoll average has Davis ahead of Brownback by only 1 percent.
New Mexico
A Rasmussen Reports survey released on Thursday shows Republican governor Susana Martinez tied with Democratic challenger Gary King.
Both candidates have 43 percent support from voters — 7 percent like another candidate, and 7 percent are still undecided.
Only 74 percent of Democrats back King, which means he needs to drum up more support in his base to have a chance to beat Martinez.
This is the first poll to show King pulling even with Martinez, which is why the New Mexico GOP promptly complained about its "shoddy methodology." They think that Rasmussen shouldn't have surveyed an equal amount of seniors and people aged 18-39, as older voters tend to have higher voter turnout rates.
Wisconsin
The Wisconsin governor's race is in a "dead heat," according to a new Marquette Law School poll — 46 percent of voters want Republican governor Scott Walker to win re-election, while 45 percent support Democratic challenger Mary Burke, 8 percent are undecided, and less than 1 percent say they will vote for someone else. The two candidates are well within the survey's +/- 3.5 percent margin of error.
Women, young voters, and single voters favor Burke. Men, those who are 45-59 years old, and married voters support Walker.
Job approval is about evenly split; 47 percent approve of Walker's job as governor and 48 percent disapprove. And 54 percent think that the state is headed in the right direction, while 41 percent think it's on the wrong track.
The tight numbers are largely a referendum on Walker's job performance; 49 percent of voters still haven't heard enough about Burke, or don't know what their opinion of her is.
Colorado
The latest Public Policy Polling survey has Governor John Hickenlooper and Senator Mark Udall, both Democrats, in very tight races with their Republican opponents.
44 percent of voters support Hickenlooper, while 43 percent would vote for Bob Beauprez. Udall leads Rep. Cory Gardner by the exact same margin. The survey's margin of error is +/- 3.8 percent, which means that both races are currently up for grabs.
Both incumbents are unpopular with the electorate. Only 43 percent approve of Hickelooper, while 46 percent do not. Voters disapprove of Udall's job performance, 47 to 36 percent.
The Real Clear Politics poll average has Hickenlooper ahead by 1.5 points, and Udall ahead by 1 point.
Photo: Photo: Third Way via Flickr
Interested in U.S. politics? Sign up for our daily email newsletter!