Poll Roundup: Kentucky Senate Race Remains Close Ahead Of Fancy Farm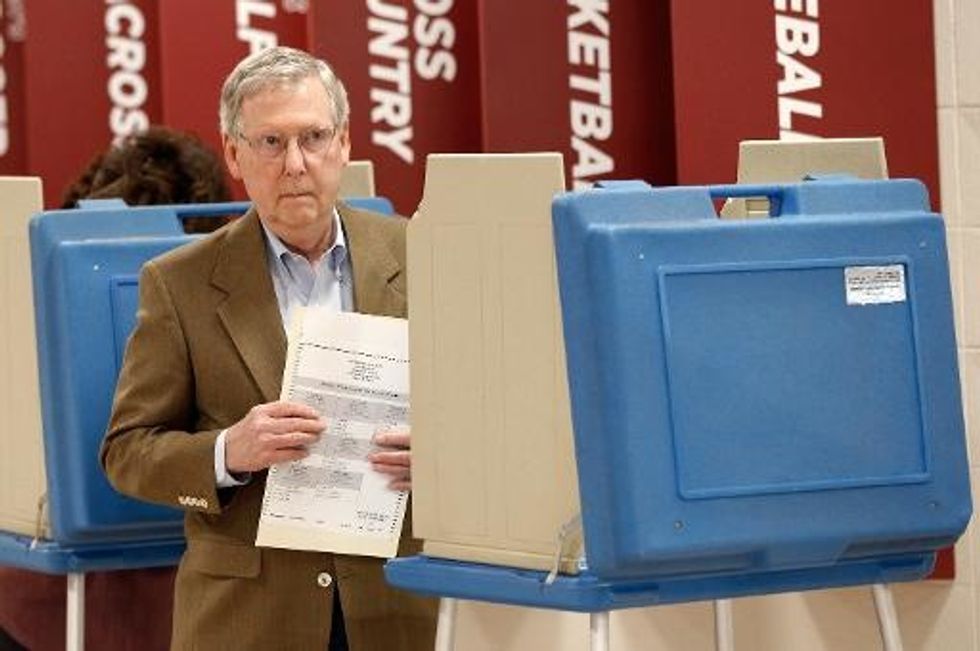 As the 2014 midterm elections draw closer, pollsters across the country will begin releasing masses of data and their predictions of who will control the House of Representatives, the Senate, and statehouses across the country. We'll put those predictions in focus and provide a brief summary of key polls. Here's our roundup from the week of July 27:
Kentucky
Senate Minority Leader Mitch McConnell (R-KY) has a lot more to worry about than the gridlock in Congress. He's still only 2 percent ahead of Democratic challenger Alison Lundergan Grimes, according to the latest Courier Journal/Survey USA Bluegrass poll. This is the first time that McConnell has led Grimes in a Bluegrass poll, however.
McConnell has the support of 47 percent of likely voters, while 45 percent would vote for Grimes; 8 percent are still undecided. The poll has a +/- 4.1 percent margin of error, which means the candidates are essentially tied.
Only 36 percent of voters see McConnell favorably, while 43 percent have an unfavorable opinion of him. But these numbers have improved since May, when 29 percent of respondents had a favorable opinion of him.
Grimes' 36 percent favorability has stayed pretty constant. But her unfavorability has risen from 27 percent in May to 33 percent today, which the pollsters attribute to negative advertising.
A quarter of registered voters said they are still open to changing their minds before November.
This poll comes right before Kentucky's Fancy Farm Picnic this weekend, a traditional barbecue that usually involves a lot of heckling. Both candidates will attend, as the picnic usually represents the unofficial start of Kentucky's election season.
The Real Clear Politicspoll average has McConnell ahead by 2.5 points.
Georgia
Georgia is another state in which Democrats have pinned their hopes on a strong female Senate candidate, Michelle Nunn. But this hasn't been a good week for the Democratic nominee. On Sunday, a CBS News/New York Times Battleground Tracker survey not only showed that Republicans would take the Senate if the elections were held right now, but that Nunn is trailing GOP nominee David Perdue by 6 points (50 to 44 percent) in the Peach State. The Georgia survey has a +/- 3.4 percent margin of error.
Then on Monday, Nunn's internal campaign documents were leaked to The National Review. There wasn't anything particularly damning in the documents, but politicians generally don't wants the public to know exactly how they plan on getting people to vote for them, or how the campaign plans to target specific races and groups of people. The leaked plans also provide Purdue with ammunition, as they list the various ways that opponents could attack Nunn — such as her more controversial work with the Points of Light charity, and the fact that she wasn't raised in Georgia.
It remains to be seen whether this will actually affect Nunn in the race. But it certainly can't help.
The Real Clear Politicspoll average has Perdue ahead by 3.2 points.
Iowa
The CBS News/New York Times Battleground Tracker also shows that the Iowa Senate race is very close. Republican Joni Ernst leads the Democratic nominee, Rep. Bruce Braley, by just 48 to 47 percent. The poll has a +/- 2.7 percent margin of error.
Braley recently restructured his campaign, replacing his admaker and pollster, and he's taking criticism for missing a large percentage of his Veterans Affairs Committee meetings.
The Democrat also recently released an ad stating that his opponent doesn't support a minimum wage. PolitiFact rates this charge as mostly true, as Ernst has said many times that states should set their own minimum wage. Ernst has the support of many prominent Republicans, such as Sen. Marco Rubio (R-FL), who will fundraise for her this week.
The Real Clear Politics poll average has Ernst ahead by only 0.8 points.
New Hampshire
Senator Jeanne Shaheen leads former Massachusetts senator Scott Brown 52 to 42 percent in the CBS News/New York Times survey of New Hampshire's Senate race. The poll has a +/- 2.9 percent margin of error.
Brown has been struggling to convince voters that he can truly represent New Hampshire, after living his entire adult life in Massachusetts. He also hasn't made the best impression with reporters, evading their questions and even hiding from one in a bathroom. Though his campaign has tried to hit Shaheen on issues such as the border crisis, the incumbent remains relatively well liked, and this race will be an uphill battle for Brown.
But Eric Ostermeir at the Humphrey School for Public Affairs' Smart Politicspoints out that this race could be historic for the challenger. If Brown loses to Shaheen, he'll be the first Senate candidate to ever lose to two women — he was defeated in 2012 by Senator Elizabeth Warren (D-MA).
The Real Clear Politicspoll average has Shaheen ahead by 10.4 percent.
Arkansas
A Talk Business & Politics-Hendrix College poll released on Tuesday shows Republican congressman Tom Cotton leading incumbent Democrat Mark Pryor by 2 points in Arkansas' Senate race — 44 percent of voters support Cotton, while 42 support Pryor, 7 percent of voters are undecided, 4 percent support Green Party candidate Mark Swaney, and 3 percent would vote for Libertarian Nathan LaFrance. The poll has a margin of error of +/- 2.3 percent, so the race could go either way at this point.
"Our latest poll indicates this race is still extremely competitive with neither candidate near 50 percent," said Talk Business & Politics Editor-in-Chief Roby Brock. "With the daily pounding each campaign is administering to the other, with the barrage of ads flooding the airwaves from both sides, Cotton and Pryor seem to be drafting off one another."
Cotton has a large advantage with Independent voters: 49.5 percent support him, while only 33 percent support Pryor. But women would vote for Pryor over Cotton by a 45 to 40 percent margin, and African-Americans support Pryor over Cotton 73 percent to 16 percent.
The Real Clear Politicspoll average has Cotton ahead by 3.6 points.
AFP Photo/Win Mcnamee
Interested in U.S. politics? Sign up for our daily email newsletter!