Poll Roundup: Is McConnell Pulling Away From Grimes?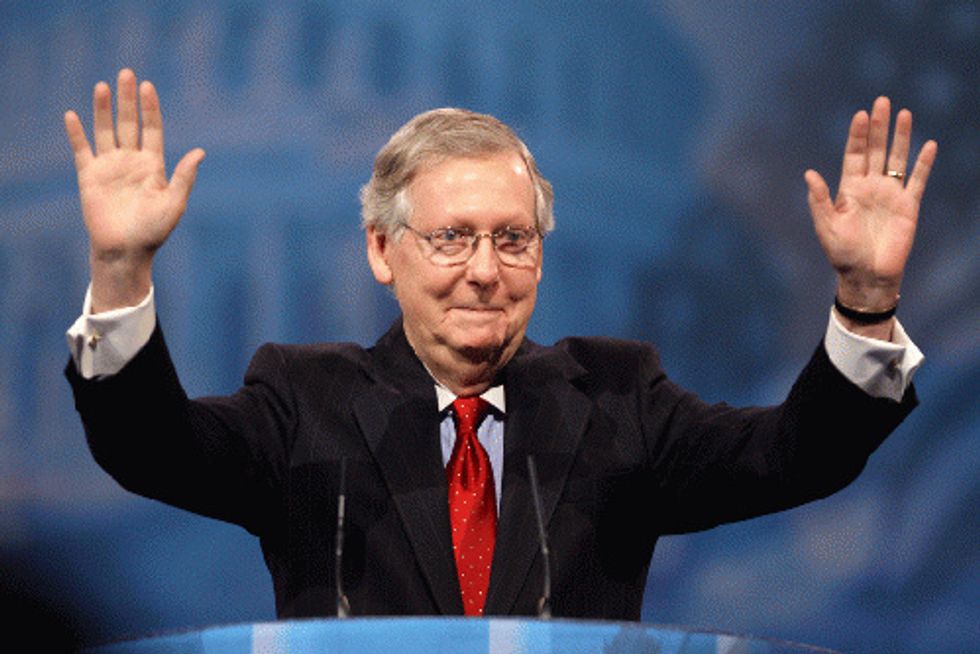 As the 2014 midterm elections draw closer, pollsters across the country will begin releasing masses of data and their predictions of who will control the House of Representatives, the Senate, and statehouses across the country. We'll put those predictions in focus and provide a brief summary of key polls. Here's our roundup from the week of August 10:
Kentucky
Senate Minority Leader Mitch McConnell (R-KY) appears to be slowly pulling ahead of his Democratic challenger, Alison Lundergan Grimes. The latest poll from Democratic-leaning Public Policy Polling finds that 44 percent of voters support McConnell, while 40 percent would vote for Grimes, 7 percent back Libertarian candidate David Patterson, and 9 percent are still undecided.
In PPP's April survey, Grimes led McConnell 45 to 44. But since then, he's managed to shore up support within his Republican base. When his primary opponent Matt Bevin was still in the race, McConnell only had a 49-point advantage among Republicans. Today, he has a 67-point advantage (78 percent of Republican voters back McConnell, while just 11 percent side with Grimes). When support for Patterson is taken into account, McConnell has a 63-point lead among fellow Republicans.
McConnell's managed to improve his favorability rating, while Grimes' numbers are stagnant. Grimes is also hurt by President Barack Obama's unpopularity in the state. The survey finds that only 32 percent of voters approve of the job he's doing, and that 38 percent of the voters who disapprove of McConnell also see Obama unfavorably. But 20 percent of those voters are still planning to vote for the Republican incumbent.
The Real Clear Politics poll average has McConnell ahead by 3 percent.
Wisconsin
In what the latest Rasmussen Reports survey calls the "nation's closest-watched governor's race," Republican governor Scott Walker leads Democratic challenger Mary Burke by only 48 to 47 percent. The poll has a margin of error of +/- 4 percent, so the candidates are essentially tied.
The general election campaign officially started this week after Burke won her Democratic primary. She's the first female nominee for Wisconsin governor from the two main political parties.
Both candidates are planning to center their campaigns around jobs. Burke has repeatedly highlighted the fact that Wisconsin ranks last among Midwestern states in job creation, and that Walker hasn't created the 250,000 jobs he promised he would. Walker has emphasized the 100,300 jobs he has created, and says that Wisconsin is better off than it was before he took office.
Sean Sullivan notes in The Washington Post that Walker should not be "underestimated," because he's already raised far more money than Burke. He also points out that "no other potential 2016 hopeful has as much riding on the midterm election as Walker," because if he can't win this election, he won't stand a chance of pursuing the White House.
The Real Clear Politicspoll average has Walker ahead by only 0.8 percent.
Kansas
Republican governor Sam Brownback is trailing Democratic challenger Paul Davis in a Rasmussen Reports survey released on Tuesday. The poll finds that Davis has 51 percent support, 41 percent would vote for Brownback, 3 percent support some other candidate, and 5 percent are still undecided. The poll has a +/- 4 percent margin of error.
Brownback's biggest hurdle is the fact that his state budget is "bleeding revenue" due to his staggering income tax cuts. By 2016, the state will be $238 million in debt. The survey finds that 49 percent of voters think that the budget situation is worse today than it was a year ago, 36 percent said it's the same, and only 12 percent said it was better. Respondents trust Davis more when it comes to spending; 43 percent trust Davis, 36 percent trust Brownback, and 21 percent weren't sure.
But many voters still don't know who Davis is — 19 percent said they had never heard of him and 10 percent weren't sure what they thought about him.
The Real Clear Politicspoll average has Davis ahead by 2 points.
Illinois
A new Sun-Times/We Ask America poll shows Democratic governor Pat Quinn well behind Republican challenger Bruce Rauner, 51 to 38 percent, with 11 percent undecided. The survey has a +/- 3.1 percent margin of error.
Only 21 percent view the incumbent Quinn as a reformer, while 47 percent see Rauner in that mold. Additonally, Quinn is currently under fire for his $54.5 million Neighborhood Recovery Initiative, which is now under federal investigation due to corruption and mismanagement.
But We Ask America's chief operating officer Gregg Durham predicts that the race will get much closer as November approaches.
"While Mr. Rauner continues to enjoy a 13-point lead, this race will certainly tighten dramatically barring any unforeseen events. An incumbent governor in a state with the sizable problems Illinois has often suffers in early polls with those who would have a tendency to back his party but may be disappointed with his performance," he said. "However, those same voters usually 'come home' on election day. Keep that in mind."
The Real Clear Politicspoll average has Rauner ahead by 7 points.
Photo: Gage Skidmore via Flickr
Interested in U.S. politics? Sign up for our daily email newsletter!