Poll Roundup: Does Wehby Have A Chance In Oregon?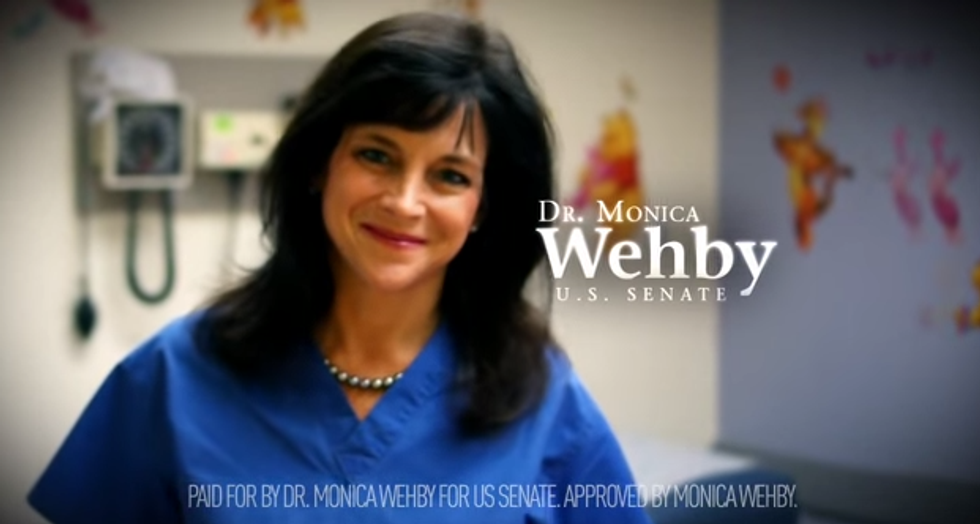 As the 2014 midterm elections draw closer, pollsters across the country will begin releasing masses of data and their predictions of who will control the House of Representatives, the Senate, and statehouses across the country. We'll put those predictions in focus and provide a brief summary of key polls. Here's our roundup from the week of June 8:
Oregon
Republicans hoped that that Dr. Monica Wehby, their nominee for U.S. Senate in Oregon, could provide a serious challenge to incumbent Democrat Jeff Merkley. About five months before Election Day, however, that is beginning to seem unlikely.
On Tuesday, SurveyUSA released a poll finding Merkley crushing Wehby, 50 to 32 percent. Merkley leads Wehby among every key demographic group, and — perhaps most troubling for Republicans — the Affordable Care Act does not seem to be hurting his numbers. Wehby has largely centered her campaign around the health care law, blasting Merkley as "the deciding vote" on the law she calls "an unmitigated disaster." According to SurveyUSA, however, these attacks are barely landing.
The ACA will be a major factor, 48 percent of voters say, while 26 percent say it will be a minor factor and 24 percent say it won't be a factor at all. Merkley leads among those latter groups 57 to 23 percent and 71 to 12 percent, respectively. Wehby's lead among those for whom the law is a major factor is just 48 to 35 percent — hardly enough to swing the race.
Wehby insists that she is closer than the poll suggests; on Wednesday, she shared an internal poll showing her trailing Merkley by just 2 points.
Public polling paints a different picture, however. According to The Huffington Post's poll average, Merkley has a 13 percent lead in the race.
Mississippi
Mississippi's Republican primary for U.S. Senate is coming down to the wire, according to a poll released Saturday. The survey, which was conducted by Democratic pollster Chism Strategies, finds state senator Chris McDaniel leading six-term incumbent Thad Cochran by a 51 to 48 percent margin. McDaniel's lead is just within the poll's +/- 3.3 percent margin of error.
The pollster notes that McDaniel's numbers have recovered since they dropped in the wake of his bizarre break-in scandal. Just 1.8 percent remain undecided, so whichever candidate is able to turn out its supporters is likely to win the June 23rd runoff.
Kentucky
Kentucky's Senate race remains a dead heat, according to the latest survey. A newly released poll from Magellan Strategies, a Republican firm, finds Democrat Alison Lundergan Grimes leading Senate Minority Leader Mitch McConnell by a 49 to 46 percent margin, with 5 percent undecided. Grimes' 3-point lead is barely within the survey's +/- 3.45 percent margin of error.
The poll is the latest in a long series of surveys suggesting that the two candidates are essentially deadlocked; McConnell leads Grimes by just over 1 percent in The Huffington Post's poll average.
Texas
While Grimes is hanging tough in Kentucky, another rising Democratic star appears to be falling short in Texas.
A University of Texas/Texas Tribune poll released Monday finds that Texas attorney general Greg Abbott (R) leads Democratic state senator Wendy Davis 44 to 32 percent in the Lone Star State's gubernatorial race — 17 percent are undecided.
The poll is the latest in a string of surveys to show Abbott comfortably ahead; he leads Davis by 14 percent in The Huffington Post's poll average, and only one poll this year has shown the Democrat within single digits.
Davis' campaign may be starting to feel the heat; on Wednesday, it replaced its campaign manager.
Screenshot: Monica For Congress/YouTube
Want more political news and analysis? Sign up for our daily email newsletter!