Poll: Second-Most Conservative Senator A 'RINO,' In Danger Of 2014 Primary Challenge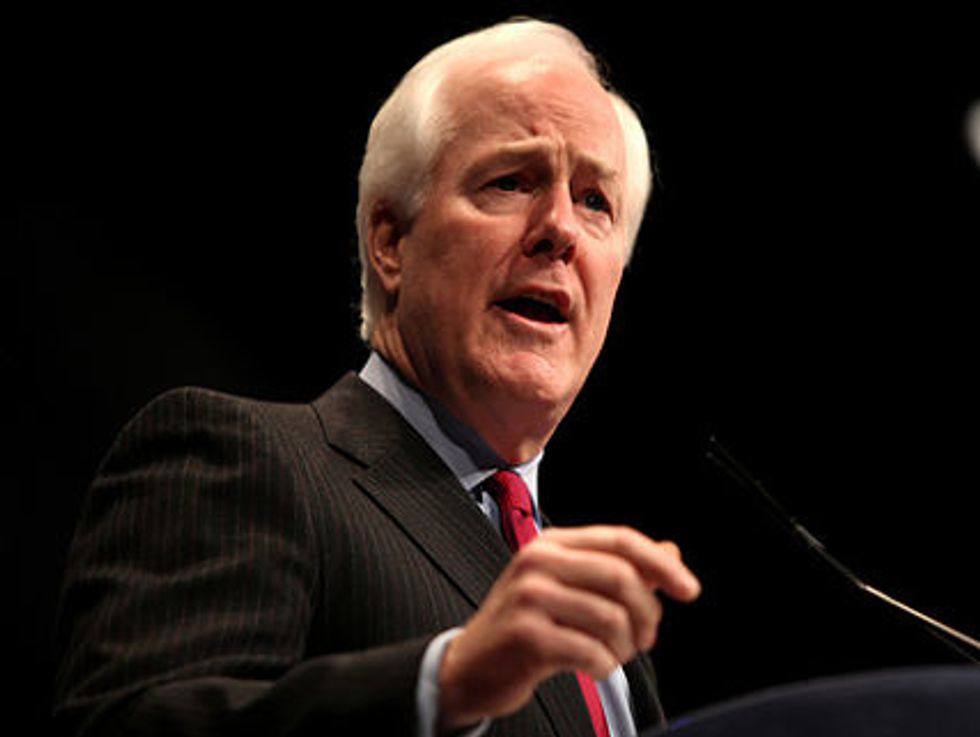 According to a survey from Democratic-leaning Public Policy Polling, Texas Republicans are clamoring for a more conservative alternative to Senator John Cornyn (R-TX), leaving the minority whip deeply vulnerable to a primary challenge in 2014.
The poll finds that just 46 percent of Republican primary voters approve of Cornyn's job performance, while 33 percent disapprove; a sub-50 percent approval rating is generally considered to be a warning sign for an incumbent, especially within his own party.
Just 33 percent say they want Cornyn to be the Republican candidate for Senate in 2014, while 49 percent say they want someone more conservative. This despite the fact that Cornyn was named the second-most conservative senator in 2012, according to The National Journal's rankings. Apparently, the only member of the Senate who is not a "RINO" is Texas senator Ted Cruz.
When asked whether they have a higher opinion of Senator Cruz or Senator Cornyn, 62 percent selected Cruz, and just 23 percent said Cornyn. The two Texas senators reportedly have an increasingly frosty relationship due to Cornyn's refusal to sign on to Cruz's various stunts (most notably shutting down the government in a futile attempt to defund Obamacare), and it appears that Republican primary voters in Texas have taken Cruz's side.
The good news for Cornyn is that no serious primary challenger has emerged as of yet. In a sign of just how far on the right-wing fringe one must be to represent a "conservative" alternative to Cornyn, PPP tested hypothetical matchups between the two-term incumbent and Rep. Louie Gohmert and pseudo-historian David Barton. Cornyn leads both comfortably (51 to 18 percent over Barton, and 40 to 31 percent over Gohmert). Much of that advantage may be due to Cornyn's superior name recognition, however. And as Cruz proved in 2012, when he erased an 18 percent deficit to stun better-known lieutenant governor David Dewhurst in the Republican primary, conditions can change rapidly in a small, conservative electorate.
Neither Barton nor Gohmert is currently planning a Senate run, but Cornyn's soft numbers make it very likely that someone will jump into the race before the December filing deadline. And if Cruz — who has pointedly declined to endorse Cornyn for re-election — stands behind the challenger, then Mitch McConnell won't be the only member of the GOP's Senate leadership to find himself in a fight for his political life.
The poll surveyed 388 GOP primary voters and was conducted Nov. 1-4. The poll's margin of error was +/- 5 percentage points.
Photo: Gage Skidmore via Flickr