Poll: Texans Oppose Rick Perry's Re-Election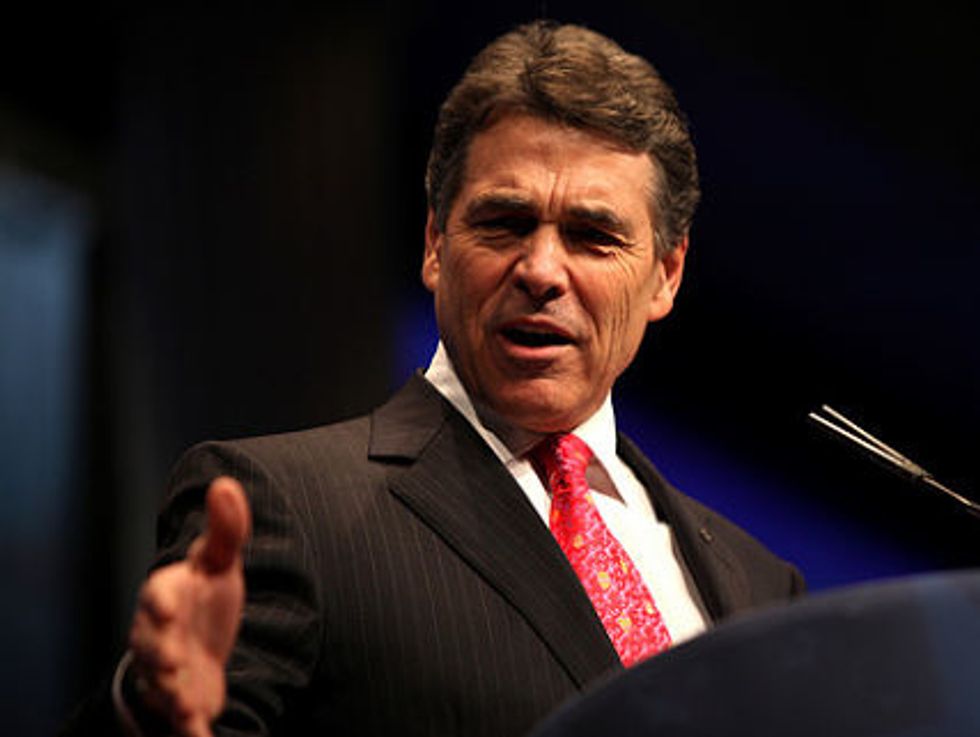 According to a new Public Policy Polling poll , an overwhelming majority of Texas voters are sick of Governor Rick Perry.
The poll finds that Perry is now one of the most unpopular governors in the country; 41 percent of voters approve of him, compared to 54 percent who disapprove. Among independents, the numbers are even more dismal: 65 percent disapprove of Perry, while just 29 percent approve.
Voters of all political stripes agree that they'd prefer not to see Perry seek re-election next year — 31 percent say he should run in 2014, while 62 percent say he should not. Even among Republicans, only 41 percent want him to run, while 47 percent say he should step aside.
Perry's fall from grace within his own party inverts the usual model of Republican primary challenges. Perry remains popular with self-identified "very conservative" Texans, who want him to run for re-election by a 59 to 34 percent margin. Only 37 percent of "somewhat conservative" Texans want Perry to run again, however, compared to 52 percent who want him to leave office. Just 14 percent of moderates want him to run for governor, with a staggering 80 percent wanting him to step aside.
In other words, Rick Perry seems to have pulled off the remarkable feat of being too extreme for Texas Republicans.
Texans do not want Perry to leave Austin to run for president again in 2016; a whopping 79 percent say he should not run for president, while just 14 percent say he should.
If Perry does seek re-election, his most formidable opponent would be Texas attorney general Greg Abbott. Abbott, who is best known for successfully arguing before the Supreme Court that Texas should be allowed to display the Ten Commandments at the state capitol, trails Perry by a narrow 38 to 41 percent margin. Among the 59 percent of primary voters who are familiar with Abbott, however, the attorney general leads Perry by an overwhelming 55 to 33 percent, suggesting that Abbott's numbers will climb as his name recognition improves.
If Perry manages to survive a primary challenge from Abbott, then Democrats would stand a solid chance of knocking him off in the general election. All four of his most likely opponents — San Antonio mayor Julian Castro, former Houston mayor Bill White, current Houston mayor Annise Parker, and state senator Wendy Davis — are within single digits of Perry (White actually leads him 47 to 44 percent).
Abbott, on the other hand, leads all four likely challengers by 7 to 12 percent.
Photo by Gage Skidmore via Flickr.com