Poll: Wendy Davis Popular, But No Match For Rick Perry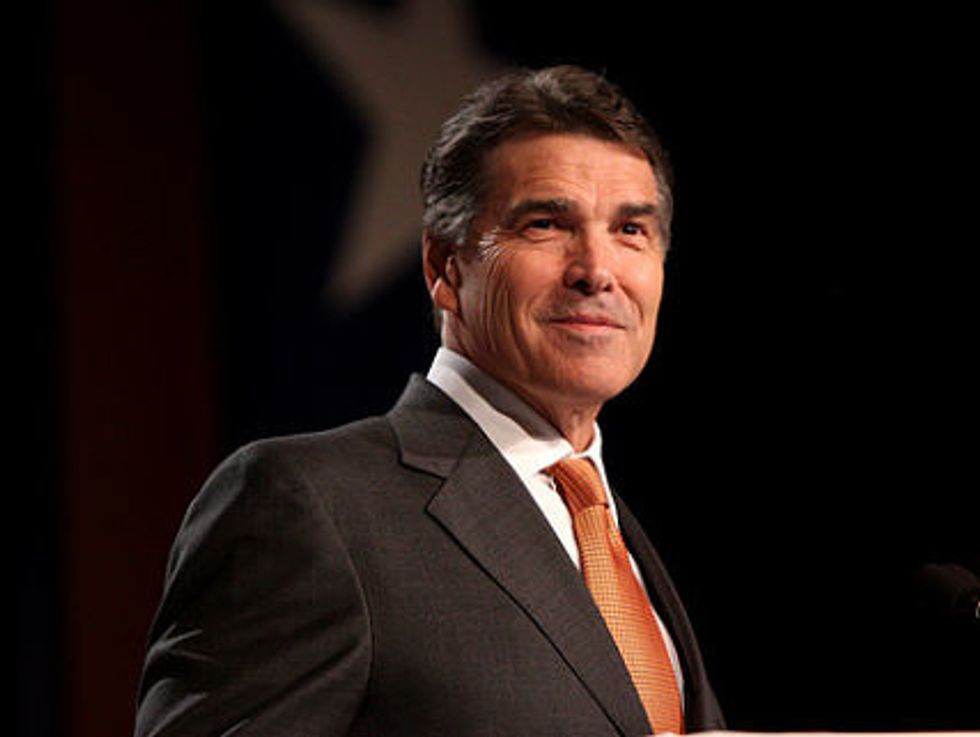 According to a new Public Policy Polling survey, Texas governor Rick Perry (R) has improved his weak poll numbers and is now a strong favorite to win re-election if he runs for a fourth term in 2014.
The poll finds that 45 percent of Texans approve of Perry's job performance, with 50 percent disapproving. While hardly impressive, that number is a net 8 percent improvement from PPP's previous poll in January, which found Perry at just 41 percent approval with 54 percent disapproving.
Perry's recovery has been driven by his improved standing among Republican voters. 81 percent of GOP voters now approve of Perry, while just 16 percent disapprove; that represents a net 23 percent gain from January, when GOP voters approved of Perry by a 68 to 26 percent margin. It appears that Perry's high-profile demonstrations of his right-wing politics — such as his total opposition to any and all gun reforms, and his outspoken support for a restrictive anti-abortion bill — have helped him consolidate support.
The governor's new-found strength among his base is reflected in his 46 to 34 percent lead over Texas attorney general Greg Abbott in a hypothetical Republican primary; in January, he led Abbott by just 3 percent.
The poll also found that the other star of Texas' recent legislative drama, Democratic state senator Wendy Davis, has benefited greatly from her 11-hour filibuster of the abortion ban — 39 percent of Texans now have a favorable opinion of Davis, while just 29 percent view her unfavorably. Furthermore, her name recognition has doubled from 34 percent in PPP's January poll to 68 percent today, and 45 percent of voters approve of her use of the filibuster, while 40 percent disapprove.
Despite Davis' rising popularity, however, Perry would still soundly defeat her in a hypothetical 2014 matchup, by a 53 to 39 percent margin. This has actually increased from Perry's slim 6 percent lead over Davis in January. The rising deficit underscores the basic truth that, unless a Republican nominee hemorrhages votes from his or her own party, it is almost impossible for the GOP candidate to lose a statewide election in Texas.
Perry also holds solid leads over all the other Democrats polled. San Antonio mayor Julian Castro is the strongest-performing Democrat — trailing Perry 50 to 43 percent — but he has declared that he will not run for governor.
So despite Texans' lingering ambivalence about Perry — in addition to his negative approval rating, a whopping 60 percent say that he should not run for re-election — he appears to be a strong favorite to win re-election anyway. And if Abbott does manage to defeat him in the GOP primary, it would be little comfort to Democrats — the conservative attorney general leads all the Democratic candidates by double digits (with the exception of Davis, whom he leads by 8 percent).
Texas may be slowly trending blue, but the Lone Star State is still very likely to elect a Republican governor in 2014.
The full results of the PPP poll can be read here.
Photo: Gage Skidmore via Flickr.com