Polls: Red-State Voters Oppose Kavanaugh Nomination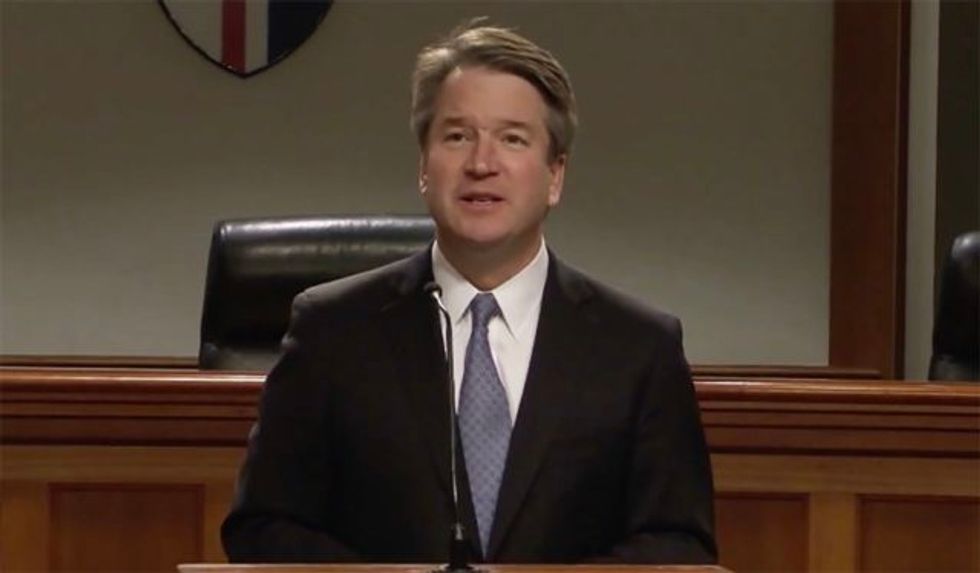 Reprinted with permission from Shareblue.
According to recent polling, even vulnerable Senate Democrats in red states have absolutely nothing to lose by opposing Trump's extreme Supreme Court nominee, Brett Kavanaugh.
Republicans are eager to push Kavanaugh's nomination through the Senate before the November midterm elections. And some Democratic senators from red states — namely West Virginia's Joe Manchin, North Dakota's Heidi Heitkamp, Indiana's Joe Donnelly, and Missouri's Claire McCaskill — have been noncommittal about opposing Kavanaugh.
But they really don't need to be. Yes, their Republican opponents would probably try to use such a vote against them. But those attacks just aren't likely to land with voters, and could even backfire.
A recent poll conducted by Hart Research Associates and reported on this month by the New Yorker found that "Democratic senators may actually be better off politically, even in states that went overwhelmingly to Trump in 2016, if they cast votes against Kavanaugh."
The poll showed a majority of voters in Indiana, Missouri, North Dakota, and West Virginia wanted a nominee who would protect the court's ability to check presidential power.
In the same poll, a majority of voters also said they would oppose a nominee who has "a record of siding with corporations" and "consistently ruling against workers' rights," and that they would oppose a nominee who is likely to strike down Obamacare's protections for people with pre-existing health conditions.
And indeed, Kavanaugh has a record of supporting unchecked presidential power, opposing workers' rights, and opposing Obamacare.
Another recent poll, conducted July 25 on behalf of the National Women's Law Center Action Fund and the Planned Parenthood Action Fund, found that most voters understand that Kavanaugh is likely to fulfill Trump's promise of "automatically" overturning Roe v. Wade and ending nationwide legal abortion.
And they don't like that one bit.
In the July 25 poll, 3 in 4 U.S. voters (75 percent) say they want a Supreme Court justice to uphold women's constitutional rights — including abortion rights.
In that poll, 87 percent of voters saw at least a 50-50 chance that Kavanaugh would overturn Roe v. Wade.
Those voters are probably right. Kavanaugh has a record of hostility to reproductive rights — including the basic privacy rights that protect a woman's right to access both abortion and birth control.
And most voters didn't want their senators to nominate someone like Kavanaugh who would do something like that.
If a senator votes to confirm a pro-choice Supreme Court nominee who would uphold Roe v. Wade, voters said they would be twice as likely to support that senator than to oppose them.
This even held true for Republicans, who were 6 points more likely to increase their support for such a senator. And fully 60 percent of Republicans also said they want a Supreme Court justice who will uphold abortion rights.
This particular poll was conducted by pro-choice organizations — but the responses also line up well with other polling on abortion rights.
Despite common media narratives about how abortion "divides" Americans, Roe v. Wade is actually more popular than ever. According to the latest NBC/Wall Street Journal poll, 71 percent of Americans do not want the landmark 1973 Supreme Court ruling to be overturned.
Brett Kavanaugh is an ideologically extreme nominee. His appointment would jeopardize basic rights that Americans hold dear.
Every Senate Democrat, red state or blue, has every reason to vote against Kavanaugh's nomination — and nothing to lose if they do.
Published with permission of The American Independent.