Pompeo Lashes Out, Won't Answer Questions At Korea Briefing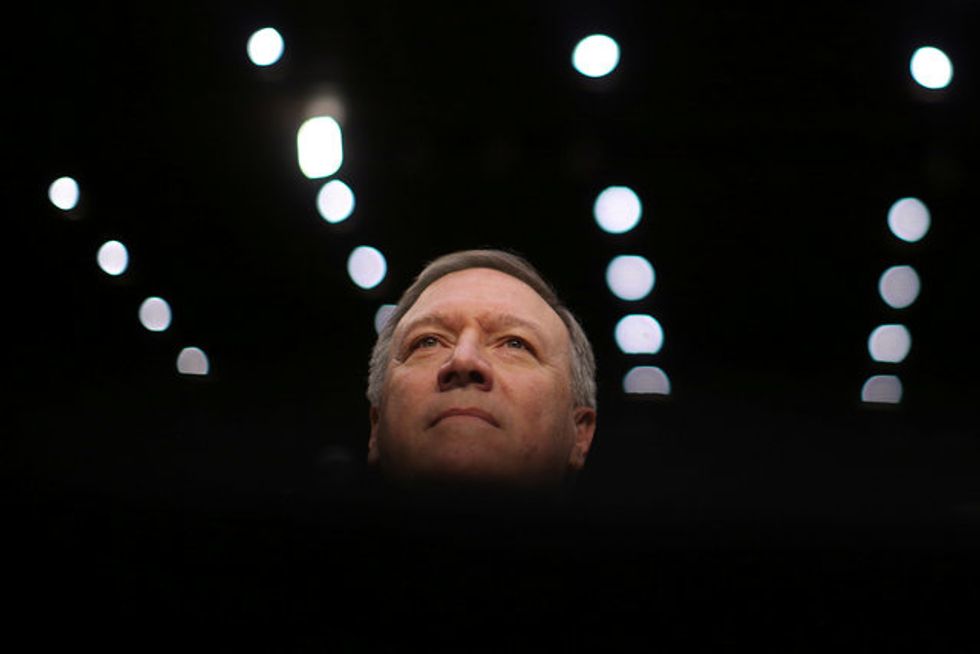 Reprinted with permission from Shareblue.com
The Trump administration is bragging about the summit with North Korean dictator Kim Jong Un, but apparently Secretary of State Mike Pompeo isn't eager to answer all the questions about it.
As part of their pageant, Trump and Kim made a show of signing a vague joint statement that was lacking even by symbolic standards, as it did not include the United States' preferred language of "irreversible and verifiable" denuclearization.
At a briefing with the traveling press on Wednesday, Pompeo was asked about that key omission.
"Mr. Secretary, I wanted to ask you about 'verifiable and irreversible,'" the reporter said. "You said — the day before you said it's our only objective, our — it's clear we want that. It's not in the statement."
Pompeo insisted the language is in the statement. "You're just wrong about that," he said.
Those words are not in the statement.
When the reporter asked for an explanation, Pompeo lashed out.
"I find that question insulting and ridiculous and, frankly, ludicrous," the secretary said. "I just have to be honest with you. It's a game, and one ought not play games with serious matters like this."
He claimed the word "complete" also includes "irreversible and verifiable," but all three of those terms have been part of the Trump administration's nuclear diplomacy going back a year. Pompeo even used them himself in two briefings just this past week alone.
Pompeo was also defensive about Trump's summit during a briefing before it took place, snapping at CBS News' Major Garrett, who asked whether removing U.S. troops from South Korea was off the table
"You shouldn't assume from the fact that I don't give any detail here today that some question you posited has any merit," Pompeo snapped.
Pompeo's problem is, of course, that Trump's failure to secure the "irreversible and verifiable" language in the joint statement is one of Trump's many failures at this summit. Trump came away nothing and gave Kim a staggering series of propaganda victories, as well as the enormous substantive concession of canceling military exercises with South Korea.
Unlike North Korea, the press in the United States is still free to question those in power, whether Trump and his minions like it or not.
Published with permission of The American Independent.