Pompeo Refuses To Say Whether Ukraine Call Transcript Was Edited
@jeisrael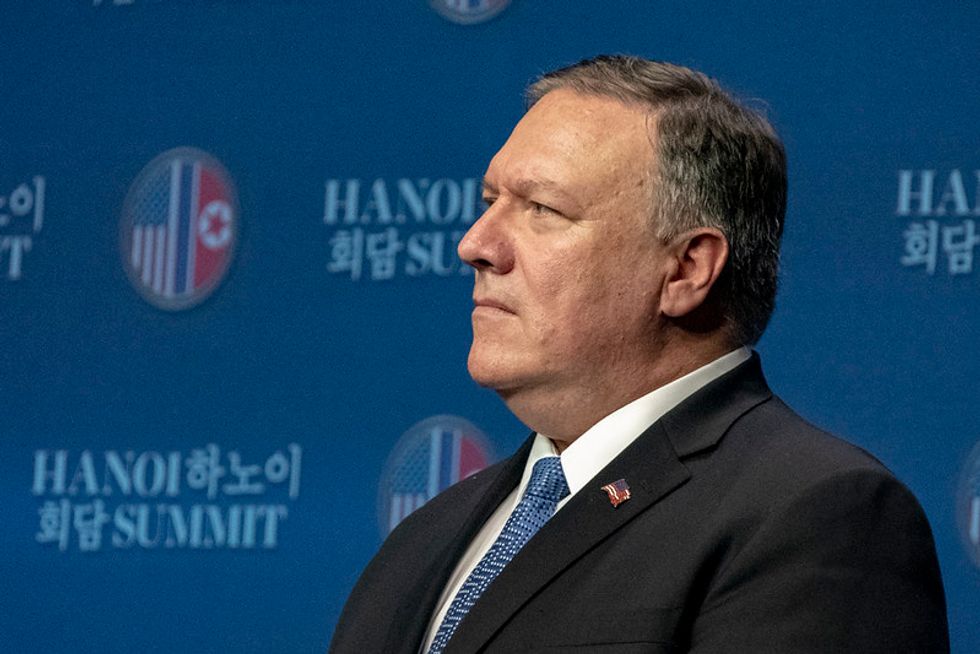 Secretary of State Mike Pompeo, who was listening in to Donald Trump's infamous July phone call with Ukraine President Volodymyr Zelensky, was asked on Wednesday whether the summary released by the administration was complete. He refused to answer.
On Tuesday, Lt. Col. Alexander Vindman, the National Security Council's top Ukraine expert who was also listening in on the call, reportedly told the House impeachment inquiry committees that the document was not a full transcript and that some of Trump's most overt efforts to link his quid pro quo of security aid for opposition research were omitted. Vindman contemporaneous attempts to get the transcript corrected were unsuccessful.
Pompeo was asked by Fox News whether portions of the call relating to the Bidens and the quid pro quo had been left out of the transcript, as Vindman had testified. Pompeo refused to say they had not.
The secretary of state, who now acknowledges he was on the call after initially denying it, said, "Well, I don't know what any of the witnesses have actually said. We're now reporting on the leaks from Democrats who have a mission set here to take down President Trump," he answered, changing the subject. "What I know is I was on the call, I listened to the call. I thought the way the president handled it was appropriate."
It is also interesting that Pompeo now is bragging about his participation on the call. When a whistleblower's concerns about the conversation became public last month, Pompeo went to great lengths to play dumb and pretend he knew nothing about the conversation.
Trump has claimed that the partial transcript — which contained multiple instances of "…" and included the words "not a verbatim transcript of a discussion" at the bottom — was an "exact word-for-word transcript of the conversation" and was "taken by very talented stenographers."
The portions released have spurred a congressional impeachment inquiry for appearing to show Trump asking Ukraine to investigate a potential 2020 rival, Joe Biden, and his son Hunter — a likely violation of federal campaign finance laws. Still, Trump urged the nation to "Read the transcript!" on Thursday morning.
In the same interview, Pompeo floated a new unfounded conspiracy theory about the Bidens.
"We were incredibly focused on a couple of simple things with respect to Ukraine strategy. And we've executed on that," he said, noting that "this is the administration that provided defensive weapon systems to Ukraine. The previous administration [did not].  I couldn't tell you why, I couldn't answer if it's because of Hunter Biden, that Barack Obama and Vice President Biden didn't give weapons to Ukraine. They'll have to answer for that. Maybe — maybe I just don't have the full story."
There is no evidence that the Obama administration withheld any aid to Ukraine because Hunter Biden was involved with a Ukrainian energy company. There is, however, evidence that Trump withheld aid in hopes of getting the former Soviet republic to investigative his political rivals.
Published with permission of The American Independent.