Pope Francis Brings Message About Power And The Poor To U.S.
@reuters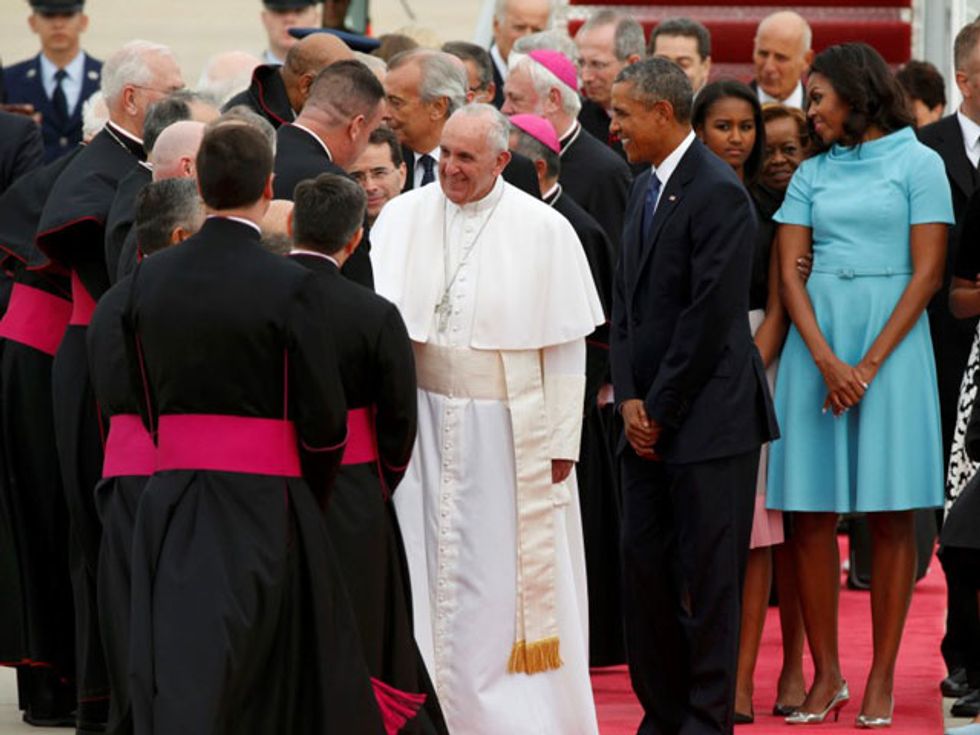 By Scott Malone and Philip Pullella
JOINT BASE ANDREWS, Md. (Reuters) – Pope Francis arrived on his first visit to the United States on Tuesday, bringing to Washington a message that its power and wealth should be used to serve humanity, and not the other way around.
An Alitalia plane carrying the Argentine-born leader of the world's 1.2 billion member Roman Catholic church touched down on a gray, blustery afternoon at Joint Base Andrews, Maryland after a flight from Cuba.
In a sign of the importance that the White House gives to the visit, President Barack Obama took the unusual step of greeting Francis on the tarmac. Obama, his wife Michelle Obama and their daughters shook the pope's hand on the red carpet.
School children cheered the 78-year-old pontiff in his first moments on U.S. soil, chanting "Hello, hey, hey, welcome to the USA."
On the plane from Cuba, Francis told reporters he hopes the United States will lift its long trade embargo on the Communist-run island as a result of negotiations between the two countries but does not plan to raise it in his address to the U.S. Congress this week.
"It is a public thing that is moving along the path of the good relations they are looking for," said Francis, who helped broker behind the scenes a thaw between the Cold War foes.
"My desire is that they end up with a good result, that they reach an accord that satisfies both sides, an accord, certainly."
Francis largely avoided controversy during his four-day visit to Cuba. The government had hoped Francis would condemn the U.S. economic embargo, which Obama is urging the Republican-controlled Congress to end.
Obama and the pope meet more formally on Wednesday at the White House. The pope will then parade past Washington's major monuments before a crowd expected to reach tens of thousands.
The pope has electrified liberal-leaning U.S. Catholics with his shift in emphasis towards forgiveness and concern for the poor. He has dismayed some conservative followers with comments of concern over climate change and a pivot away from messages focused on the church's ban on birth control and opposition to abortion and same-sex marriage.
Francis is also expected to talk about immigration during his six-day visit, a top issue for him since his first days as pope in 2013.
He will make the first address by any pope to the U.S. Congress on Thursday, a speech to the U.N. General Assembly in New York on Friday and an open-air Mass in Philadelphia where 1.5 million people are expected to attend.
Photo: U.S. President Barack Obama (R) welcomes Pope Francis to the United States as the Pontiff shakes hands with dignitaries upon his arrival at Joint Base Andrews outside Washington September 22, 2015. REUTERS/Kevin Lamarque