Pope Francis' Visit A Respite For Embattled Ecuadorean President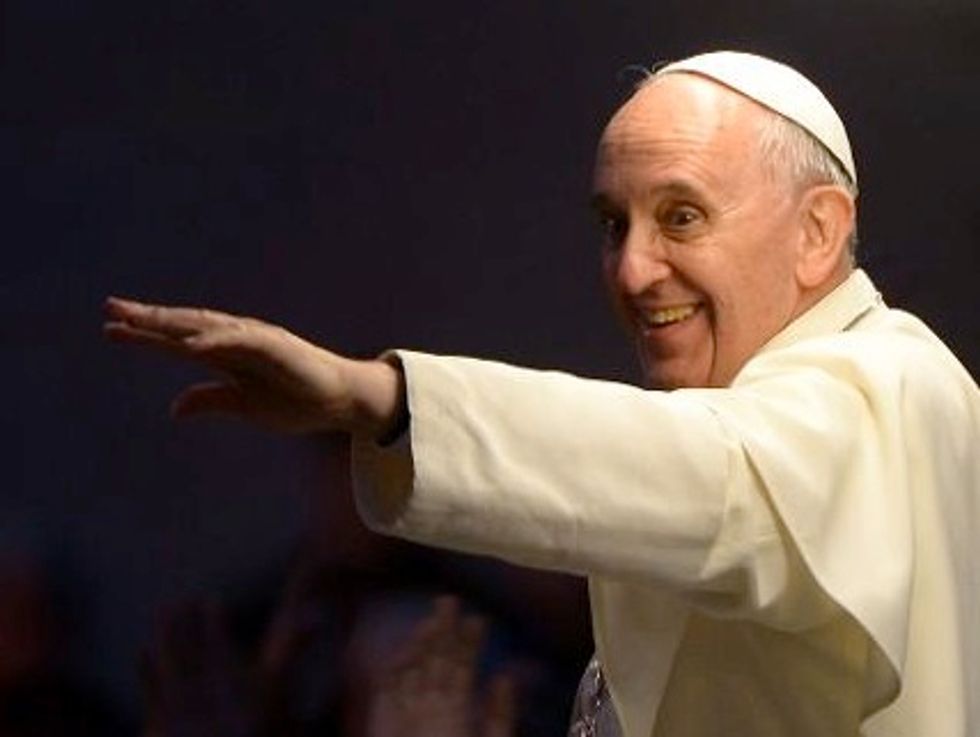 By Pablo Jaramillo Viteri and Tracy Wilkinson, Los Angeles Times (TNS)
QUITO, Ecaudor — While probably not his intention, Pope Francis handed embattled Ecuadorean President Rafael Correa a much-needed political respite — a de-facto if temporary truce with the legions of opponents who had been staging daily protests against the government.
Many of those foes accused the leftist Correa of politicizing the pope's three-day stay in Ecuador, which ended Wednesday with the pontiff's departure to Bolivia.
To be sure, the charismatic Correa was beaming as he greeted Francis on the tarmac in Quito upon his arrival Sunday.
And what was supposed to be a brief courtesy visit by the pope to the president at his Carondolet palace on Monday ran much longer than expected when Correa escorted Francis down a winding reception line, TV cameras in tow.
And Correa again accompanied the pope to his departure flight.
The pope had not even left Ecuadorean airspace, however, when the opposition announced it would resume the demonstrations.
"With all due respect for the pope, his visit does not solve the country's problems, because the abuses continue," Clever Jimenez, of the indigenous Pachakutik party, told the Los Angeles Times.
"The president speaks of dialogue, but we cannot believe him."
Correa's foes criticize him for what they say are his efforts to stifle the independent press and destroy or co-opt most of Ecuador's democratic institutions. His government has also been accused of rampant corruption. The most recent blow was an effort by Correa to restructure inheritance and capital-gains taxes to redistribute wealth.
He, in turn, claims his critics are trying to overthrow the government in order to preserve longtime, rapacious economic interests. His supporters point to his accomplishments in building up the country's transportation system and expanding spending on health and education.
Much of the opposition to Correa, like Jimenez's party, espouses the same leftist ideology as the president. Indigenous groups accuse him of being in league with profit-churning mining companies that are destroying their land. They plan a national strike for early August.
The political heat on Correa has been so intense that the Ecuadorean army last week found it necessary to deny rumors of a military coup — always a sign that trouble may be brewing. His poll ratings, while still quite high, are at their lowest point in his more than eight years of governing.
While Correa apparently hoped to use Francis as an endorsement (and his associates claimed as much), and the opposition wanted Francis to advocate on its behalf, the pope was subtle in any scolding that can be gleaned from his words.
His admonishments seemed aimed at all sides of the political disputes here.
"Dialogue is needed and is fundamental for arriving at the truth," the pope said in his final and most overtly political speech in Quito.
"In a participatory democracy, each social group, indigenous peoples, Afro-Ecuadoreans, women, civic associations and those engaged in public service, are all indispensable participants in this dialogue."
Susana Gonzalez, a City Council member in Guayaquil, Ecuador's largest city and a center of much of the opposition to Correa, said that despite the country's deep Catholicism and admiration for the pope, the president's critics aren't going to abandon their struggle based on Francis' visit.
"The Ecuadorean people are Catholic and noble," she said in an interview. "But this is also a people that fights for its rights."
Whether or not Correa scored political points, his supporters sought to portray the pope's visit in those terms.
Pamela Falconi, a congresswoman from his Alianza Pais political movement, said the pope had "defined the important points for the country," such as family, solidarity and respect, which should govern any future talks with the opposition.
"We want to dialogue, but there are radical sectors of the opposition that seek to agitate the streets instead of generating proposals," she said.
Ecuador's Confederation of Indigenous Nationalities, one of the civil society groups chosen to meet with the pope on Tuesday and a staunch opponent of Correa, wrote the pontiff asking for his help in protecting their "mother earth."
It is not clear whether they got through to him, but in a speech that day he said: "We cannot keep turning our back on our reality, on our brothers, on our mother, the Earth."
(Special correspondent Viteri reported from Quito and Times staff writer Wilkinson from Mexico City.)
(c)2015 Los Angeles Times. Distributed by Tribune Content Agency, LLC.
AFP Photo/Filippo Monteforte