Pope Urges Korean Reconciliation, Prays For Persecuted Iraq Christians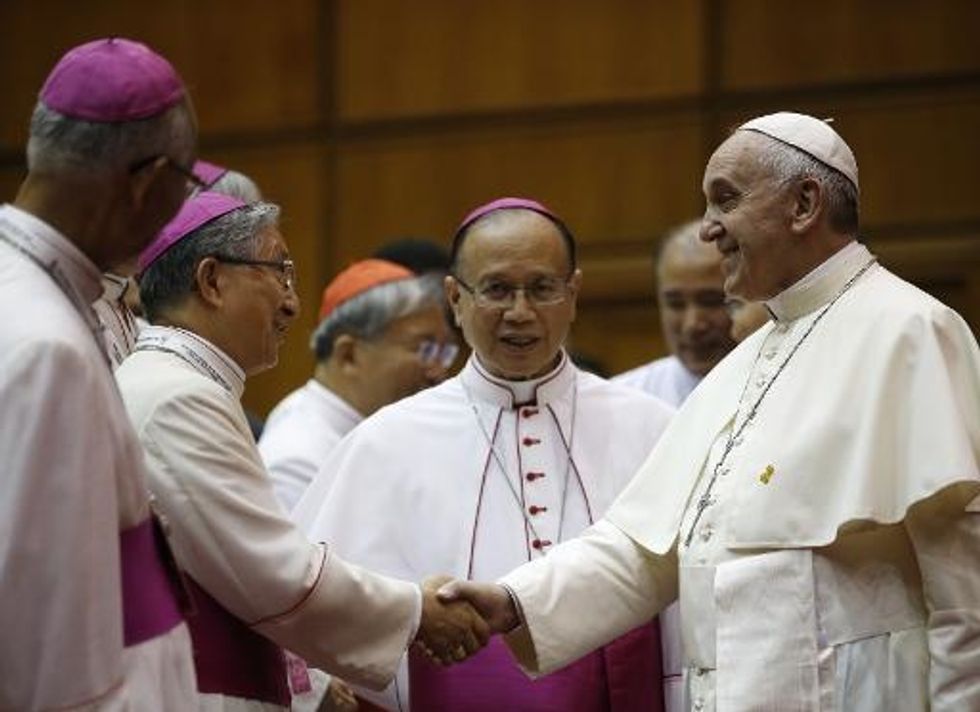 dpa
SEOUL — Pope Francis called for Korean reconciliation Monday, and offered special prayers for persecuted Christians in Iraq during the final event of his five-day visit to South Korea.
Francis celebrated a Peace and Reconciliation Mass in Seoul's Myeongdong Cathedral with 1,000 invitees, including South Korean President Park Geun Hye. North Korean authorities refused to send a delegation.
"Today's Mass is first and foremost a prayer for reconciliation in this Korean family," the pope said in his homily.
"What appears, from a human perspective, to be impossible, impractical, and even at times repugnant, [Jesus] makes possible and fruitful through the infinite power of his cross," he added.
He urged Koreans to "show evangelical concern for the less fortunate, the marginalized, those without work, and those who do not share in the prosperity of the many," and "reject a mindset shaped by suspicion, confrontation, and competition."
The pope also led prayers "for the suffering people of Iraq," and "for all the religious minorities who suffer in that land."
Separately, he wrote on Twitter: "Lord, with so much violence in Iraq, may we persevere in our prayer and generosity."
Applause broke out when Seoul Cardinal Andrew Yeom Soo Jung thanked the pope for making the first papal trip to South Korea in 25 years, and first foray in Asia.
Francis also met seven Korean so-called comfort women — sex slaves exploited by Japanese troops during the Second World War who are demanding for an official apology and compensation from the Tokyo government.
The pope greeted the elderly women, who were seated in the front row, many of them in wheelchairs. He held hands with each, accepted a butterfly pin that is a symbol of their cause, and attached it to his liturgical garments.
At the cathedral, Francis also met representatives of other religions in Korea, including Buddhists, Confucians, Orthodox, and Protestants.
AFP Photo/Kim Hong-Ji
Interested in world news? Sign up for our daily email newsletter!