Pope's Trip Ties Cuba To U.S. With Message Of Reconciliation
@reuters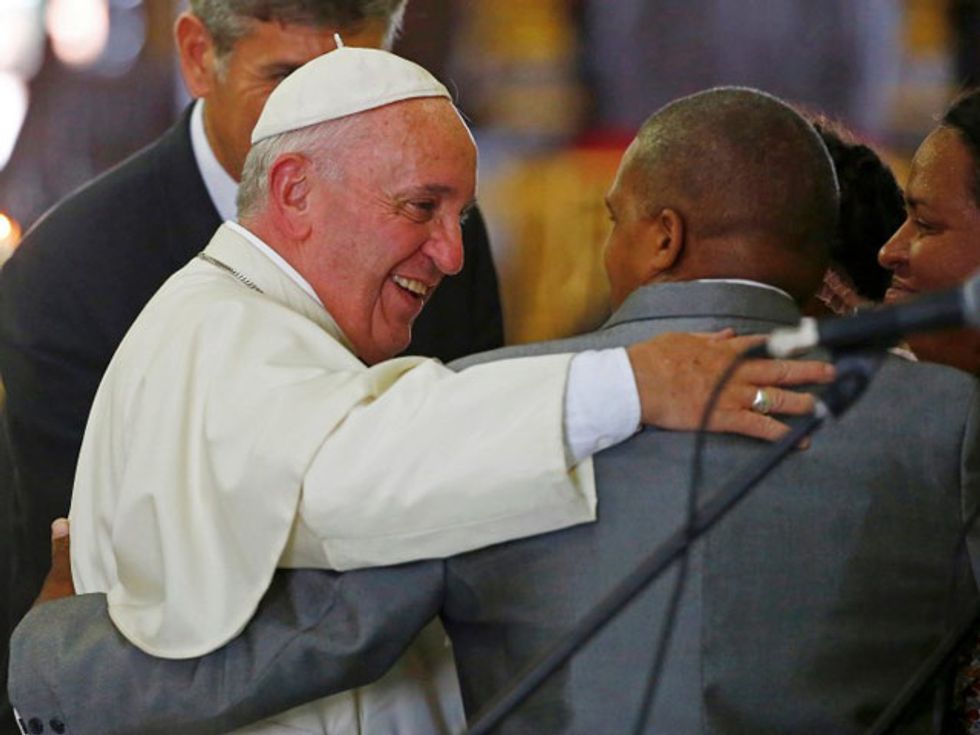 By Philip Pullella and Jaime Hamre
SANTIAGO, Cuba (Reuters) — Pope Francis ended his Cuba trip on Tuesday and headed to the United States with a message of reconciliation for the former Cold War foes while avoiding controversy on the U.S. trade embargo or human rights on the Communist-run island.
The 78-year-old Argentine pointedly chose not to antagonize either side after he helped mediate the detente between the two adversaries separated by 90 miles (145 km) of sea.
Cuba would have welcomed a papal condemnation of the embargo and Washington would have appreciated any reference to rights on the Caribbean island, especially after some 100 to 150 dissidents were rounded up by police to prevent them from seeing Francis.
But the pope steered away from polarizing issues here, dampening expectations for what he may say in the United States, where he will meet with President Barack Obama, give the first papal address to Congress, and speak at the United Nations.
The pope spent his last two days in Cuba at a symbol of national unity, the shrine to the Virgin of Charity in the eastern town of El Cobre, near Cuba's second city of Santiago.
The Virgin of Charity, a statuette of the Madonna and Child said to have been rescued from the sea miraculously dry four centuries ago, is venerated by most Cubans, including non-believers and practitioners of Afro-Cuban religions.
"Like Mary, Mother of Charity, we want to be a Church which goes forth to build bridges, to break down walls, to sow seeds of reconciliation," Francis said in his homily at the shrine in El Cobre, a former copper-mining town.
At his final event in Santiago's cathedral, crowds pressed to enter the square but were held back by security. "I'm a revolutionary and a Catholic!" pleaded one woman, seeking to enter the Cathedral so her daughter could receive a blessing.
Santiago and El Cobre sit in the shadow of the Sierra Maestra mountains where Cuban leaders Fidel and Raul Castro led their 1959 revolution.
The pope spent time and exchanged gifts with both the atheist Castro brothers, who once repressed the Church but have since allowed it to grow into the largest non-Communist organization that they trust.
CASTRO ENCOUNTERS
Francis paid a visit to Fidel Castro, 89 and retired, at his Havana home. He also spent an hour behind closed doors with Raul Castro, 84, who took over as president after an ailing Fidel retired in 2008.
Raul Castro attended all three Masses celebrated by the pope in Havana, Holguin and El Cobre, but he never accepted communion despite declaring in May his admiration for Francis might lure him back to the Church.
After the 1959 revolution that toppled the U.S.-backed Fulgencio Batista, the Cuban government ran off priests, sent others to work camps and occupied Church property.
But Fidel Castro changed course in the 1990s, lifting a ban on religious believers in the Communist Party and formally changing Cuba from an atheist to a secular state.
On Tuesday, Pope Francis called for a "revolution of tenderness" and praised past generations for keeping the Catholic flame alive. "The soul of the Cuban people … was forged amid suffering and privation which could not suppress the faith," he said.
Some dissidents have criticized the Church for choosing to boost its influence instead of denouncing rights violations and pressing for more democratic freedoms in a one-party state that monopolizes the media.
The Church maintains its job is to help leaders make the right choices, not prod them into specific policy positions, and that it cannot wade into partisan politics.
During Francis' visit, Cuban security agents arrested between 100 and 150 dissidents to stop them attending papal events, and ordered dozens more to stay in their homes, said Elizardo Sanchez of the local rights group the Cuban Commission for Human Rights and National Reconciliation.
"Once more the government has marked the visit of a high-level dignitary with political repression against peaceful opponents," he said.
Vatican aides have indicated the pope will also avoid meddling in U.S. politics on his visit there.
He will become the first pope to speak to the U.S. Congress, which alone has the power to lift the embargo of Cuba and has resisted Obama's calls to do so.
Pope Francis' approach in Cuba was softer than that of his predecessors, John Paul in 1998 and Benedict in 2012, and seems aimed at quietly encouraging Cubans at a delicate time following the resumption of diplomatic ties with the United States.
Meanwhile, the Cuban Church is discreetly negotiating greater space for its mission.
In any case, Cubans were happy to have received a visit from the third straight pope. "We Cubans feel flattered that three popes have visited us," said a nun, Francisca Bermudez. "A pope's visit is always a blessing."
(Additional reporting by Diego Ore and Jaime Hamre in Santiago de Cuba, Anahi Rama, Nelson Acosta, Daniel Trotta and Andrew Cawthorne in Havana; Editing by Kieran Murray, Grant McCool, Toni Reinhold)
Photo: Pope Francis talks with participants after a community blessing in the Cathedral in Santiago de Cuba on the last day of his visit to Cuba, September 22, 2015. REUTERS/Tony Gentile