In Powerful Essay, Pistons Coach Van Gundy Backs Kneeling Athletes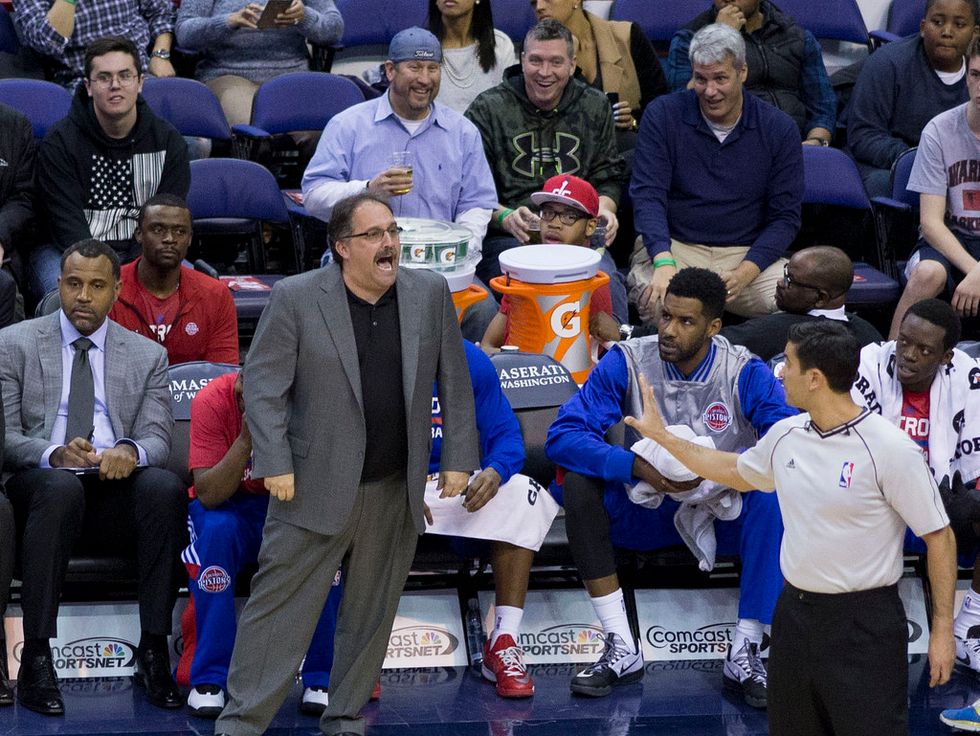 Reprinted with permission from AlterNet.
While scores of players have registered their disgust with Donald Trump, professional coaches across three of the four major sports leagues have remained largely silent. The NBA has proven a welcome exception. Both the Golden State Warriors' Steve Kerr and the San Antonio Spurs' Gregg Popovich have made headlines for their righteous screeds, the latter calling the president a "soulless coward."
Stan Van Gundy has previously called Trump "brazenly racist," but this week he did himself and his fellow coaches one better by coming to the defense of one of the commander-in-chief's favorite targets: athletes who protest the National Anthem. In a stirring essay for Time that deserves to be read in its entirety, the Detroit Pistons head coach argues that Colin Kaepernick, Muhammad Ali, Tommie Smith, and John Carlos are some of our country's greatest patriots.
"Honoring America has to mean much, much more than standing at attention for a song (one which, by the way, contains racist language in later verses)," he writes. "One of the most important freedoms that our military has fought for over two-plus centuries is the freedom of speech. When these professional athletes protest during the anthem, they are exercising one of the very freedoms for which our military men and women fought so valiantly, thus honoring our highest values and, in turn, those who have fought for them."
Van Gundy reveals that reading Tears We Cannot Stop; A Sermon to White America inspired him to invite renowned historian and author Michael Eric Dyson to speak to his team. The talk has remained with him, particularly Dyson's message that protest has always been a catalyst for social progress.
"And it has always made people uncomfortable," he continues. "This was true of the abolitionists, the women's suffrage movement, the civil rights movement and the gay rights movement, all of which shined a bright and needed light on injustice, demanded that our country live up to its stated ideals and produced our most meaningful change."
Van Gundy formally lends his support to the Player Coalition, a group of approximately 40 NFL players past and present who are working to achieve meaningful criminal justice reform. Their agenda is ambitious; they hope to ameliorate harsh sentencing guidelines, enact clean-slate laws, abolish cash bail, reform the juvenile court system, and eliminate racial bias and brutality in local police departments.
"I stand with these athletes—in support of both these causes and their patriotism," he concludes. "They are working to make America live up to its stated ideals. We should all join them in ensuring their collective voice is heard."
Read Stan Van Gundy's essay at Time.
Jacob Sugarman is a managing editor at AlterNet.