Powerful Quake Jolts Mexico And Central America; At Least Four Killed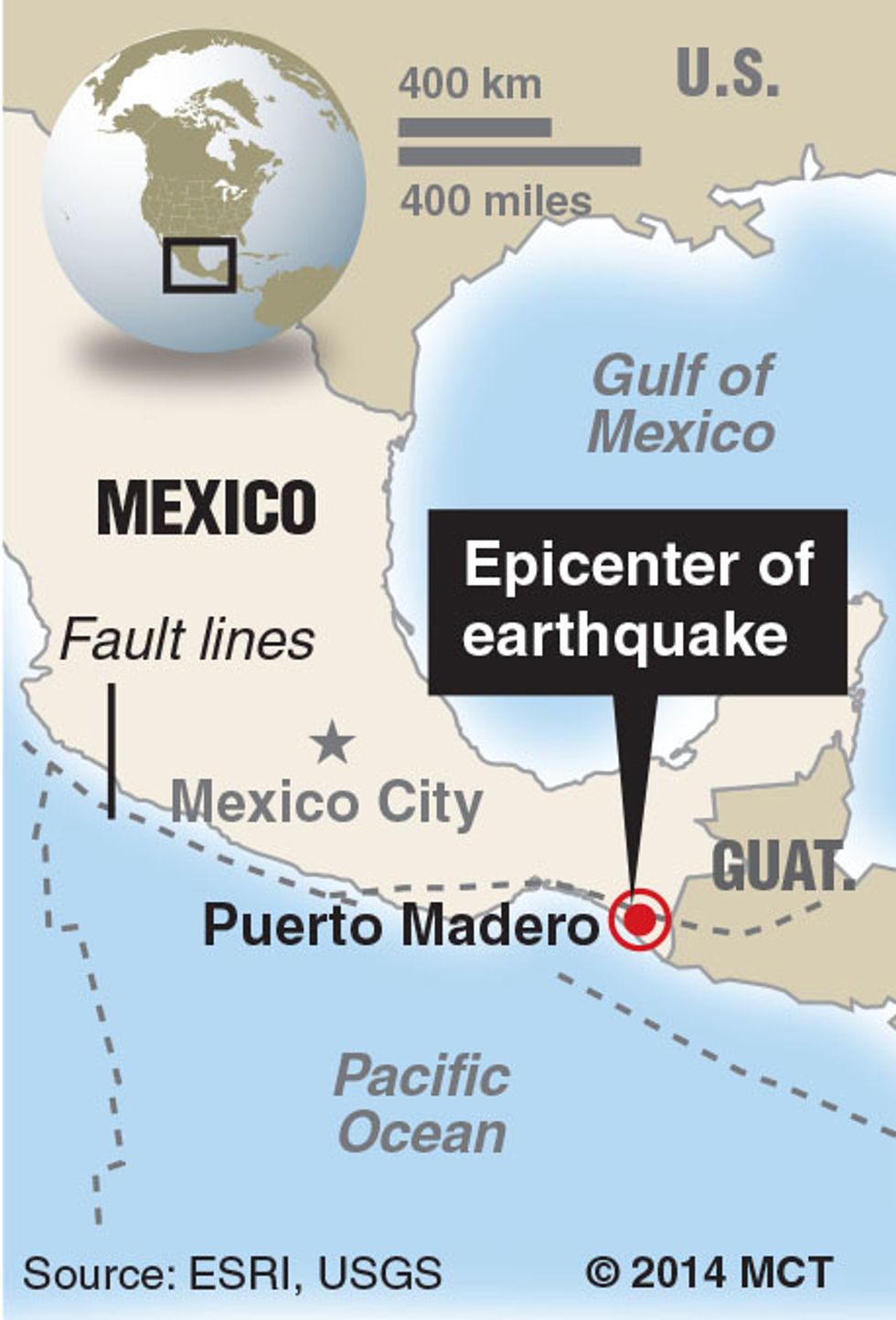 By Tracy Wilkinson, Los Angeles Times
MEXICO CITY — A powerful earthquake jolted a wide section of southern Mexico and Central America early Monday, killing at least four people and damaging dozens of buildings in Guatemala.
The 6.9 quake was felt as far north as Mexico City, through central Guatemala and as far south as El Salvador. Its epicenter was on the Pacific Coast of the southern Mexican state of Chiapas, near a border town called Puerto Madero, about 40 miles below the surface, the U.S. Geological Survey said on its website. It hit at 6:23 a.m. local time.
Most damage was reported in the Guatemalan state of San Marcos, where walls collapsed and electrical power was temporarily cut. Numerous landslides were also reported.
Two people were crushed to death in San Marcos and at least 21 injured, the Guatemalan newspaper Prensa Libre reported. Another Guatemalan died of a heart attack, and a fourth person, identified as Jose Molina, was killed in Chiapas, authorities said.
Guatemalan President Otto Perez Molina later spoke of a possible fifth death — a newborn crushed by a falling ceiling. Further details were not immediately available.
In a national address, Perez Molina said 36 people were evacuated from badly damaged homes in western Guatemala, and 44 schools reported varying degrees of destruction. One major highway from the city of Quetzaltenango was completely blocked by a landslide, and water systems in San Marcos were cut off when pipes fractured, he said.
In Chiapas, people ran from their homes in panic, but only minor damages were reported, Luis Manuel Garcia, a senior safety official, said. School classes were suspended at least for the day in some Chiapan towns.
Guatemalan Education Minister Cynthia del Aguila also suspended classes in the western half of her country.
The affected region of southern Mexico is known for seismic activity, with several quakes in the high 6 or low 7 magnitude registered in the last year.
Monday's temblor was initially clocked at 7.1 but later lowered to 6.9, according to the U.S. Geological Survey. Several lesser aftershocks were recorded, but no tsunami alert was issued.
The volunteer San Marcos Fire Department noted serious cracks and fallen walls in around 30 homes and buildings as well as toppled utility poles. Photos on social media showed one entire block of homes had shifted off of their foundations.
No damage or injuries were reported in the sprawling capital of Mexico City, parts of which were devastated in a 1985 quake.
MCT Photo
Interested in world news? Sign up for our daily email newsletter!