Preschoolers Were Unwitting Props In Fiorina's Anti-Abortion Rally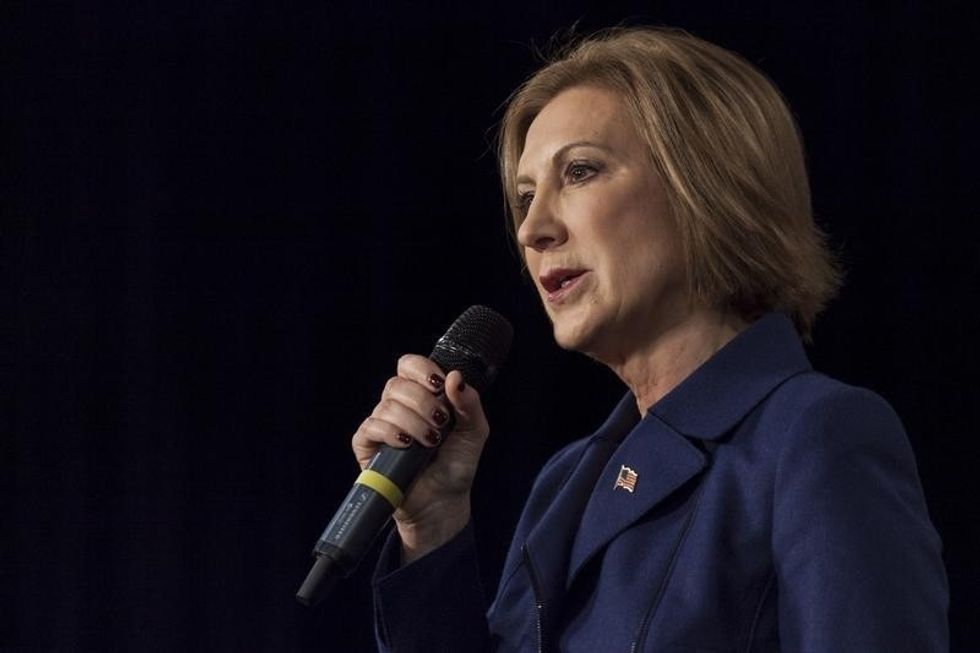 In an impulsive moment,  Carly Fiorina turned a group of young children into props for a rally against abortion in Des Moines, Iowa — an incident that irritated some parents on the scene and could backfire on the Republican presidential contender, who is currently tied for seventh place in the nomination contest.
The preschoolers were on a school trip to the Greater Des Moines Botanical Garden, where Fiorina was attending a rally for Iowa Right to Life, an anti-abortion group. Upon seeing the children, "Fiorina headed straight for a group of giggling 4- and 5-year-olds" as she walked into the Botanical Garden on Wednesday morning," according to the Des Moines Register.
Although the preschoolers weren't forced to attend the rally, Fiorina didn't discourage them from sitting at her feet as she addressed a crowd of supporters on the evils of abortion.
"We're being told to sit down and be quiet about our God, about our guns, and about the sanctity of life," she told the crowd, ignoring the toddlers who seemed a bit young for exposure to the moral complexities surrounding the abortion debate. During the event, an anti-abortion activist pulled out a life-sized model of a four-month old fetus, telling the crowd, "This is the face of abortion," as Fiorina looked on.
Fiorina's deputy campaign manager later denied charges that Fiorina forced the children to attend the rally, explaining that the group merely followed her onto the stage. "I guess the kids must have thought she was pretty neat," the Fiorina stafffer said, "because then their teachers and parents and the kids all followed Carly into the event complete with Carly stickers."
Fiorina has made abortion a central plank of her campaign. But abortion hasn't gained the same prominence as in prior election cycles, despite candidates repeatedly attacking Planned Parenthood, a non-profit organization that provides reproductive health services. Falsely but repeatedly, Fiorina has claimed that Planned Parenthood was "butchering babies for body parts" based on misleading video footage.
In Des Moines, the preschoolers' parents were not happy. "Taking them into a pro-life/abortion discussion [was] very poor taste and judgment," said Chris Beck, one of the parents. "I would not want my four-year-old going to that forum – he can't fully comprehend that stuff. He likes dinosaurs, Teenage Mutant Ninja Turtles, and Transformers." If Beck was ever considering a caucus vote for Fiorina, he isn't now, "I do not know enough about Carly to support her," he told The Guardian. "And after today, she wouldn't get my vote for sure."