The President Continues To Be Terrible At Everything: 5 Frightening Examples Of Trump's Incompetence In Just The Last 72 Hours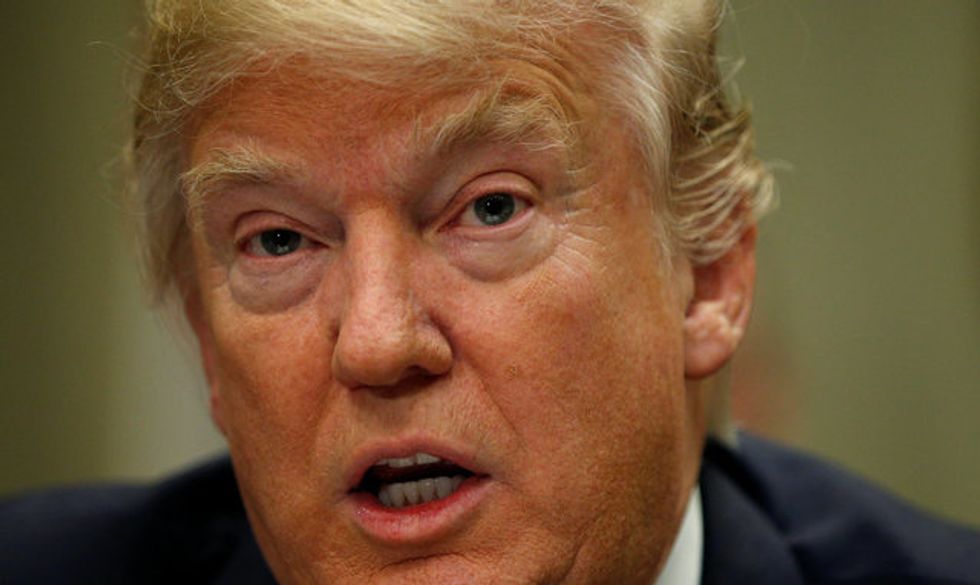 Reprinted with permission from Alternet.
You didn't have to be a political genius—or a genius of any kind, really—to see that Donald Trump was going to be a disaster at being president. He clearly has no interest in politics or policy and doesn't understand, or care to understand, the basics of the job. The Trump platform consists of unbelievable and unconstitutional lies all bound up with racist pipe dreams about how to Make America 1952 Again. To call Trump a con man is to insult hardworking, skilled con men and women the world over. Trump just recognized easy marks when he saw them, and told them what they wanted to hear. And what they wanted to hear was that someone else's suffering would help them get ahead.
That's how we got here. Sixty-three million ignorant, desperate and delusional Americans voted for a man uniquely unqualified to be president. Predictably, Trump has mucked up the task at every turn. On the rare occasions he shows up to work instead of golfing, Trump screws up with a frequency that can't be measured by any currently available metric.
In just this last week (and we're only three days in, mind you) Trump has spilled intelligence to the Russians, proved he's a real-life Ron Burgundy and generally made the lives of White House staffers miserable. (Although, how much sympathy can you have for someone whose dream is to work in the Trump White House?)
Here are five examples of news tidbits from the last 72 hours proving Trump is a danger to us all.
1. Intelligence officials have to warn other countries not to tell him secrets.
According to the New York Times, Israeli newspapers "reported in January that American officials warned their… counterparts to be careful about what they told the Trump administration because it could be leaked to the Russians."
As has been reported pretty much everywhere, Israeli officials decided to take their chances and share some intel with Trump. In his defense, national security adviser Lt. Gen. H. R. McMaster told media that Trump made a hasty decision to "tell the Russians what he knew."
2. NATO officials have to dumb down everything for him.
Foreign Policy reports that NATO, aware of Trump's reputation for being distracted by shiny objects, is doing its best to keep him entertained:
"NATO is scrambling to tailor its upcoming meeting to avoid taxing President Donald Trump's notoriously short attention span. The alliance is telling heads of state to limit talks to two to four minutes at a time during the discussion… And the alliance scrapped plans to publish the traditional full post-meeting statement meant to crystallize NATO's latest strategic stance."

"'It's kind of ridiculous how they are preparing to deal with Trump,' said one source briefed extensively on the meeting's preparations. 'It's like they're preparing to deal with a child — someone with a short attention span and mood who has no knowledge of NATO, no interest in in-depth policy issues, nothing,' said the source, who spoke on condition of anonymity. 'They're freaking out.'"
3. His staff is afraid he'll blab stuff unless someone keeps an eye on him.
In a report from the New York Times by Glenn Thrush and Maggie Haberman, this details stands out: "There is a fear among some of Mr. Trump's senior advisers about leaving him alone in meetings with foreign leaders out of concern he might speak out of turn."
You know how when little kids can't do stuff on their own, they get mad when you try to help them? Same with Trump. The Times article goes on to note that "General McMaster… has tried to insert caveats or gentle corrections into conversations" when Trump is proving his ignorance or losing the thread. Instead of being thankful he has someone to do what he hired him for, Trump gets defensive.
Trump has reportedly "groused that General McMaster talks too much in meetings, and the president has referred to him as 'a pain.'"
4. He is easily fooled.
According to a report by Politico, Trump's chief of staff Reince Priebus has to tell staffers to stop giving Trump things to read, because he'll believe anything that's put in front of him. In one example, deputy national security adviser K.T. McFarland gave Trump printouts purportedly depicting two Time magazine covers. The first was dated to the 1970s and "warned of a coming ice age," while the second from 2008 offered advice on "surviving global warming":
"Trump quickly got lathered up about the media's hypocrisy. But there was a problem. The 1970s cover was fake, part of an internet hoax that's circulated for years. Staff chased down the truth and intervened before Trump tweeted or talked publicly about it."
In another case, Trump was slipped a story by notorious right-wing internet troll Charles C. Johnson. The piece, which accused deputy chief of staff Katie Walsh of leaking information to the press, made Trump suspicious of his hire based on the flimsiest of evidence. Walsh has since moved on to a new job, but Trump continues to be duped by fake news printouts, which staffers use to get a leg up on each other.
5. Officials say he's too incompetent and uninterested to give away any important details.
Maybe the most frightening and obvious bit of information to emerge from the latest Trump-Russia intel scandal is this:
"In private, three administration officials conceded that they could not publicly articulate their most compelling—and honest—defense of the president: that Mr. Trump, a hasty and indifferent reader of printed briefing materials, simply did not possess the interest or knowledge of the granular details of intelligence gathering to leak specific sources and methods of intelligence gathering that would do harm to United States allies."
In other words, the president doesn't know, understand or care about one of his primary functions as president.
Kali Holloway is a senior writer and the associate editor of media and culture at AlterNet.
This article was made possible by the readers and supporters of AlterNet.