President Obama Will Have A Great Second Term (Whether The GOP Likes It Or Not)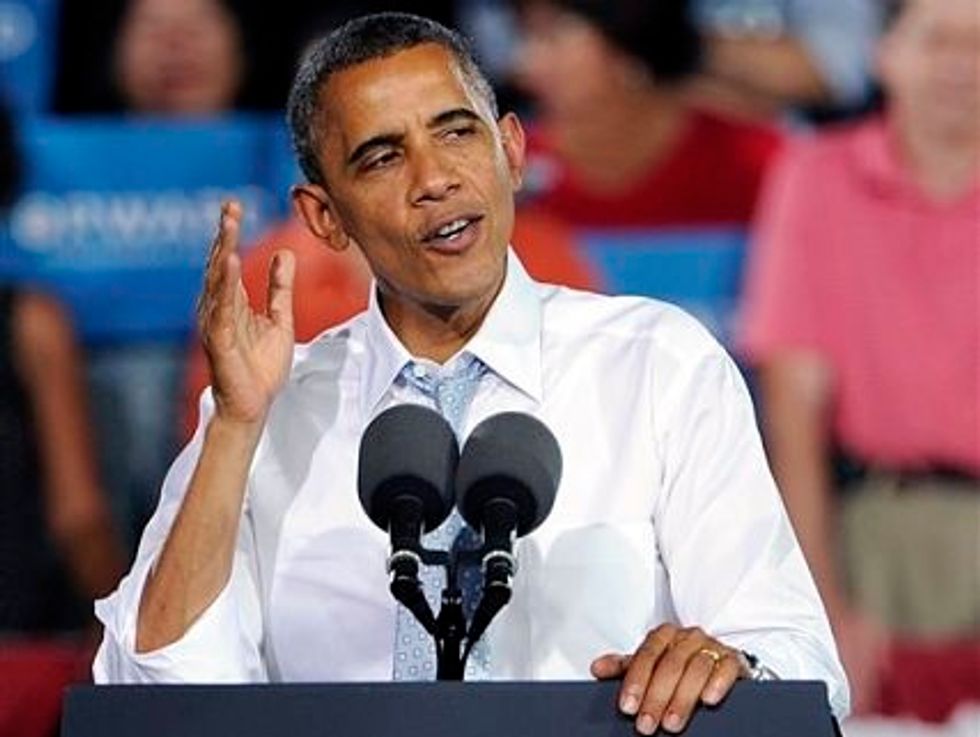 The decision to postpone the most crucial aspects of Obamacare until January of 2014 would have been remembered as a "Sarah Palin as your running mate"-quality strategic blunder — if the president had lost on Tuesday.
But now President Obama has guaranteed that his second term will transform America, putting a serious dent in the 26,000 Americans who die each year for lack of insurance and the incredibly wasteful way we rely on emergency rooms as primary care for millions.
Second terms are notoriously hard. Reagan's was defined by Iran-Contra, Clinton's by impeachment and Bush's by Katrina.
No such nightmare seems to be imminent from this White House, but The New York Times' Nate Silver could probably start a model to guess what irrelevant, trumped-up "Worse than Watergate!" scandal the GOP will try to impeach the president for. At best, the House GOP and the minority in the Senate will simply obstruct to construct talking points about how long it's been since a budget passed while setting new records for repealing Obamacare.
Yet, the full implementation of Obamacare is just one way that Obama's next term is destined to succeed.
The next few months will be one of the most difficult stretches of Obama's presidency. He needs to make a large debt deal that will likely forestall the sequester spending cuts and ending of the Bush tax cuts for the middle class. If this "grand bargain" looks anything like the last "grand bargain" he almost signed, it will raise the eligibility age for Medicare and include some cuts to Social Security.
However, it's likely that the president will get a much better deal than he would have in 2010.
Why? Now he can afford to play chicken. If the GOP won't extend the Bush tax cuts for the middle class without including the rich, he can let them all expire and watch the GOP try to blame the guy who never has to win another election.
Also, if the president does raise the eligibility age for Medicare, he will do so knowing that any American who can't afford insurance will have it provided through the Affordable Care Act—a guarantee he simply couldn't make in 2010.
Still, any deal will rightly disappoint many liberals—and if the president is successful in ending the Bush tax cuts for the rich, it will disappoint even more Republicans.
After this fight, is there anything else the president will be able to achieve legislatively?
Yes. Comprehensive immigration reform.

The president won at least 71% of the Latino vote, doing even better with this huge and growing demographic than he did in 2008.
Much of this demographic landslide had to do with Mitt Romney moving to the right on immigration to defeat Rick Perry in the GOP primary. Romney never recovered from saying he'd veto the DREAM Act, his plan for "self-deportation" and his use of the pejorative "illegals." Waiting months to give his stand on what he'd do with the DREAM Act-eligible students the president has promised not to deport didn't help.
The president has basically achieved the GOP's plan of "securing the border first." For the first time in decades, immigration over the Mexican border is at net zero.
If the GOP refuses to engage on immigration reform, they are basically volunteering to never win the White House again. Their scapegoating of undocumented workers may work in local elections and off years, but it will doom them to being the loyal opposition and possible extinction if they refuse to act. They'll likely never win majorities of the Latino vote—as a group they tend to favor government support of programs that make work more accessible and rewarding—but by agreeing to reform, they'll get close to the 30 percent mark they need to be competitive.
The last way President Obama's second term will transform America is energy efficiency. We've told you that no human being on the planet has done more to fight climate change than President Obama. According to Mike Grunwald, author of the fantastic book about the stimulus, The New, New Deal:
Obama's stimulus bill also launched a quiet clean-energy revolution, with unprecedented investments in wind, solar, geothermal and other renewables; energy efficiency in every possible form; blue-sky research into low-carbon technologies; the smart grid; electric vehicles; advanced biofuels; and the factories to build all that green stuff in the U.S.
In addition, the fuel efficiency standards for automobiles he's put in place will cut out a whole year of carbon emissions by 2024. Romney would have likely canceled those—as he used to like to say—on day one.
We forget how much this president has already done to remake America for the better. By simply winning a second term, more change—lasting change—is inevitable.
Photo credit: AP Photo/David Becker, File