Labor Raises Pressure On Obama To Act On Immigration Reform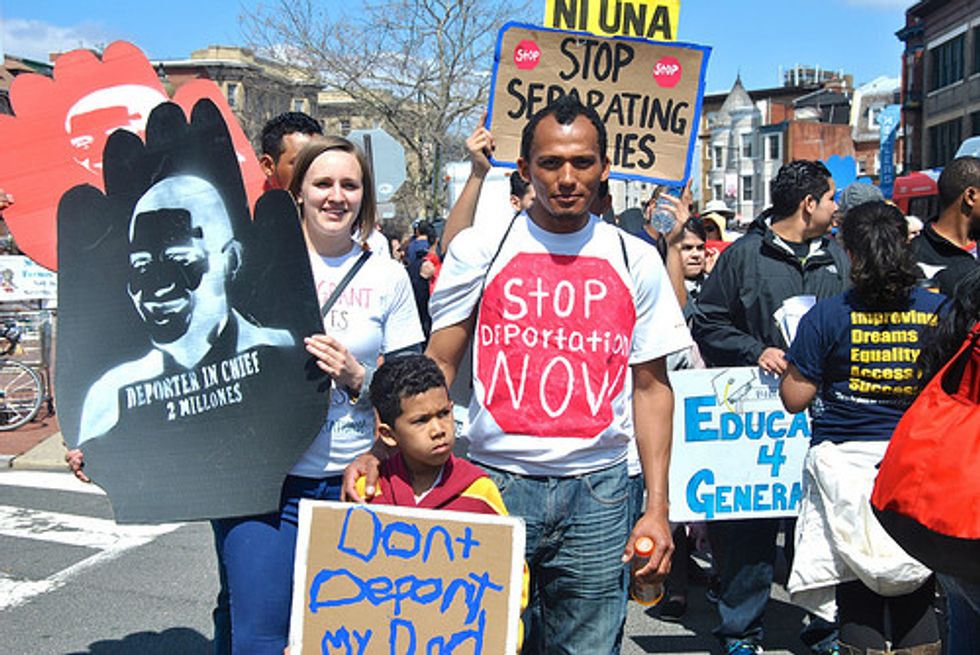 As House Republicans continue to block any progress toward comprehensive immigration reform, President Barack Obama is taking increasing criticism from pro-immigration reform advocates for his failure to bypass Congress and take action himself.
An AFL-CIO memo released Monday morning outlined "four interrelated steps and concrete actions" that the Department of Homeland Security could take to "address the urgent needs of workers and immigrant communities."
The memo serves as a reminder that President Obama does have options when it comes to changing immigration rules. Specifically, the AFL-CIO points out that the Obama administration could — legally — slow down the large numbers of deportations that have continued under the president's watch.
According to the memo, the DHS could create a system through which low-priority potential deportees could seek relief and essentially avoid deportation. Arguing that DHS would be acting on solid legal ground, the AFL-CIO argues that executive agencies have the discretion not to use law enforcement resources to "prosecute or enforce."
The AFL-CIO is one of several groups, such as the Congressional Hispanic Caucus, that have long urged the president to take more control over the issue. Unlike past efforts from these groups, however, the AFL-CIO and Congressional Hispanic Caucus have avoided pushing measures that would result in the naturalization of millions of undocumented immigrants. Merely proposing such provisions could slow down any progress that advocates hope to make in the coming months, especially considering the fresh tension between President Obama and House Majority Leader Eric Cantor (R-VA) over the president's most recent push for a House vote on immigration reform.
Following a private phone call initiated by the president, during which the issue of immigration reform arose, Cantor said Obama has "no sincere desire" to negotiate with House Republicans over immigration reform.
Despite Cantor's outburst, House Speaker John Boehner recently offered some reason for optimism. According to TheWall Street Journal, while speaking at a Las Vegas fundraiser in March, Boehner assured industry groups and donors – many of whom are concerned about the dwindling support for the GOP among Hispanic voters – that he is "hellbent on getting this done this year." Even so, the top-ranking Republican has said that he would only pass reform through a piecemeal approach, as opposed to considering the Senate's comprehensive reform plan.
President Obama has, in the past, signaled a willingness to embrace a piecemeal approach if it could pave the way for progress. But still, no advances have been made.
A frustrated Obama on Thursday accused the "House Republican leadership" of "holding us back" and "not willing to go ahead and let the process move forward." Of course, Republicans disagree, but even immigration reform supporters might turn skeptical if they see that the president is unwilling to do anything on his own.
If Republicans and Democrats fail to reach a compromise by the fall, the pressure on Obama to stop talking and start acting will surely continue to mount.
Photo: Ndlon via Flickr