Pretending To Be Democrats, GOP Dark Money Outfit Attacks Gillum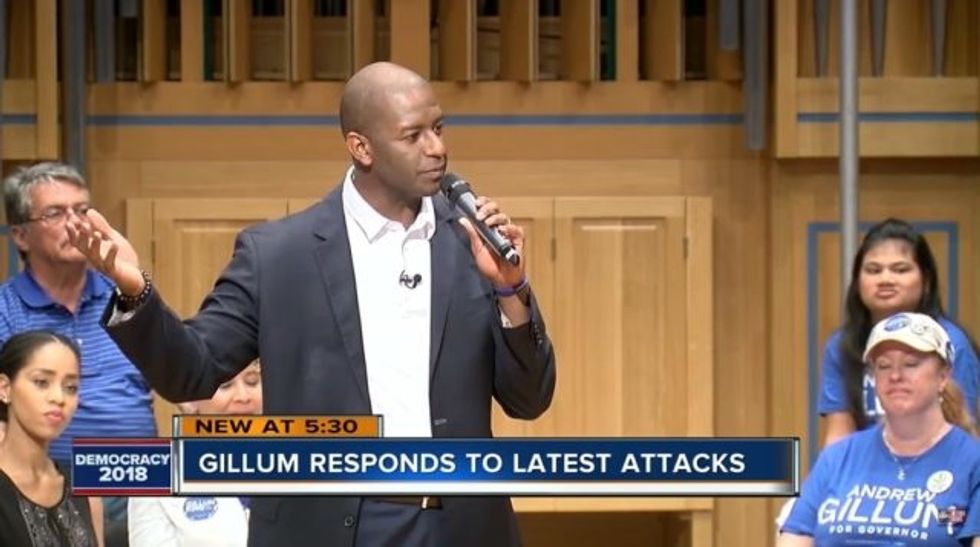 Reprinted with permission from Shareblue.
A Republican dark money operation is masquerading as a group of Democrats and is trying to smear Andrew Gillum, the Democratic nominee for governor in Florida.
"Florida Strong" is the PAC in question, fueled with thousands of dollars from a team of right-wing donors.
Money has come into the political committee from the Florida Republican Senatorial Campaign Committee, a group called "Sunshine State Conservatives," and other PACs like the Responsible Leadership Committee and a PAC supporting Trump called the Freedom First Committee. Florida Strong also received $100,000 from former GOP state senator and conservative real estate developer Patrick K. Neal.
The name of the group is exactly the same as a previously existing advocacy group, also called Florida Strong, that backed Democratic candidates in the past.
Maria Garcia, the leader of the original Florida Strong, told the Miami New Times that the new GOP group "feels like a deliberate attempt to mislead voters and to muddy the waters using Facebook to exploit misinformation."
Using Facebook, the GOP group is promoting the website LearnAboutGillum.com, which uses several right-wing attacks against the gubernatorial nominee.
They inaccurately describe Gillum as a "socialist" to the left of Sen. Bernie Sanders and Hillary Clinton. Clinton is labeled a "radical."
A recent video from the group compares Gillum to Gollum, the character from the Lord of the Rings series of novels and movies. An actor emulating Gollum's voice accuses Gillum of wanting to raise taxes, ignoring crime, and abolishing ICE.
The apparent connection between the fictional character and the current gubernatorial frontrunner is the similar spelling of their names.
Republicans in the state have been saddled with conservative Rep. Ron DeSantis as their nominee. DeSantis launched his general election campaign with a racial epithet, and his past writing excusing slavery have dogged his organization.
Apparently, the operators behind the most recent incarnation of Florida Strong believe that confusing voters and spending money on odd videos can sway enough voters to back their preferred candidates.
Otherwise, it would appear to be a major waste of money.